You Stabbed Me…Now Will You Marry Me?
A truly bizarre proposal story.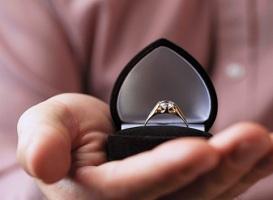 Gregory Todd proposed to his girlfriend in an unusual way—through her lawyer at a court hearing. Oh, by the way, they were in court because she was being indicted for stabbing him in the back with a 12-inch knife as he slept in December of last year.
Deal breaker, am I right? But Todd is eager to hear his girlfriend/assailant​'s response to his offer. During her hearing, Tiffany Ballies's lawyer said:
"Mr. Todd is in court and has been to see her in prison. He has brought a ring to court to propose to her. Eventually they want to get married. He says he has brought the engagement ring to ask to her marry him today."

Tiffany then began crying but didn't give any indication of whether she would accept the proposal.
As wacky as this scenario sounds, it's actually quite a sad story. Tiffany's attack came near the anniversary of the death of her 10-week old son and also shortly after she had suffered a miscarriage. According to her lawyer, she was grief-stricken during the time of the attack and couldn't explain why she stabbed her boyfriend.
The knife went through Gregory's liver, spleen and pancreas. Doctors said he would have died had he not received medical attention so quickly. After the hearing, Gregory said outside of the court:
"I love her I want to marry her. She didn't know I was going to propose today but I was. I wanted to give her the ring but they won't allow it in prison. I hoped she would get a suspended sentence, so I could propose today. She does not need to be in prison."
Ballies was originally charged with attempted murder, but has since admitted to grievous bodily harm with intent.
Sad, but still pretty brutal. 
love: friendship, dating, sex & marriage
We've made picking your palette a breeze! Just find your favorite hue and choose one of the cool combos below.

Get inspired with these twelve ideas for a fantastic, fun summer wedding!

What's worse than getting snubbed while proposing? Having your heart broken in front of countless strangers.

Want your I do's to be totally you? From pre-wedding cocktails to Mad Lib vows, here are 25 ways to make your ceremony as unforgettable as your reception.

Summer love can be sweet. But it tends to be fast, feverish and often fleeting. In a season where emotions run hot, here are some rules to help avoid heartbreak.

We asked brides on TheKnot.com to tell all -- and they did. Here, five of the most likely culprits and advice for how to deal with your drama-causing guests along the way.

This short course in flirting will not only teach you how to flirt better but also how to tell when someone is flirting with you—and how to respond. Have fun.

Gatsby glamour doesn't have to just live on the big screen! Embrace the trendy (yet timeless) art deco style with sequins, pearls, feathers and geometric patterns. Check out these art deco ideas and achieve the feel of 1920s decadence. By the way, all of these are affordable, except for the $600 hairpiece which is a splurge, but a knockout. Shop the look!

Wondering if your summer love will last? Here are 15 signs if your seasonal love is fleeting or for real.

Sixteen years after "Titanic's" release—and 101 years after the historic ship's notorious sinking—our hearts still go on for star-crossed lovers Rose DeWitt Bukater (Kate Winslet) and Jack Dawson (Leonardo DiCaprio). We rounded up some of our favorite ill-fated, but oh-so-romantic affairs on film, from "Gone with the Wind" to "Moulin Rouge!".

Flirting shouldn't be retired once you've got the ring. We asked relationship expert Harlan Cohen, as well as real husbands, the best way to keep the sparks flying.

When we're annoyed by male behavior, we turn to columnist Aaron Traister. His logic may be strange, but we have to admit, it's pretty helpful. Here, he answers our many questions for guys.