Marriage Failing? Pop a Pill
You may soon be able to get a prescription for love.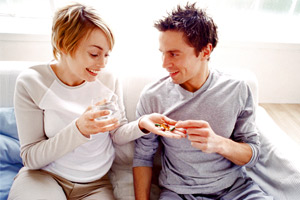 Love might soon be available at your local pharmacy. Researchers at the University of Oxford have written a paper proposing a real life love potion—a pill that would recreate the feeling of being in love.  So if your relationship is on the rocks, and counseling just isn't working, maybe meds could save your marriage.
In Neuroenhancement of Love and Marriage: The Chemicals Between Us researchers assert:
"Love is one of the fundamental aspects of human existence. It is to a large part biologically determined."
They then argue that the reasons for divorce "seem to point at emotional issues as being important."
Their proposed pill, a combination of five types of drugs, would biologically manipulate the brain into thinking you really, really, want your spouse—enough to put your differences aside.
Here's a rundown of the ingredients:
Pheromones. While the paper addresses the fact that it's often contested whether pheromones are effective, researchers argue: "That has not prevented the cosmetics industry from selling many products purporting to contain pheromones."
By all means, then—toss those suckers in there.
The second ingredient is testosterone. But while testosterone can increase sexual desire, it doesn't do anything for romance or attachment. We need other drugs for that.
Enter Oxytocin and Vasopressin—also known as "bonding chemicals." During the early stages of a relationship, when you're filled with romantic thoughts and feelings, you're actually filled with Oxytocin and Vasopressin.
CRH would also be included in the pill. It's a hormone that creates the fear of separation, and while it can lead to depression, it can also help bring two people together.
And then there's Entactogens, a drug found in MDMA pills like ecstasy. The paper argues its use:
"There has been therapeutic use of MDMA to develop emotional communications skills, and it is not implausible that it, or similar drugs, could be used to deepen pair bonding."
Far be it from me to question neuroscience, but isn't this whole idea just a bit…well, Matrixy?
Researchers address the philosophical concern of manipulating biology—the question of authenticity. As Morpheus put it: "You take the blue pill – the story ends, you wake up in your bed and believe whatever you want to believe."
The paper argues:
"Even if love were not authentic, authenticity is not an overriding or exclusive value. People can trade a degree of authenticity for other values in their lives."
Basically, the effects of this pill might be worth it to some people.
But what happens when you can't afford to pay for your prescription anymore? Are you just postponing a relationship that might not be right in the first place? And is true love really just a mere mix of five different ingredients?
There's a long list of questions, and while a "love pill" might seem far off, these researchers are arguing that it's time to start studying:
"We should use our growing knowledge of the neuroscience of love to enhance the quality of love by biological manipulation."
Would you take a pill for love? Tell us on Facebook.

Photo: George Doyle/Getty Images
love: friendship, dating, sex & marriage
We've made picking your palette a breeze! Just find your favorite hue and choose one of the cool combos below.

Get inspired with these twelve ideas for a fantastic, fun summer wedding!

What's worse than getting snubbed while proposing? Having your heart broken in front of countless strangers.

Want your I do's to be totally you? From pre-wedding cocktails to Mad Lib vows, here are 25 ways to make your ceremony as unforgettable as your reception.

Summer love can be sweet. But it tends to be fast, feverish and often fleeting. In a season where emotions run hot, here are some rules to help avoid heartbreak.

We asked brides on TheKnot.com to tell all -- and they did. Here, five of the most likely culprits and advice for how to deal with your drama-causing guests along the way.

This short course in flirting will not only teach you how to flirt better but also how to tell when someone is flirting with you—and how to respond. Have fun.

Gatsby glamour doesn't have to just live on the big screen! Embrace the trendy (yet timeless) art deco style with sequins, pearls, feathers and geometric patterns. Check out these art deco ideas and achieve the feel of 1920s decadence. By the way, all of these are affordable, except for the $600 hairpiece which is a splurge, but a knockout. Shop the look!

Wondering if your summer love will last? Here are 15 signs if your seasonal love is fleeting or for real.

Sixteen years after "Titanic's" release—and 101 years after the historic ship's notorious sinking—our hearts still go on for star-crossed lovers Rose DeWitt Bukater (Kate Winslet) and Jack Dawson (Leonardo DiCaprio). We rounded up some of our favorite ill-fated, but oh-so-romantic affairs on film, from "Gone with the Wind" to "Moulin Rouge!".

Flirting shouldn't be retired once you've got the ring. We asked relationship expert Harlan Cohen, as well as real husbands, the best way to keep the sparks flying.

When we're annoyed by male behavior, we turn to columnist Aaron Traister. His logic may be strange, but we have to admit, it's pretty helpful. Here, he answers our many questions for guys.