Marriage Failing? Pop a Pill
You may soon be able to get a prescription for love.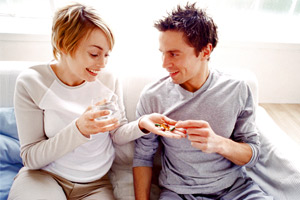 Love might soon be available at your local pharmacy. Researchers at the University of Oxford have written a paper proposing a real life love potion—a pill that would recreate the feeling of being in love.  So if your relationship is on the rocks, and counseling just isn't working, maybe meds could save your marriage.
In Neuroenhancement of Love and Marriage: The Chemicals Between Us researchers assert:
"Love is one of the fundamental aspects of human existence. It is to a large part biologically determined."
They then argue that the reasons for divorce "seem to point at emotional issues as being important."
Their proposed pill, a combination of five types of drugs, would biologically manipulate the brain into thinking you really, really, want your spouse—enough to put your differences aside.
Here's a rundown of the ingredients:
Pheromones. While the paper addresses the fact that it's often contested whether pheromones are effective, researchers argue: "That has not prevented the cosmetics industry from selling many products purporting to contain pheromones."
By all means, then—toss those suckers in there.
The second ingredient is testosterone. But while testosterone can increase sexual desire, it doesn't do anything for romance or attachment. We need other drugs for that.
Enter Oxytocin and Vasopressin—also known as "bonding chemicals." During the early stages of a relationship, when you're filled with romantic thoughts and feelings, you're actually filled with Oxytocin and Vasopressin.
CRH would also be included in the pill. It's a hormone that creates the fear of separation, and while it can lead to depression, it can also help bring two people together.
And then there's Entactogens, a drug found in MDMA pills like ecstasy. The paper argues its use:
"There has been therapeutic use of MDMA to develop emotional communications skills, and it is not implausible that it, or similar drugs, could be used to deepen pair bonding."
Far be it from me to question neuroscience, but isn't this whole idea just a bit…well, Matrixy?
Researchers address the philosophical concern of manipulating biology—the question of authenticity. As Morpheus put it: "You take the blue pill – the story ends, you wake up in your bed and believe whatever you want to believe."
The paper argues:
"Even if love were not authentic, authenticity is not an overriding or exclusive value. People can trade a degree of authenticity for other values in their lives."
Basically, the effects of this pill might be worth it to some people.
But what happens when you can't afford to pay for your prescription anymore? Are you just postponing a relationship that might not be right in the first place? And is true love really just a mere mix of five different ingredients?
There's a long list of questions, and while a "love pill" might seem far off, these researchers are arguing that it's time to start studying:
"We should use our growing knowledge of the neuroscience of love to enhance the quality of love by biological manipulation."
Would you take a pill for love? Tell us on Facebook.

Photo: George Doyle/Getty Images
love: friendships, dating, sex & marriage
Love it or hate it, the selfie wields much power.

Talk about some blurred lines.

Come on people, it's not that hard to mind your own business.

No sense in wasting your time on someone who will never commit.

There he is, the man of your dreams. He's sitting across from you at the coffee shop or standing at the opposite side of the bar. His eyes meet yours, a quick glance, and then it's back to his drink. Was he giving you a signal?

Remember that time on "30 Rock" when Liz Lemon and her eventual-husband Criss went shopping at Ikea, only to end up in a major fight? We know it couldn't be closer to the truth because we've all been there. In honor of the irritation that can be Ikea, here are the top fights you'll likely encounter.

Dating doesn't have to be a daunting task, promise. Here's how to make it fun for you and him.

One woman's honest journey to divorce will break your heart and inspire you at the same time.

Want to send your date running? Try one these moves.

Two guests arrested in New Jersey.

Celebrities certainly know how to travel in style, so if you're struggling to select a honeymoon destination, look no further than these star-approved hotspots. To make it even easier, we're providing you with hotel recommendations, packing essentials, and tips on what to do and see! So channel your inner celeb at one of these U.S. destinations for an unforgettable vacation!

Tall Twitter users named Wayne, we're on to you!