Marriage Failing? Pop a Pill
You may soon be able to get a prescription for love.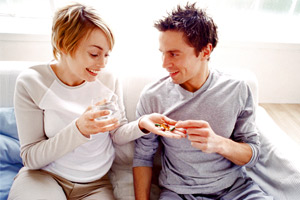 Love might soon be available at your local pharmacy. Researchers at the University of Oxford have written a paper proposing a real life love potion—a pill that would recreate the feeling of being in love.  So if your relationship is on the rocks, and counseling just isn't working, maybe meds could save your marriage.
In Neuroenhancement of Love and Marriage: The Chemicals Between Us researchers assert:
"Love is one of the fundamental aspects of human existence. It is to a large part biologically determined."
They then argue that the reasons for divorce "seem to point at emotional issues as being important."
Their proposed pill, a combination of five types of drugs, would biologically manipulate the brain into thinking you really, really, want your spouse—enough to put your differences aside.
Here's a rundown of the ingredients:
Pheromones. While the paper addresses the fact that it's often contested whether pheromones are effective, researchers argue: "That has not prevented the cosmetics industry from selling many products purporting to contain pheromones."
By all means, then—toss those suckers in there.
The second ingredient is testosterone. But while testosterone can increase sexual desire, it doesn't do anything for romance or attachment. We need other drugs for that.
Enter Oxytocin and Vasopressin—also known as "bonding chemicals." During the early stages of a relationship, when you're filled with romantic thoughts and feelings, you're actually filled with Oxytocin and Vasopressin.
CRH would also be included in the pill. It's a hormone that creates the fear of separation, and while it can lead to depression, it can also help bring two people together.
And then there's Entactogens, a drug found in MDMA pills like ecstasy. The paper argues its use:
"There has been therapeutic use of MDMA to develop emotional communications skills, and it is not implausible that it, or similar drugs, could be used to deepen pair bonding."
Far be it from me to question neuroscience, but isn't this whole idea just a bit…well, Matrixy?
Researchers address the philosophical concern of manipulating biology—the question of authenticity. As Morpheus put it: "You take the blue pill – the story ends, you wake up in your bed and believe whatever you want to believe."
The paper argues:
"Even if love were not authentic, authenticity is not an overriding or exclusive value. People can trade a degree of authenticity for other values in their lives."
Basically, the effects of this pill might be worth it to some people.
But what happens when you can't afford to pay for your prescription anymore? Are you just postponing a relationship that might not be right in the first place? And is true love really just a mere mix of five different ingredients?
There's a long list of questions, and while a "love pill" might seem far off, these researchers are arguing that it's time to start studying:
"We should use our growing knowledge of the neuroscience of love to enhance the quality of love by biological manipulation."
Would you take a pill for love? Tell us on Facebook.

Photo: George Doyle/Getty Images
love: friendships, dating, sex & marriage
Hopeless romantics and cringe-worthy chick flicks would tell you that it doesn't matter what you do on the date, as long as you're together. But they're wrong. Dead wrong. Women use your date ideas to size you up, says matchmaker Rachel DeAlto, author of "Flirt Fearlessly." "You absolutely will be judged based on the date you plan. There are so many subconscious impressions that we take in while dating." Gulp. Here are 10 terrible ideas that can land you on the no-lay list—and simple swaps to keep her happy. By K. Aleisha Fetters

Here are 15 signs we've been on "The Bachelor" bandwagon—all 27 seasons of it—for (possibly) longer than we'd care to admit.

In the grand tradition of celebrating love, we've chosen some of the mushiest, sweetest, and most memorable scenes to hit the big or small screen. From marriage proposals to unexpected serenades, these moments will make you believe in love (and want someone to cuddle up with, stat).

How to flag her little fibs. By Laura Tedesco

Revealr is a new iPhone app that allows those looking for love to hear their possible matches before they see them.

A new poll reveals 59 percent of the country supports same-sex marriage.

Celebrity engagements are so much fun to follow because every detail is bound to be over-the-top — from the proposal (like when Kanye rented out an entire stadium to propose to Kim) to the huge, sparkly engagement ring and, of course, the wedding. Plus, as trendsetters, celebs can be a source of inspiration even if you can't afford a million dollar ring. Here are our celebrity wedding predictions for 2014.

If you've ever been to a club—like, ever, even once—you are not going to be shocked to hear that women get a lot of unwanted, aggressive attention. But when you read the findings of this study on how often and why it happens, it might make you feel downright sick to your stomach.

No matter your current relationship status or past relationship fails, get a fresh start this month, with these tips for spring cleaning your love life.

Forget the rules you've always heard—it's time to start making your own.

Are you in an affair without knowing it? Unless you're a swinger, having sex with someone else counts as cheating. But then there's the fuzzy area between friendship and infidelity—and chances are, your girlfriend sees those shades of gray as more black and white than you do. "Men aren't as attuned to identifying ambiguous behaviors as cheating as women are," says Daniel Kruger, Ph.D., a University of Michigan psychologist, who's studied gender differences in definitions of infidelity. In other words, what you consider totally innocent could be her deal breaker.

We spoke with relationship therapist Rachel A. Sussman, author of "The Breakup Bible," for her tips on how regular girls can survive a split like an A-lister.