China's 'fake-marriage market' a growing trend
In China, gays and lesbians struggle to blend in with tradition.
In a culture where tradition is everything, same-sex relationships aren't exactly endorsed. In fact, in China, gay relationships on TV or in movies are often censored.
Thus, China's 'fake-marriage market' is a gathering in which gays and lesbians meet to organize heterosexual marriages.
Sham marriages are a growing issue in China. The country's gay population often find themselves coerced into traditional, opposite-sex marriages; Bloomberg reports that 16 million Chinese women are married to gay men. The country even has a title for these women: tongqi.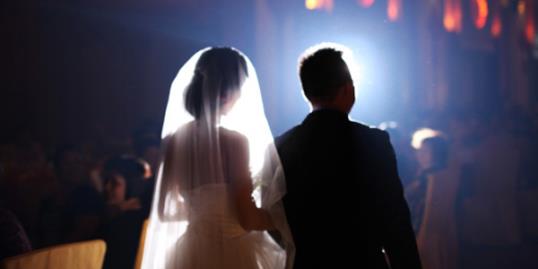 More on MSN Living: 8 signs you're too bossy in bed

Many of these wives have no previous knowledge of their husband's homosexuality and only realize their orientation after discovering pornography or extramarital affairs. Naturally, this often becomes a legal issue. In one example from a Chinese news outlet, a wife who realizes she's a fake seeks to receive compensatory damages after her divorce.
More on MSN Living: What his sex signals really mean
A Qiang is a gay blogger who often writes about these fake marriages. He described the mindset behind the issue:
"Some homosexuals cannot face social prejudice and discrimination, so they hide their sexual orientation with a heterosexual marriage rather than be discriminated against; Chinese traditional culture emphasizes children and the continuation of the family line, and heterosexual marriage is a convenient way to get children; there is an inadequate, comprehensive social safety net, so some homosexuals enter heterosexual marriage for the sense of security."
Hence the birth of the "fake marriage market." Slate.com reporter Nicola Davison recently visited one of these gatherings in Shangai, where she quoted a man referenced as "No. 11:"
"I'm here to find a lesbian, to be with me and to build a home. In my view, a 30-year-old man should start thinking about having a family, but two men can't hold each other's hands in the street. We're not allowed to be a family."
Not all of these heterosexual marriages are intentionally fake, however. Qiang also points out that "many people do not understand their own sexuality at the time of marriage."
Bing: Donald Trump speaks out against gay marriage.
More from The Heart Beat:

Cohabitating couples get married for the kids
Study: BMW drivers more likely to cheat
Men no longer willing to pay for first date
Love content like this? Friend us on Facebook, follow us on Twitter and find us on Pinterest
Photo: @mr.jerry/Getty Images
love: friendships, dating, sex & marriage
No sense in wasting your time on someone who will never commit.

There he is, the man of your dreams. He's sitting across from you at the coffee shop or standing at the opposite side of the bar. His eyes meet yours, a quick glance, and then it's back to his drink. Was he giving you a signal?

Remember that time on "30 Rock" when Liz Lemon and her eventual-husband Criss went shopping at Ikea, only to end up in a major fight? We know it couldn't be closer to the truth because we've all been there. In honor of the irritation that can be Ikea, here are the top fights you'll likely encounter.

Love it or hate it, the selfie wields much power.

Dating doesn't have to be a daunting task, promise. Here's how to make it fun for you and him.

One woman's honest journey to divorce will break your heart and inspire you at the same time.

Want to send your date running? Try one these moves.

Two guests arrested in New Jersey.

Celebrities certainly know how to travel in style, so if you're struggling to select a honeymoon destination, look no further than these star-approved hotspots. To make it even easier, we're providing you with hotel recommendations, packing essentials, and tips on what to do and see! So channel your inner celeb at one of these U.S. destinations for an unforgettable vacation!

Tall Twitter users named Wayne, we're on to you!

Should little girls be dreaming of a different kind of "I do"?

Need a reason to pack your bags and get the hell out of here?