China's 'fake-marriage market' a growing trend
In China, gays and lesbians struggle to blend in with tradition.
In a culture where tradition is everything, same-sex relationships aren't exactly endorsed. In fact, in China, gay relationships on TV or in movies are often censored.
Thus, China's 'fake-marriage market' is a gathering in which gays and lesbians meet to organize heterosexual marriages.
Sham marriages are a growing issue in China. The country's gay population often find themselves coerced into traditional, opposite-sex marriages; Bloomberg reports that 16 million Chinese women are married to gay men. The country even has a title for these women: tongqi.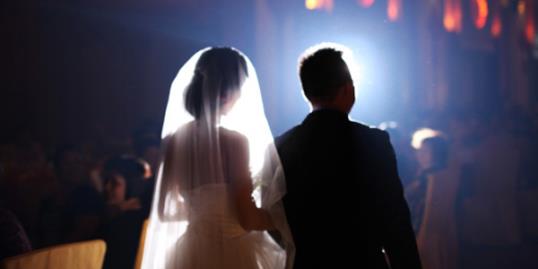 More on MSN Living: 8 signs you're too bossy in bed

Many of these wives have no previous knowledge of their husband's homosexuality and only realize their orientation after discovering pornography or extramarital affairs. Naturally, this often becomes a legal issue. In one example from a Chinese news outlet, a wife who realizes she's a fake seeks to receive compensatory damages after her divorce.
More on MSN Living: What his sex signals really mean
A Qiang is a gay blogger who often writes about these fake marriages. He described the mindset behind the issue:
"Some homosexuals cannot face social prejudice and discrimination, so they hide their sexual orientation with a heterosexual marriage rather than be discriminated against; Chinese traditional culture emphasizes children and the continuation of the family line, and heterosexual marriage is a convenient way to get children; there is an inadequate, comprehensive social safety net, so some homosexuals enter heterosexual marriage for the sense of security."
Hence the birth of the "fake marriage market." Slate.com reporter Nicola Davison recently visited one of these gatherings in Shangai, where she quoted a man referenced as "No. 11:"
"I'm here to find a lesbian, to be with me and to build a home. In my view, a 30-year-old man should start thinking about having a family, but two men can't hold each other's hands in the street. We're not allowed to be a family."
Not all of these heterosexual marriages are intentionally fake, however. Qiang also points out that "many people do not understand their own sexuality at the time of marriage."
Bing: Donald Trump speaks out against gay marriage.
More from The Heart Beat:

Cohabitating couples get married for the kids
Study: BMW drivers more likely to cheat
Men no longer willing to pay for first date
Love content like this? Friend us on Facebook, follow us on Twitter and find us on Pinterest
Photo: @mr.jerry/Getty Images
love: friendships, dating, sex & marriage
Can you believe it was only about 15 years ago that engagement ring shopping meant a time-consuming slog from jewelry boutique to jewelry boutique? Thank goodness for the internet; nowadays, it's easy to do all that legwork online.

The holiday season, with all its twinkly lights and fireplaces and cold nights perfect for snuggling, is most definitely for lovers—but "The Single Woman" author Mandy Hale is here to remind you that it's also for singles, too.

Studies show that being satisfied with your romantic relationship is one of the best predictors of happiness -- even more important than education, income, or having a high-status job. Resolve to make 2014 your happiest year yet with these bond-strengthening pledges.

This winter, it's all about mixing unexpected seasonal elements with elegant neutral details and a hint of sparkle and sequins. Take a look.

Here's why dudes without hair make the best boyfriends.

What do you wish you appreciated more when you were flying solo?

"If you're so busy tweeting and Instagraming, you're not paying attention," New York wedding planner Marcy Blum said. "It's almost a cosmic faux pas. People want your energy with them and focused on what they're doing."

The wedding favor, that little thank-you-for-coming gift, has risen to new heights with the bride and groom giving guests a wide range of favors that are meaningful to them.

Generations ago, planning a wedding was 100 percent the bride's job, but in today's age of gender equity, it's a mere 99 percent.

For all the self-help books and advice columns out there (um, keeping reading my advice anyway, please!), there's one tool we all already have in our arsenal for picking a partner that will keep us happy: our gut instincts.

According to a new study from the University of Texas and the University of California, Los Angeles, both men and women have regrets when it comes to sex, but the genders vary greatly when it comes to what they regret specifically.

Spending time alone with your guy is easy, but going public with your plus-one is another thing entirely. Whether it's your crazy relatives at Thanksgiving dinner or awkward convos with your boss at the holiday party, possible pitfalls are everywhere. Keep reading for tips on how to make his grand entrance into your social life a good thing.