Controversial dating site illegal in some U.S. cities
'Dating for dollars' could land you in jail.
Whether it's sugar dating or a website that lets beautiful people travel free, online entrepreneur Brandon Wade has created a slew of controversial dating sites.
But this might be the first time one of Wade's sites is actually illegal.
WhatsYourPrice.com allows members to pay for dates. One user explained the lure to Milwaukee's TMJ4: 
"It just saves a lot of time, because—I'm sorry—but if you are going to pay someone $100 to go on a date, they are going to be a lot more serious than they would if they paid a $30 membership to date 100 different girls on match.com."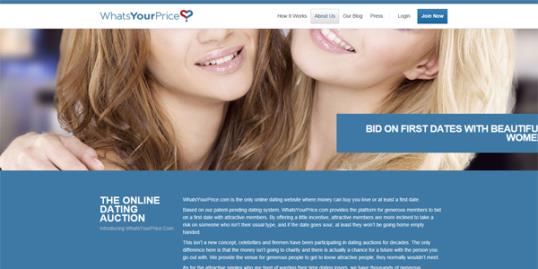 More on MSN Living: 18 biggest things married couples complain about 
But law enforcement warns using the site could land you in jail in some cities. In particular, Brookfield and Oak Creek, Wisconsin have laws that ban people being paid for their time without a license. 
"You are being paid for your time.  You need a license in the City of Oak Creek for that, and we will arrest you if you don't," warns Oak Creek Police Chief John Edwards. 
More on MSN Living: 30 of the most romantic celebrity social posts
Wade recently appeared on "Anderson" to defend his site among critics who compared it to an escort service. 
"We make it very clear that you're not allowed to have sex on the first date," Wade has said, likening his site to a "dating auction." 
Edwards' response? 
"That's a completely different thing. That's a rationalization for what it is." 
Despite the criticism, the site has over 750,000 members across the country, and singles often negotiate their rate for a first date. 
"She could come back and say 'That's not enough.  I would need $100,'" Wade explains. "You could then counter that with 'How about $90?'" 
His rationalization might make sense to some, but Edwards isn't buying it. 
"If you are the person that's being paid, that's who we arrest."
More from The Heart Beat:
Romance fades three and a half years into marriage
New wedding trend: The anti-invite
China's 'fake-marriage market' a growing trend
Love content like this? Friend us on Facebook, follow us on Twitter and find us on Pinterest.
Photo: Whatsyourprice.com
love: friendships, dating, sex & marriage
This time of year, we dust off our holiday traditions of special songs, stories, events and food to make our season bright. Here's a look into the traditional, unique and quirky holiday traditions of some famous couples.

Look, I looooove engagement season for obvious reasons, but even I can admit I'm like, "Really, AGAIN?" when yet ANOTHER engagement ring pops up in my news feed. Seriously, there were two this weekend. (Congrats, Gemma and Danny!)

We asked real men and women (and a few first-base experts, too) to give us the cardinal rules of kissing, tell us what makes someone a good kisser and more. So whether you're leaning in for kiss No. 1 or 1,000, read on.by Devin Tomb

Not quite sure which diamond shape suits your personality? We're here to help.

Dating can lead to all kinds of tricky situations. To help you navigate even the most awkward moments, we've compiled our 50 best dating tips—some new, some old—given to us by experts, moms, women like you, and even Justin Timberlake.

Customers as Madison's new Snuggle House can snuggle with professional cuddlers for $60 an hour.

Can you believe it was only about 15 years ago that engagement ring shopping meant a time-consuming slog from jewelry boutique to jewelry boutique? Thank goodness for the internet; nowadays, it's easy to do all that legwork online.

The holiday season, with all its twinkly lights and fireplaces and cold nights perfect for snuggling, is most definitely for lovers—but "The Single Woman" author Mandy Hale is here to remind you that it's also for singles, too.

Studies show that being satisfied with your romantic relationship is one of the best predictors of happiness -- even more important than education, income, or having a high-status job. Resolve to make 2014 your happiest year yet with these bond-strengthening pledges.

This winter, it's all about mixing unexpected seasonal elements with elegant neutral details and a hint of sparkle and sequins. Take a look.

Here's why dudes without hair make the best boyfriends.

What do you wish you appreciated more when you were flying solo?