Is kissing cheating? Some men don't think so
A poll shows men have a much looser definition of infidelity.
When it comes to infidelity, men and women can generally agree on one thing—having sex with another person is cheating. 
But from there, the definition varies between the sexes.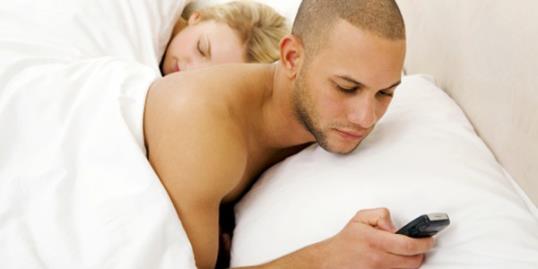 Online dating sites ChristianMingle.com and JDate.com recently released a report titled, "State of Dating." It included a survey of 2,700 singles, asking them what they believe constitutes cheating. All of the women polled—100 percent—said that kissing someone else is an act of infidelity. However, lots of guys weren't on the same page. Only 86 percent of men agreed that kissing is indeed cheating.
More on MSN Living: 8 signs you're too bossy in bed
The differences didn't end there.
Some experts say emotional infidelity is worse than having a sexual affair. Last year, The Heart Beat talked to infidelity expert Ruth Houston, who explained:
"Emotional infidelity will cause one partner to leave the other partner, even if there's no sex involved. That is a situation from which, probably, you will never be able to recover."
More on MSN Living: What his sex signals really mean
But survey respondents were less worried about emotional cheating, with 77 percent of women deeming it infidelity, and only half of men (55 percent) feeling the same way.
"Most affairs start with a friendship," Houston added. "If an emotional affair goes unchecked, it will become a physical affair if the opportunity presents itself."
Eighty-two percent of women also said online flirting or texting counts as cheating. Not surprisingly, only 56 percent of men agreed.
Bing: Signs he is cheating
Tell us what you think—is kissing cheating? Does an emotional affair as bad as a physical affair?
More from The Heart Beat:

TV romance may ruin your real life relationship
The most popular days for sex
Men no longer willing to pay for first date
Love content like this? Friend us on Facebook, follow us on Twitter and find us on Pinterest
Photo: Russell Underwood/Getty Images
love: friendships, dating, sex & marriage
It's wedding season! Let's take a look back at when these stunning celebs put on gorgeous gowns and held beautiful bouquets in support of their friends' and family members' big days.

A new study says we're more open to consensual non-monogamy now than ever before — but does it work?

5 steps to being happy together in the long run.

There has been an exponential increase in the number of people who are questioning their marriage.

We're willing to bet that if you're not already grappling with these wedding-related snags, you will be soon.

Pull out the tissues for these personalized wedding vows.

Forgotten what love is all about? Read this note, and remember.

And a few that aren't so shocking.

If you find yourself doing any of these things, consider changing your behavior or counseling.

From pineapple sculptures made out of sunflowers to bold graphic printed tablecloths, ten trendsetters in the wedding industry shared 100 days' worth of inspiring new wedding details. See The Knot editors' top picks for the coolest and most awe-worthy ideas from the wedding experts.

Those Facebook friends who seem to have perfect lives with flawless mates whom they adore at all times? Even they face tough times like these.

How to flag her little fibs. By Laura Tedesco