Flikdate: The new age of video dating
Flikdate lets you live video chat with potential dates on your smartphone.
The concept of dating has definitely changed since our parents were in college. Today, rarely is it as simple as the "boy meets girl, they fall in love and live happily ever after" scenario.  If you've seen enough lame dating websites and apps, we would like to introduce something new. 
Flikdate allows to you chat with people from all over the world, all from the comfort of your smartphone. By using a live video chat, you can actually see the person you are talking to, and hopefully find that spark of love!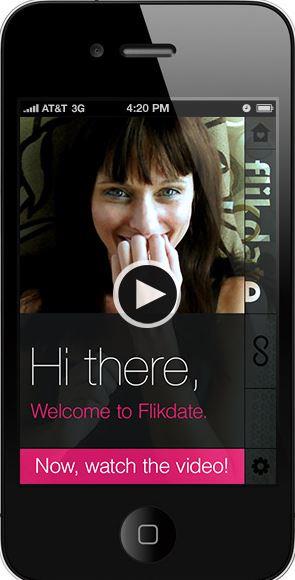 This is how it works:  Download the *free* Flikdate app on your smartphone. That's easy enough, right? It connects to your Facebook account, but only to verify information such as your age, education, location and basic information. This also means that everyone you find on Flikdate displays their accurate information, too!
After the initial set up and a quick, optional tutorial, you can begin Flikdating! Here is the basic rundown:
During a session, you get 90 seconds with each person. Each date is through a live video on your smartphone, so you can see and hear your Flikdate partner. You get 25 free fliks to start out, and you can buy more for $0.99 or just wait for the free refill every day. Also, you can make your experience personalized by choosing the geographical range of your dates. You can choose to chat with people from all over the world, from your continent, just around your country, or even people from only your university.
If you like the person you are Flikdating with and think they're cute, hot, funny, or whatever you're looking for, you can hit the "Thumbs Up" button. The person you are talking with can see if you hit this button, and likewise, you can see if someone presses it for you.  On the other hand, if you feel like you don't quite mesh with the guy and he isn't your type, you can hit the "Thumbs Down" button. This moves you on to a new date, or you can just flik the screen to move on.
love: friendships, dating, sex & marriage
Or how to tell if you've reached THAT point in your bond.

Dating doesn't have to be a daunting task, promise. Here's how to make it fun for you and him.

This just in: A new study shows girls are warriors in the womb.

You can make a pros and cons list...but ultimately you know what works best for you.

Maggie Reyes is a life coach, writer, and the founder of ModernMarried.com. She helps newlyweds re-think what married life can be. Here, she's revealing tricks every newlywed couple needs to know.

Government-supported Vietnamese classes teach women Korean language, customs.

Whether you're into creative artists or uber-preppy bankers, there's something to be said for trying something new.

Sometimes two characters on a TV show or movie can portray being a happy couple effortlessly, or can have lots of fun playing former spouses — especially if they're married to each other in real life! Keep scrolling for six celebrity costars you probably didn't know tied the knot, even after the bloodiest and craziest story lines.

Some couples want nothing more than a laid-back, by-the-book proposal. Then there are the other couples, where the proposal not only needs to be personalized, it also has to be unique and entirely different than the typical restaurant, bended-knee idea. Sound like you? Then get inspired by some of the most creative proposal ideas we've ever seen. If you find something you like, steal it and then modify it to make your proposal something totally unforgettable.

From Nantucket all the way to Cayo Espanto, we've rounded up some of the prettiest beaches to travel to for your honeymoon.

Researchers studied the age-old stereotype that women really are more talkative than men.

'There is a science behind attraction,' SingldOut says.