Valentine's Day: Toss the cliché candy and roses, women say
We will respectfully disagree that there's anything wrong with chocolate.
Attention, men. When it comes to Valentine's Day, it might be time to think outside the box. Apparently, the standard flowers and chocolate gifts just aren't cutting it anymore.
A few recent surveys have found that women aren't particularly fond of traditional Valentine's Day presents.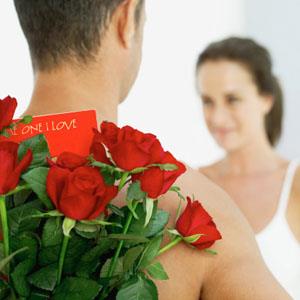 More on MSN Living: 9 sex & dating myths
Flower retailer ProFlowers, for example, recently conducted a survey that found only 18 percent of women want red roses for Valentine's Day. In fact, only 40 percent want roses at all.
The Heart Beat talked to Greg Smith, VP of Merchandising for ProFlowers. He explained that over half of women found red roses either cliché or thoughtless:
"Thirty-one percent of women think that red roses are cliché and prefer a different kind of flower, such as a mixed bouquet, or a different color of rose. Some women, (21%), said that giving or sending red roses doesn't require any thought. Overall, women want their men to be more thoughtful in their gifts."
More on MSN Living: 28 ways to have a sexy February
Last year, dating site Zoosk released a similar poll. In their survey, 58 percent of women said Valentine's Day flowers and chocolates are too cliché.
Flowers, maybe. But chocolate? Let's not get crazy now.
There's a fine line between traditional and tired. It's always not easy to balance timelessness with creativity. So how do you freshen up a classic? Smith offered some easy ways to switch it up this year:
"It would be a nice touch to send pink roses, for example, if she loves the color pink…Tulips are also a great option as they are in season and available in a variety of colors. Orchids scored high in the survey as well. "
Also, 24 percent of women surveyed preferred a mixed flower bouquet.
Another interesting finding that might be of help:
"We've discovered from the survey that single women who have never been married prefer red roses over those who are married, living with their partner or divorced," Smith told us. "Older women generally prefer mixed flower bouquets over roses."
Roses and candy might be cliché, but there's one timeless classic women never tire of: cards. Zoosk's survey found that 65 percent of women still love a good, old-fashioned sappy Valentine's Day card.
What do you think--are roses and candy cliché? What do you plan to give for Valentine's Day this year?
More from The Heart Beat:
Science says everlasting love is a myth
Is make-up sex unhealthy?
Men no longer willing to pay for first date
Love content like this? Friend us on Facebook, follow us on Twitter and find us on Pinterest
Photo: George Doyle/Getty Images
love: friendships, dating, sex & marriage
It's wedding season! Let's take a look back at when these stunning celebs put on gorgeous gowns and held beautiful bouquets in support of their friends' and family members' big days.

A new study says we're more open to consensual non-monogamy now than ever before — but does it work?

5 steps to being happy together in the long run.

There has been an exponential increase in the number of people who are questioning their marriage.

We're willing to bet that if you're not already grappling with these wedding-related snags, you will be soon.

Pull out the tissues for these personalized wedding vows.

Forgotten what love is all about? Read this note, and remember.

And a few that aren't so shocking.

If you find yourself doing any of these things, consider changing your behavior or counseling.

From pineapple sculptures made out of sunflowers to bold graphic printed tablecloths, ten trendsetters in the wedding industry shared 100 days' worth of inspiring new wedding details. See The Knot editors' top picks for the coolest and most awe-worthy ideas from the wedding experts.

Those Facebook friends who seem to have perfect lives with flawless mates whom they adore at all times? Even they face tough times like these.

How to flag her little fibs. By Laura Tedesco