Valentine's Day: Toss the cliché candy and roses, women say
We will respectfully disagree that there's anything wrong with chocolate.
Attention, men. When it comes to Valentine's Day, it might be time to think outside the box. Apparently, the standard flowers and chocolate gifts just aren't cutting it anymore.
A few recent surveys have found that women aren't particularly fond of traditional Valentine's Day presents.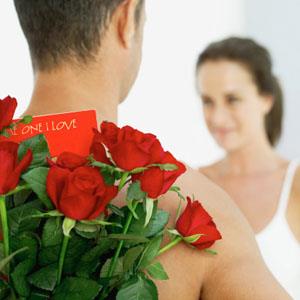 More on MSN Living: 9 sex & dating myths
Flower retailer ProFlowers, for example, recently conducted a survey that found only 18 percent of women want red roses for Valentine's Day. In fact, only 40 percent want roses at all.
The Heart Beat talked to Greg Smith, VP of Merchandising for ProFlowers. He explained that over half of women found red roses either cliché or thoughtless:
"Thirty-one percent of women think that red roses are cliché and prefer a different kind of flower, such as a mixed bouquet, or a different color of rose. Some women, (21%), said that giving or sending red roses doesn't require any thought. Overall, women want their men to be more thoughtful in their gifts."
More on MSN Living: 28 ways to have a sexy February
Last year, dating site Zoosk released a similar poll. In their survey, 58 percent of women said Valentine's Day flowers and chocolates are too cliché.
Flowers, maybe. But chocolate? Let's not get crazy now.
There's a fine line between traditional and tired. It's always not easy to balance timelessness with creativity. So how do you freshen up a classic? Smith offered some easy ways to switch it up this year:
"It would be a nice touch to send pink roses, for example, if she loves the color pink…Tulips are also a great option as they are in season and available in a variety of colors. Orchids scored high in the survey as well. "
Also, 24 percent of women surveyed preferred a mixed flower bouquet.
Another interesting finding that might be of help:
"We've discovered from the survey that single women who have never been married prefer red roses over those who are married, living with their partner or divorced," Smith told us. "Older women generally prefer mixed flower bouquets over roses."
Roses and candy might be cliché, but there's one timeless classic women never tire of: cards. Zoosk's survey found that 65 percent of women still love a good, old-fashioned sappy Valentine's Day card.
What do you think--are roses and candy cliché? What do you plan to give for Valentine's Day this year?
More from The Heart Beat:
Science says everlasting love is a myth
Is make-up sex unhealthy?
Men no longer willing to pay for first date
Love content like this? Friend us on Facebook, follow us on Twitter and find us on Pinterest
Photo: George Doyle/Getty Images
love: friendships, dating, sex & marriage
You'd think brides and grooms who celebrate their nuptials with 50 guests have an equal shot at wedded bliss as those who invite 500, but apparently not.

Because some things are just better with a buddy (whom you happen to be dating).

They're smart, funny, and adorable, but are you a good match?

Fight the urge to sign her up for OkCupid and read this instead.

We know you have good intentions, but...please...stop.

You can't say we didn't warn you. Every month is Movember when you're dating a guy with a beard. And while the scruffy look can be hot, there are some very real, err, challenges that come with the territory. Don't believe us? Well…

Follow these steps to slash your wedding budget—not your fun—in half.

It won't all be cake and flowers, but it can be the best year of your life together so far.

Expert tips on moving past those oh-so-familiar arguments.

Grow as a couple by sharing adventures.

For many married couples, falling in love and saying "I do" was the easy part. Living happily ever after is the part that takes a whole lot of work.