Grand Slam Nuptials: Denny's to Open Wedding Chapel
Would you like some coffee with your breakfast? How about a marriage?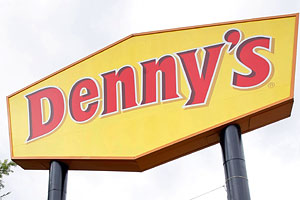 As wedding costs continue to rise, couples are getting more creative about finding budget-friendly ways to tie the knot. Well, here's another resourceful solution—elope over breakfast.
Denny's, the popular breakfast-all-day diner, is planning to open a new location that will include a fully-functioning wedding chapel. Where, you ask? Vegas, of course.
The franchise plans to open a 6,432 square foot "flagship" restaurant in downtown Las Vegas—at the 250,000 square foot Neonopolis entertainment complex.
The restaurant will open its doors (and rings its wedding bells) by the end of the year.
But first, the obvious question: why? The Heart Beat spoke with the restaurant's chief marketing officer, Frances Allen, and she told us:
"We believe that it's part of the Las Vegas experience.  It's something that is so about Vegas; it's fun. We've had people get married at Denny's, in our restaurants across the country. So why not in Vegas, where everyone's looking for something more original to do?"
Neonopolis owner Rohit Joshi is already prepared. He filled us in on the details:
"You can now get married within a chapel in the Denny's. They've got a wedding chapel and they've got a complete bar. They've also got various areas for the receptions, the parties, the dinners, the lunches."
As odd as a Denny's-themed wedding may seem, keep in mind--this is an entire experience.
"First of all, it's going to be a lovely space within the dining room itself," Allen says. "Secondly, we just wanted to create an environment that wasn't normal—that was entertaining, exciting, a little over the top maybe. People love our food, and the place itself will be a very exciting, fun place to be. And this is for the people who want that kind of wedding experience."
Not to mention, there's plenty to do within the Neonopolis complex and in Vegas itself. So it's possible to finish your breakfast, have your wedding, and then head straight to the honeymoon.
"It's a good idea," Joshi adds. "I wish I could take credit for it. But it was Denny's idea."
They say breakfast is the most important meal of the day; I suppose that's especially true if breakfast includes a walk down the aisle.
Photo: Alan Diaz/AP
More Love & Sex from MSN Living:
Secrets of Happy Couples
9 Little Gestures He Wishes You'd Do
9 Things He's Thinking About the Wedding
love: friendships, dating, sex & marriage
This just in: Guys over 5'10" are twice as likely to stray.

Or how to tell if you've reached THAT point in your bond.

Dating doesn't have to be a daunting task, promise. Here's how to make it fun for you and him.

This just in: A new study shows girls are warriors in the womb.

You can make a pros and cons list...but ultimately you know what works best for you.

Maggie Reyes is a life coach, writer, and the founder of ModernMarried.com. She helps newlyweds re-think what married life can be. Here, she's revealing tricks every newlywed couple needs to know.

Government-supported Vietnamese classes teach women Korean language, customs.

Whether you're into creative artists or uber-preppy bankers, there's something to be said for trying something new.

Sometimes two characters on a TV show or movie can portray being a happy couple effortlessly, or can have lots of fun playing former spouses — especially if they're married to each other in real life! Keep scrolling for six celebrity costars you probably didn't know tied the knot, even after the bloodiest and craziest story lines.

Some couples want nothing more than a laid-back, by-the-book proposal. Then there are the other couples, where the proposal not only needs to be personalized, it also has to be unique and entirely different than the typical restaurant, bended-knee idea. Sound like you? Then get inspired by some of the most creative proposal ideas we've ever seen. If you find something you like, steal it and then modify it to make your proposal something totally unforgettable.

From Nantucket all the way to Cayo Espanto, we've rounded up some of the prettiest beaches to travel to for your honeymoon.

Researchers studied the age-old stereotype that women really are more talkative than men.