Grand Slam Nuptials: Denny's to Open Wedding Chapel
Would you like some coffee with your breakfast? How about a marriage?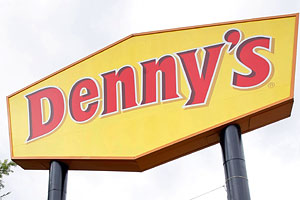 As wedding costs continue to rise, couples are getting more creative about finding budget-friendly ways to tie the knot. Well, here's another resourceful solution—elope over breakfast.
Denny's, the popular breakfast-all-day diner, is planning to open a new location that will include a fully-functioning wedding chapel. Where, you ask? Vegas, of course.
The franchise plans to open a 6,432 square foot "flagship" restaurant in downtown Las Vegas—at the 250,000 square foot Neonopolis entertainment complex.
The restaurant will open its doors (and rings its wedding bells) by the end of the year.
But first, the obvious question: why? The Heart Beat spoke with the restaurant's chief marketing officer, Frances Allen, and she told us:
"We believe that it's part of the Las Vegas experience.  It's something that is so about Vegas; it's fun. We've had people get married at Denny's, in our restaurants across the country. So why not in Vegas, where everyone's looking for something more original to do?"
Neonopolis owner Rohit Joshi is already prepared. He filled us in on the details:
"You can now get married within a chapel in the Denny's. They've got a wedding chapel and they've got a complete bar. They've also got various areas for the receptions, the parties, the dinners, the lunches."
As odd as a Denny's-themed wedding may seem, keep in mind--this is an entire experience.
"First of all, it's going to be a lovely space within the dining room itself," Allen says. "Secondly, we just wanted to create an environment that wasn't normal—that was entertaining, exciting, a little over the top maybe. People love our food, and the place itself will be a very exciting, fun place to be. And this is for the people who want that kind of wedding experience."
Not to mention, there's plenty to do within the Neonopolis complex and in Vegas itself. So it's possible to finish your breakfast, have your wedding, and then head straight to the honeymoon.
"It's a good idea," Joshi adds. "I wish I could take credit for it. But it was Denny's idea."
They say breakfast is the most important meal of the day; I suppose that's especially true if breakfast includes a walk down the aisle.
Photo: Alan Diaz/AP
More Love & Sex from MSN Living:
Secrets of Happy Couples
9 Little Gestures He Wishes You'd Do
9 Things He's Thinking About the Wedding
love: friendships, dating, sex & marriage
There had to be a better way.

LinkedUp connects to your LinkedIn profile to find you a date.

Plus, some report having no one at all they feel close to.

It's wedding season! Let's take a look back at when these stunning celebs put on gorgeous gowns and held beautiful bouquets in support of their friends' and family members' big days.

A new study says we're more open to consensual non-monogamy now than ever before — but does it work?

5 steps to being happy together in the long run.

There has been an exponential increase in the number of people who are questioning their marriage.

We're willing to bet that if you're not already grappling with these wedding-related snags, you will be soon.

Pull out the tissues for these personalized wedding vows.

Forgotten what love is all about? Read this note, and remember.

And a few that aren't so shocking.

If you find yourself doing any of these things, consider changing your behavior or counseling.