Study Reveals the Most Popular Days for Sex
Plus, how often does the average couple get it on?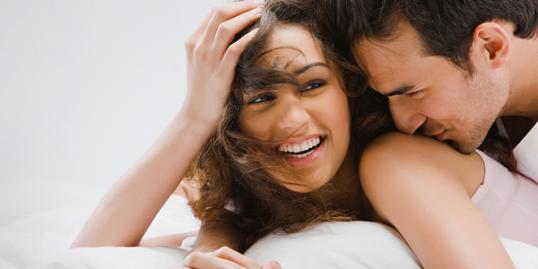 Just in time for the weekend, a study from author Sylvia Day has revealed that Saturday is the most popular day for couples to get it on. Friday came in second, proving that lovers know how to kick off a weekend.
It's all too easy to neglect the physical aspects of your relationship when you're caught up in the demands of the modern world. Couples are often too drained or too busy for sex during the week, Day's study found.
"After a long day in the office followed by a stressful commute, you can understand how sex may be the last thing on people's mind," she said.
The study encompassed 2,000 adult women, examining the more physical aspects of their relationships. On average, researchers found that the women reported having sex only two times a week with their significant other.
Or maybe that's a whopping two times a week, depending on your situation.
"Twice a week seems to be the average number of times a couple gets to have some bedroom action, but there are couples that have sex a lot more than this," Day explained. "Every couple is different, though, and what works for one may not suit another."
Day told The Heart Beat that talking about sex is good for relationships:
"Sex isn't just physical, it's cerebral, and having it as a near-daily topic of conversation in a mainstream way--we're talking about it with co-workers, friends, family, and even strangers at the bookstore--has lowered inhibitions. We're thinking about sex much more often and wanting it with greater frequency. Frequency builds intimacy with our partners, which builds trust and sparks an adventurous spirit."
In her study, she found that "I'm too tired" was the most popular excuse for not having sex, followed by "I'm not in the mood," and the old classic, "I've got a headache."
Related video: 5 Ways to Strengthen Your Relationship
But despite all of that, the good news is most people are satisfied with the frequency and quality of sex with their partners, at least in Day's study. She found that most of her subjects rated their sex lives three out of five.
So while we're on the subject, the study included a few other interesting statistics:
Three-quarters of subjects still enjoy sex only in the missionary position. But hey, why mess with a good thing?
The average length of foreplay time is about 10 minutes. Apparently, people can't wait to get to the good stuff.
One in three people have had sex on a beach, 5 percent of people have had sex in a fitting room, and 9 percent say they've done it in a swimming pool.
And with those kinky statistics, I bid you adieu. Enjoy your weekend, wink wink.
Photo: ImagesBazaar/Getty Images

More love and sex on MSN Living:
Crazy Marriage Proposals
Weird Wild World of Modern Love
Most Romantic Date Destinations in America
25 Reasons Why Married Sex Is Better
love: friendships, dating, sex & marriage
Why holding on to your partner's mistakes will end up hurting you.

A little extra effort, will power and research can help your marriage bloom well into old age.

These are the conversations all betrothed couples should take the time to have before they get hitched.

Brace yourself, this is uncomfortable.

There's nothing wrong with grabbing Italian food and alternating between watching action films and romantic comedies, but shaking up your going-out routine with an extreme date night can be the ultimate turn on and the best way to keep your relationship exciting.

This just in: Guys over 5'10" are twice as likely to stray.

Or how to tell if you've reached THAT point in your bond.

Dating doesn't have to be a daunting task, promise. Here's how to make it fun for you and him.

This just in: A new study shows girls are warriors in the womb.

You can make a pros and cons list...but ultimately you know what works best for you.

Maggie Reyes is a life coach, writer, and the founder of ModernMarried.com. She helps newlyweds re-think what married life can be. Here, she's revealing tricks every newlywed couple needs to know.

Government-supported Vietnamese classes teach women Korean language, customs.