Couple Marries Amid Monsoon
Plus—tips on how to avoid wedding day disasters.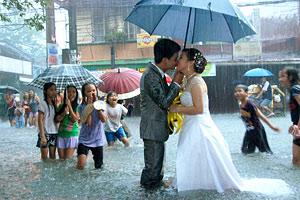 The Philippine capital of Manila has been experiencing a devastating surge of tropical monsoon rains over the past week. Families have been evacuating; streets have been flooding. But Hernelie Ruazol and Ram Campo didn't let the dangerous weather keep them from tying the knot. Last week, the two married inside the flooded San Antonio de Padua Parish Church in Singalong, Manila.
GMA News reported that Hernelie was escorted down the wedding aisle, her gown wading in the floodwater. In the days leading up to the wedding, she posted a personalized note to the monsoon via Facebook:
"May I request you to please take a rest on Wednesday. Do not ruin the most important day of our lives!"
The weather did not oblige; however, the wedding prevailed. Hernelie and Ram posted a photo of themselves sharing a post-wedding kiss in the middle of a flooded street. In the photo, Ram amusingly holds up an umbrella; the two are knee-deep in rainwater, with more pouring all around them.
Most brides-to-be don't have monsoons to worry about, but there are plenty of other potential wedding day hitches to contend with.
The Heart Beat talked to Kristin Banta, who owns a prominent event planning firm in Los Angeles. She gave us a few tips on how to prepare for various wedding day disasters.
"So many couples these days are so excited to do a wedding [outdoors] in our environment," Banta explained. "And I certainly can understand. That can be a very beautiful and a very customized experience. However, many of them in their enthusiasm do not look at the possibility of rain. And that's the biggest challenge—if you don't have a plan B, no matter how beautiful the place is, it makes for a situation that is, unfortunately, going to put an end to the event."
And it's not just rain. Banta says couples often don't foresee something as simple as temperature changes, which can leave guests freezing once the sun goes down. The solution?
"You need to look at the possibilities offered by any venue you're considering," Banta says. "You're looking for the possibility of being able to tent, and if tenting is not an option, you're looking for a property that can accommodate you going into some sort of interior space so you have that shelter."
Banta also suggests that the groom be as involved as the bride when it comes to planning.
"These are two people coming together for a union. They should be united in their planning and be on the same page. It should not be all about her. And I'm not sure why or how that point of view has come about."
And the ultimate preparedness tip Banta has for couples is to remember the importance of the day they're sharing.
"Get back to what's real," she advises. "Get out of the formula that's kept us from being grounded about what this day is really about."
Photo: Courtesy of Ramoncito Campo/Reuters
More Love & Sex from MSN Living:
Breaking Up: The Dos and Don'ts of Calling it Quits
10 Questions to Change Your Marriage
Men's Secret Bedroom Fears

love: friendships, dating, sex & marriage
This just in: A new study shows girls are warriors in the womb.

You can make a pros and cons list...but ultimately you know what works best for you.

Maggie Reyes is a life coach, writer, and the founder of ModernMarried.com. She helps newlyweds re-think what married life can be. Here, she's revealing tricks every newlywed couple needs to know.

Government-supported Vietnamese classes teach women Korean language, customs.

Whether you're into creative artists or uber-preppy bankers, there's something to be said for trying something new.

Sometimes two characters on a TV show or movie can portray being a happy couple effortlessly, or can have lots of fun playing former spouses — especially if they're married to each other in real life! Keep scrolling for six celebrity costars you probably didn't know tied the knot, even after the bloodiest and craziest story lines.

Some couples want nothing more than a laid-back, by-the-book proposal. Then there are the other couples, where the proposal not only needs to be personalized, it also has to be unique and entirely different than the typical restaurant, bended-knee idea. Sound like you? Then get inspired by some of the most creative proposal ideas we've ever seen. If you find something you like, steal it and then modify it to make your proposal something totally unforgettable.

From Nantucket all the way to Cayo Espanto, we've rounded up some of the prettiest beaches to travel to for your honeymoon.

Researchers studied the age-old stereotype that women really are more talkative than men.

'There is a science behind attraction,' SingldOut says.

One minute you're happy and in love, the next he's delivering the "It's not you, it's me" speech. Why? We have the scoop on the real reasons most couples split up.

Want to keep your wedding budget in check? Start by checking out this list of the 10 things that could end up costing you a lot more than you anticipated.