Couple Marries Amid Monsoon
Plus—tips on how to avoid wedding day disasters.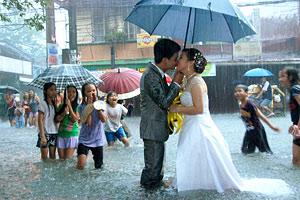 The Philippine capital of Manila has been experiencing a devastating surge of tropical monsoon rains over the past week. Families have been evacuating; streets have been flooding. But Hernelie Ruazol and Ram Campo didn't let the dangerous weather keep them from tying the knot. Last week, the two married inside the flooded San Antonio de Padua Parish Church in Singalong, Manila.
GMA News reported that Hernelie was escorted down the wedding aisle, her gown wading in the floodwater. In the days leading up to the wedding, she posted a personalized note to the monsoon via Facebook:
"May I request you to please take a rest on Wednesday. Do not ruin the most important day of our lives!"
The weather did not oblige; however, the wedding prevailed. Hernelie and Ram posted a photo of themselves sharing a post-wedding kiss in the middle of a flooded street. In the photo, Ram amusingly holds up an umbrella; the two are knee-deep in rainwater, with more pouring all around them.
Most brides-to-be don't have monsoons to worry about, but there are plenty of other potential wedding day hitches to contend with.
The Heart Beat talked to Kristin Banta, who owns a prominent event planning firm in Los Angeles. She gave us a few tips on how to prepare for various wedding day disasters.
"So many couples these days are so excited to do a wedding [outdoors] in our environment," Banta explained. "And I certainly can understand. That can be a very beautiful and a very customized experience. However, many of them in their enthusiasm do not look at the possibility of rain. And that's the biggest challenge—if you don't have a plan B, no matter how beautiful the place is, it makes for a situation that is, unfortunately, going to put an end to the event."
And it's not just rain. Banta says couples often don't foresee something as simple as temperature changes, which can leave guests freezing once the sun goes down. The solution?
"You need to look at the possibilities offered by any venue you're considering," Banta says. "You're looking for the possibility of being able to tent, and if tenting is not an option, you're looking for a property that can accommodate you going into some sort of interior space so you have that shelter."
Banta also suggests that the groom be as involved as the bride when it comes to planning.
"These are two people coming together for a union. They should be united in their planning and be on the same page. It should not be all about her. And I'm not sure why or how that point of view has come about."
And the ultimate preparedness tip Banta has for couples is to remember the importance of the day they're sharing.
"Get back to what's real," she advises. "Get out of the formula that's kept us from being grounded about what this day is really about."
Photo: Courtesy of Ramoncito Campo/Reuters
More Love & Sex from MSN Living:
Breaking Up: The Dos and Don'ts of Calling it Quits
10 Questions to Change Your Marriage
Men's Secret Bedroom Fears

love: friendships, dating, sex & marriage
Brad Pitt and Angelina Jolie finally took the plunge, but marriage isn't always a good choice for everyone.

Learn how these surprising tactics can really improve your relationship.

Use these tips to up your chances of finding love.

Find out how paired-off ladies might feel lacking—and how you can make your relationship satisfying.

These signals are seriously subtle, but they can give you real insight into what's going through your husband's mind.

Check which changes are necessary to stay happy together.

We know some of this may sound obvious, but these simple statements can make both of you happier.

Making your relationship more secure, connected, and intimate doesn't have to feel overwhelming. Try these expert tips and reap the rewards now—and in the long run.

For those times when nothing big and horrible happened--but nothing is feeling right either.

What's more fun than animals in weddings? We've rounded up eight of the cutest.

Your puppy is all over your Instagram, Facebook and fridge, so there's no reason not to include him in your engagement pictures too. The best engagement photos give viewers a peek into your life. If you're a dog owner, take this opportunity to show off your pooch, like these 22 couples did! And we can't thank them enough.

Our married blogger gets real about checking out other guys when you're taken.