Couple Marries Amid Monsoon
Plus—tips on how to avoid wedding day disasters.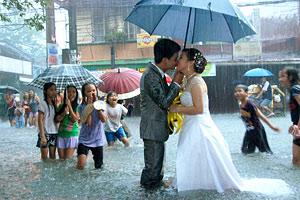 The Philippine capital of Manila has been experiencing a devastating surge of tropical monsoon rains over the past week. Families have been evacuating; streets have been flooding. But Hernelie Ruazol and Ram Campo didn't let the dangerous weather keep them from tying the knot. Last week, the two married inside the flooded San Antonio de Padua Parish Church in Singalong, Manila.
GMA News reported that Hernelie was escorted down the wedding aisle, her gown wading in the floodwater. In the days leading up to the wedding, she posted a personalized note to the monsoon via Facebook:
"May I request you to please take a rest on Wednesday. Do not ruin the most important day of our lives!"
The weather did not oblige; however, the wedding prevailed. Hernelie and Ram posted a photo of themselves sharing a post-wedding kiss in the middle of a flooded street. In the photo, Ram amusingly holds up an umbrella; the two are knee-deep in rainwater, with more pouring all around them.
Most brides-to-be don't have monsoons to worry about, but there are plenty of other potential wedding day hitches to contend with.
The Heart Beat talked to Kristin Banta, who owns a prominent event planning firm in Los Angeles. She gave us a few tips on how to prepare for various wedding day disasters.
"So many couples these days are so excited to do a wedding [outdoors] in our environment," Banta explained. "And I certainly can understand. That can be a very beautiful and a very customized experience. However, many of them in their enthusiasm do not look at the possibility of rain. And that's the biggest challenge—if you don't have a plan B, no matter how beautiful the place is, it makes for a situation that is, unfortunately, going to put an end to the event."
And it's not just rain. Banta says couples often don't foresee something as simple as temperature changes, which can leave guests freezing once the sun goes down. The solution?
"You need to look at the possibilities offered by any venue you're considering," Banta says. "You're looking for the possibility of being able to tent, and if tenting is not an option, you're looking for a property that can accommodate you going into some sort of interior space so you have that shelter."
Banta also suggests that the groom be as involved as the bride when it comes to planning.
"These are two people coming together for a union. They should be united in their planning and be on the same page. It should not be all about her. And I'm not sure why or how that point of view has come about."
And the ultimate preparedness tip Banta has for couples is to remember the importance of the day they're sharing.
"Get back to what's real," she advises. "Get out of the formula that's kept us from being grounded about what this day is really about."
Photo: Courtesy of Ramoncito Campo/Reuters
More Love & Sex from MSN Living:
Breaking Up: The Dos and Don'ts of Calling it Quits
10 Questions to Change Your Marriage
Men's Secret Bedroom Fears

love: friendships, dating, sex & marriage
How to flag her little fibs. By Laura Tedesco

A new study on attraction may help explain why fashions change.

As a general rule, any island that offers great weather year-round is going to attract the most visitors in the winter (high season) when we're all trying to escape the snow. Once summer rolls around, many islands see a sharp drop-off in tourism since many people have beach weather right in their own backyards.

And how you can attack the issues together.

A wedding is an exceptionally special day. Sometimes, an opportune photo flub makes the occasion even more memorable. Here are 25 awesome wedding photo bombs.

Somewhere between the first few butterfly-inducing dates and the committed-for-life stage, there's the period of wondering if you're both on the same page about how serious you feel about a future together. If you're not quite at the point of "that talk" but you're looking for a few clues you're heading in that direction, here are some signs he's in it for the long haul as your relationship progresses.

What's that sound? It's white noise blocking out the well-meaning person proclaiming groundbreaking news about where you can meet someone, asking why you're still single, or bugging you about when you're getting married already. Don't be that person. Here are 15 annoying things all single people don't want to hear.

With just a few days left before the big day, you already have a mile-long checklist of to-dos—now meet the don'ts! From impromptu skin treatments to all-night movie marathons, here are 11 things to avoid at all costs.

A new study shows that watching and discussing romantic films can drastically reduce your chance of divorce. These flicks more than fit the bill.

These seemingly innocent phrases still have the power to wound… big time.

Making "I do" last forever is one of the biggest challenges you'll ever face—and it's normal to worry about how you'll do it. But, if your connection involves any of these things, rest assured that you're in it for the long run.

Ultimately, as hard as it may seem at the beginning, a marital affair can be a turning point.