Couple Marries Amid Monsoon
Plus—tips on how to avoid wedding day disasters.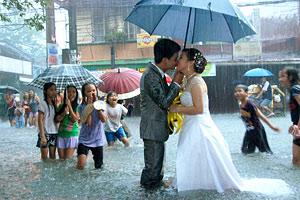 The Philippine capital of Manila has been experiencing a devastating surge of tropical monsoon rains over the past week. Families have been evacuating; streets have been flooding. But Hernelie Ruazol and Ram Campo didn't let the dangerous weather keep them from tying the knot. Last week, the two married inside the flooded San Antonio de Padua Parish Church in Singalong, Manila.
GMA News reported that Hernelie was escorted down the wedding aisle, her gown wading in the floodwater. In the days leading up to the wedding, she posted a personalized note to the monsoon via Facebook:
"May I request you to please take a rest on Wednesday. Do not ruin the most important day of our lives!"
The weather did not oblige; however, the wedding prevailed. Hernelie and Ram posted a photo of themselves sharing a post-wedding kiss in the middle of a flooded street. In the photo, Ram amusingly holds up an umbrella; the two are knee-deep in rainwater, with more pouring all around them.
Most brides-to-be don't have monsoons to worry about, but there are plenty of other potential wedding day hitches to contend with.
The Heart Beat talked to Kristin Banta, who owns a prominent event planning firm in Los Angeles. She gave us a few tips on how to prepare for various wedding day disasters.
"So many couples these days are so excited to do a wedding [outdoors] in our environment," Banta explained. "And I certainly can understand. That can be a very beautiful and a very customized experience. However, many of them in their enthusiasm do not look at the possibility of rain. And that's the biggest challenge—if you don't have a plan B, no matter how beautiful the place is, it makes for a situation that is, unfortunately, going to put an end to the event."
And it's not just rain. Banta says couples often don't foresee something as simple as temperature changes, which can leave guests freezing once the sun goes down. The solution?
"You need to look at the possibilities offered by any venue you're considering," Banta says. "You're looking for the possibility of being able to tent, and if tenting is not an option, you're looking for a property that can accommodate you going into some sort of interior space so you have that shelter."
Banta also suggests that the groom be as involved as the bride when it comes to planning.
"These are two people coming together for a union. They should be united in their planning and be on the same page. It should not be all about her. And I'm not sure why or how that point of view has come about."
And the ultimate preparedness tip Banta has for couples is to remember the importance of the day they're sharing.
"Get back to what's real," she advises. "Get out of the formula that's kept us from being grounded about what this day is really about."
Photo: Courtesy of Ramoncito Campo/Reuters
More Love & Sex from MSN Living:
Breaking Up: The Dos and Don'ts of Calling it Quits
10 Questions to Change Your Marriage
Men's Secret Bedroom Fears

love: friendship, dating, sex & marriage
The perfect wedding toast is a work of oratory art. It can't be too short (cheers!) and it can't drone on and on. It has to be funny but it also has to be sentimental. So if you've been tasked with toasting the newlyweds, prepare to prep -- and whatever you do, avoid these toasting faux pas!

We've made picking your palette a breeze! Just find your favorite hue and choose one of the cool combos below.

Get inspired with these twelve ideas for a fantastic, fun summer wedding!

What's worse than getting snubbed while proposing? Having your heart broken in front of countless strangers.

Want your I do's to be totally you? From pre-wedding cocktails to Mad Lib vows, here are 25 ways to make your ceremony as unforgettable as your reception.

Summer love can be sweet. But it tends to be fast, feverish and often fleeting. In a season where emotions run hot, here are some rules to help avoid heartbreak.

We asked brides on TheKnot.com to tell all -- and they did. Here, five of the most likely culprits and advice for how to deal with your drama-causing guests along the way.

This short course in flirting will not only teach you how to flirt better but also how to tell when someone is flirting with you—and how to respond. Have fun.

Gatsby glamour doesn't have to just live on the big screen! Embrace the trendy (yet timeless) art deco style with sequins, pearls, feathers and geometric patterns. Check out these art deco ideas and achieve the feel of 1920s decadence. By the way, all of these are affordable, except for the $600 hairpiece which is a splurge, but a knockout. Shop the look!

Who says a special outing with the hubby has to empty your wallet? These fresh, fun activities require no cash at all, so work your way down the list.

Wondering if your summer love will last? Here are 15 signs if your seasonal love is fleeting or for real.

Sixteen years after "Titanic's" release—and 101 years after the historic ship's notorious sinking—our hearts still go on for star-crossed lovers Rose DeWitt Bukater (Kate Winslet) and Jack Dawson (Leonardo DiCaprio). We rounded up some of our favorite ill-fated, but oh-so-romantic affairs on film, from "Gone with the Wind" to "Moulin Rouge!".