Couple Marries Amid Monsoon
Plus—tips on how to avoid wedding day disasters.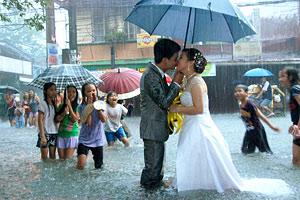 The Philippine capital of Manila has been experiencing a devastating surge of tropical monsoon rains over the past week. Families have been evacuating; streets have been flooding. But Hernelie Ruazol and Ram Campo didn't let the dangerous weather keep them from tying the knot. Last week, the two married inside the flooded San Antonio de Padua Parish Church in Singalong, Manila.
GMA News reported that Hernelie was escorted down the wedding aisle, her gown wading in the floodwater. In the days leading up to the wedding, she posted a personalized note to the monsoon via Facebook:
"May I request you to please take a rest on Wednesday. Do not ruin the most important day of our lives!"
The weather did not oblige; however, the wedding prevailed. Hernelie and Ram posted a photo of themselves sharing a post-wedding kiss in the middle of a flooded street. In the photo, Ram amusingly holds up an umbrella; the two are knee-deep in rainwater, with more pouring all around them.
Most brides-to-be don't have monsoons to worry about, but there are plenty of other potential wedding day hitches to contend with.
The Heart Beat talked to Kristin Banta, who owns a prominent event planning firm in Los Angeles. She gave us a few tips on how to prepare for various wedding day disasters.
"So many couples these days are so excited to do a wedding [outdoors] in our environment," Banta explained. "And I certainly can understand. That can be a very beautiful and a very customized experience. However, many of them in their enthusiasm do not look at the possibility of rain. And that's the biggest challenge—if you don't have a plan B, no matter how beautiful the place is, it makes for a situation that is, unfortunately, going to put an end to the event."
And it's not just rain. Banta says couples often don't foresee something as simple as temperature changes, which can leave guests freezing once the sun goes down. The solution?
"You need to look at the possibilities offered by any venue you're considering," Banta says. "You're looking for the possibility of being able to tent, and if tenting is not an option, you're looking for a property that can accommodate you going into some sort of interior space so you have that shelter."
Banta also suggests that the groom be as involved as the bride when it comes to planning.
"These are two people coming together for a union. They should be united in their planning and be on the same page. It should not be all about her. And I'm not sure why or how that point of view has come about."
And the ultimate preparedness tip Banta has for couples is to remember the importance of the day they're sharing.
"Get back to what's real," she advises. "Get out of the formula that's kept us from being grounded about what this day is really about."
Photo: Courtesy of Ramoncito Campo/Reuters
More Love & Sex from MSN Living:
Breaking Up: The Dos and Don'ts of Calling it Quits
10 Questions to Change Your Marriage
Men's Secret Bedroom Fears

love: friendships, dating, sex & marriage
Hopeless romantics and cringe-worthy chick flicks would tell you that it doesn't matter what you do on the date, as long as you're together. But they're wrong. Dead wrong. Women use your date ideas to size you up, says matchmaker Rachel DeAlto, author of "Flirt Fearlessly." "You absolutely will be judged based on the date you plan. There are so many subconscious impressions that we take in while dating." Gulp. Here are 10 terrible ideas that can land you on the no-lay list—and simple swaps to keep her happy. By K. Aleisha Fetters

Here are 15 signs we've been on "The Bachelor" bandwagon—all 27 seasons of it—for (possibly) longer than we'd care to admit.

In the grand tradition of celebrating love, we've chosen some of the mushiest, sweetest, and most memorable scenes to hit the big or small screen. From marriage proposals to unexpected serenades, these moments will make you believe in love (and want someone to cuddle up with, stat).

How to flag her little fibs. By Laura Tedesco

Revealr is a new iPhone app that allows those looking for love to hear their possible matches before they see them.

A new poll reveals 59 percent of the country supports same-sex marriage.

Celebrity engagements are so much fun to follow because every detail is bound to be over-the-top — from the proposal (like when Kanye rented out an entire stadium to propose to Kim) to the huge, sparkly engagement ring and, of course, the wedding. Plus, as trendsetters, celebs can be a source of inspiration even if you can't afford a million dollar ring. Here are our celebrity wedding predictions for 2014.

If you've ever been to a club—like, ever, even once—you are not going to be shocked to hear that women get a lot of unwanted, aggressive attention. But when you read the findings of this study on how often and why it happens, it might make you feel downright sick to your stomach.

No matter your current relationship status or past relationship fails, get a fresh start this month, with these tips for spring cleaning your love life.

Forget the rules you've always heard—it's time to start making your own.

Are you in an affair without knowing it? Unless you're a swinger, having sex with someone else counts as cheating. But then there's the fuzzy area between friendship and infidelity—and chances are, your girlfriend sees those shades of gray as more black and white than you do. "Men aren't as attuned to identifying ambiguous behaviors as cheating as women are," says Daniel Kruger, Ph.D., a University of Michigan psychologist, who's studied gender differences in definitions of infidelity. In other words, what you consider totally innocent could be her deal breaker.

We spoke with relationship therapist Rachel A. Sussman, author of "The Breakup Bible," for her tips on how regular girls can survive a split like an A-lister.