Childhood Romance Rekindled 40 Years Later
But long lost love doesn't always have a happy ending.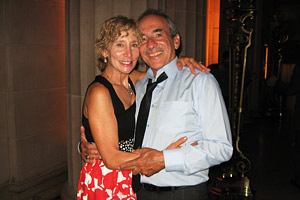 Happy ending love stories aren't always easy. Sometimes, they take years. In the case of Laura Melon and Larry Wasser, their story took nearly 40 years.
The Huffington Post featured a story on the couple, who were childhood friends. Like a lot of old friends, they lost touch. But years later, by pure coincidence, the two ended up back in each other's lives.
"I just knew even then that he was something special, someone who stood out and who touched me. Heck, I even remember how his freckles would come out in the sun," Laura said.
Her older brother, Michael, became best friends with Larry as the two families spent their summers at the Jersey shore. Larry was 12, and Laura was Michael's 10-year-old little sister who would tag along.
"I remember Laura as a cute tomboy who always did her best to keep up with the older boys. I had a huge crush on her, but I was 12 and did not know what to do about it," Larry told the Huffington Post.
But eventually, the families drifted apart and lost touch. Then, 37 years later, Laura's parents and Larry's parents coincidentally ended up moving to the same Florida retirement community -- they were literally across the street from each other. The parents soon rekindled their friendship. At this point, Laura was divorced and living in New York City. Larry was divorced in Louisville.
"My mother called me that night with his phone number and told me to call him that very minute," Laura said.
But it was Larry who made the first move.
"When I called Laura, her voice mail picked up and I realized that her voice sounded exactly as I remembered it from 37 years ago. While waiting for the beep, I noticed that my hands were getting a little sweaty, my heart was pounding, and I felt like I was a 14-year-old boy who was about to talk to a girl!"
Larry left a message, and the two decided to meet at the pool of their parent's retirement community.
"I saw her in the water and just stood there frozen, watching her. I thought, 'Boy she looks great.'," he said.
The two then began dating long-distance for 18 months. That was when they decided to move in together. A year later, they married, and on Oct. 18, the two will celebrate their ninth anniversary. Laura told the Huffington Post:
"He is the love of my life. I met him when I was just 10 and felt his effect on me from then on. He's just so great to be with; I'm truly blessed."

And there you have it -- a happy ending to a story of long lost love.
These days, it's all too easy to reignite old flames. But these stories don't always have happy endings. Dr. Nancy Kalish is a professor of Psychology at California State University, and she's authored a series of books on the topic of long lost love -- the most popular being Lost & Found Lovers: Facts and Fantasies of Rekindled Romances.
The Heart Beat talked to Dr. Kalish, and she explained that there are some dangers to rekindling romance.
"If [couples] are single, divorced or widowed, now that's one thing. But the majority of people who come to me are in trouble. It is breaking up marriages."

Dr. Kalish has conducted extensive research on individuals who are in search of long lost love. She explains that, many times, those people end up cheating with their old flames.
"These are good people, who have never cheated in their lives before, never would again, and suddenly, they worry about loving two people," Dr. Kalish explained. "Because they never really stopped the love for the first one. But the more they reminisce, the more those feelings come back. So before you know it, there's an affair."
Her advice for those tempted by long lost love? If you're married or in a relationship, stay away.
Dr. Kalish writes a column, Sticky Bonds, for Psychology Today. She also offers consultation for couples who want to talk about their issues with long lost love.
Photo: Courtesy of Larry Wasser
More Love & Sex from MSN Living:
Breaking Up: The Dos and Don'ts of Calling it Quits
10 Questions to Change Your Marriage
Men's Secret Bedroom Fears
love: friendships, dating, sex & marriage
It's not that you don't find every little thing about your partner endearing and adorable; it's just that it would have been really, really nice if that map could have been consulted three hours ago.

The typical wedding: A white dress, tiered cake, floral centerpieces and a cute flower girl -- you know the drill. Every once in a while, though, a couple trades in tradition for a quirky, never-seen-that-before idea. Here are a few of the most out-there wedding photos that made us do a double take.

There's a lot to love about weddings this fall, like cocktails served in copper Moscow mule mugs, industrial-inspired lighting and pheasant feather details. See what's new!

Do you have to be engaged to sport a ring with bling?

124.6 million haven't gotten hitched.

Even though the national average wedding is $29,858, that's just an average. If you live in a smaller state like Idaho where the average wedding costs $16,159, you may find yourself saving a little more than half of the national spend! Check out some of the other least expensive cities to get married in below:

Summer is winding down, but the ubiquitous summer romance lives on.

For those times when nothing big and horrible happened--but nothing is feeling right either.

He's confident, distinguished and anywhere from 4 to 20 years older than you. Age is just a number, but there's something about older men that we love. Here are eight reasons why being in a relationship with an older man is tops.

While a younger man may have less life experience, that doesn't mean he's not emotionally mature. Here are the eight reasons why being in a relationship with a younger man is tops.

Have you ever wondered what the 'other woman' was thinking?

So fall is coming and you need some romantic inspiration now that long walks on the beach are out of the question. Well look no further! From apple picking to pumpkin carving, these are some great fall date ideas from girls just like you!