Childhood Romance Rekindled 40 Years Later
But long lost love doesn't always have a happy ending.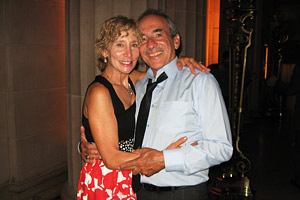 Happy ending love stories aren't always easy. Sometimes, they take years. In the case of Laura Melon and Larry Wasser, their story took nearly 40 years.
The Huffington Post featured a story on the couple, who were childhood friends. Like a lot of old friends, they lost touch. But years later, by pure coincidence, the two ended up back in each other's lives.
"I just knew even then that he was something special, someone who stood out and who touched me. Heck, I even remember how his freckles would come out in the sun," Laura said.
Her older brother, Michael, became best friends with Larry as the two families spent their summers at the Jersey shore. Larry was 12, and Laura was Michael's 10-year-old little sister who would tag along.
"I remember Laura as a cute tomboy who always did her best to keep up with the older boys. I had a huge crush on her, but I was 12 and did not know what to do about it," Larry told the Huffington Post.
But eventually, the families drifted apart and lost touch. Then, 37 years later, Laura's parents and Larry's parents coincidentally ended up moving to the same Florida retirement community -- they were literally across the street from each other. The parents soon rekindled their friendship. At this point, Laura was divorced and living in New York City. Larry was divorced in Louisville.
"My mother called me that night with his phone number and told me to call him that very minute," Laura said.
But it was Larry who made the first move.
"When I called Laura, her voice mail picked up and I realized that her voice sounded exactly as I remembered it from 37 years ago. While waiting for the beep, I noticed that my hands were getting a little sweaty, my heart was pounding, and I felt like I was a 14-year-old boy who was about to talk to a girl!"
Larry left a message, and the two decided to meet at the pool of their parent's retirement community.
"I saw her in the water and just stood there frozen, watching her. I thought, 'Boy she looks great.'," he said.
The two then began dating long-distance for 18 months. That was when they decided to move in together. A year later, they married, and on Oct. 18, the two will celebrate their ninth anniversary. Laura told the Huffington Post:
"He is the love of my life. I met him when I was just 10 and felt his effect on me from then on. He's just so great to be with; I'm truly blessed."

And there you have it -- a happy ending to a story of long lost love.
These days, it's all too easy to reignite old flames. But these stories don't always have happy endings. Dr. Nancy Kalish is a professor of Psychology at California State University, and she's authored a series of books on the topic of long lost love -- the most popular being Lost & Found Lovers: Facts and Fantasies of Rekindled Romances.
The Heart Beat talked to Dr. Kalish, and she explained that there are some dangers to rekindling romance.
"If [couples] are single, divorced or widowed, now that's one thing. But the majority of people who come to me are in trouble. It is breaking up marriages."

Dr. Kalish has conducted extensive research on individuals who are in search of long lost love. She explains that, many times, those people end up cheating with their old flames.
"These are good people, who have never cheated in their lives before, never would again, and suddenly, they worry about loving two people," Dr. Kalish explained. "Because they never really stopped the love for the first one. But the more they reminisce, the more those feelings come back. So before you know it, there's an affair."
Her advice for those tempted by long lost love? If you're married or in a relationship, stay away.
Dr. Kalish writes a column, Sticky Bonds, for Psychology Today. She also offers consultation for couples who want to talk about their issues with long lost love.
Photo: Courtesy of Larry Wasser
More Love & Sex from MSN Living:
Breaking Up: The Dos and Don'ts of Calling it Quits
10 Questions to Change Your Marriage
Men's Secret Bedroom Fears
love: friendships, dating, sex & marriage
This winter, it's all about mixing unexpected seasonal elements with elegant neutral details and a hint of sparkle and sequins. Take a look.

Here's why dudes without hair make the best boyfriends.

What do you wish you appreciated more when you were flying solo?

"If you're so busy tweeting and Instagraming, you're not paying attention," New York wedding planner Marcy Blum said. "It's almost a cosmic faux pas. People want your energy with them and focused on what they're doing."

The wedding favor, that little thank-you-for-coming gift, has risen to new heights with the bride and groom giving guests a wide range of favors that are meaningful to them.

Generations ago, planning a wedding was 100 percent the bride's job, but in today's age of gender equity, it's a mere 99 percent.

For all the self-help books and advice columns out there (um, keeping reading my advice anyway, please!), there's one tool we all already have in our arsenal for picking a partner that will keep us happy: our gut instincts.

According to a new study from the University of Texas and the University of California, Los Angeles, both men and women have regrets when it comes to sex, but the genders vary greatly when it comes to what they regret specifically.

Spending time alone with your guy is easy, but going public with your plus-one is another thing entirely. Whether it's your crazy relatives at Thanksgiving dinner or awkward convos with your boss at the holiday party, possible pitfalls are everywhere. Keep reading for tips on how to make his grand entrance into your social life a good thing.

Match.com survey reveals the day you're least likely to get spruced up for a date.

Drinking and relationships seem to go hand in hand in a lot of ways. But only in moderation!

Many men will tell you that they have no clue what their wives are thinking.