Study: Sex Drives Peak During Winter, Early Summer
As the seasons change, so do our libidos.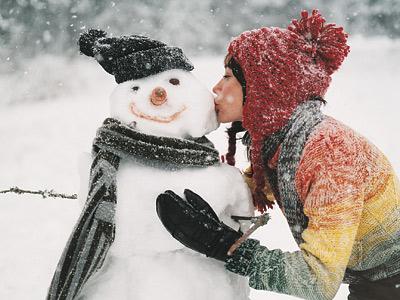 Old Man Winter will be making his return in just a few short months, and according to a recent study, he might be bringing your libido with him.
New research finds that Americans are most interested in sex during the winter and summer months. Dr. Patrick Markey of Villanova University led the study, and he found that sex drives tend to peak in June and December.
Markey completed his research by analyzing the keywords used in Google search results over the past four years. Specifically, Markey was interested in searches related to finding dates, prostitutes and pornography.  He found that each year, these searches consistently seemed to peak during the winter and summer months.
"It is unclear why these changes are occurring," Dr. Markey told The Heart Beat. "Biologically, it is possible that we experience a general increase in libido due to hormonal changes. Socially, it is possible that we experience changes in libido as a result of festival and holiday times."
And the proof is in the percentages. Markey found a 2.78 percent increase in prostitution-related​ keywords during January and July. Dating-related searches increased by 5.67 percent. As for pornography searches, they increased 4.28 percent above average during the months of December and June.
Related video: 5 Ways to Strengthen Your Relationship
The percentages may seem small, but as Markey explained via My Health News Daily:
"Those somewhat small percentages represent a huge number of searches."
Markey's research coincides with other data that finds people have a natural tendency toward conceiving in the winter months.
"This is totally accurate," Markey tells us. "In the United States children tend to be conceived more frequently in the winter months (especially December) than during any other month. However, we do see a six-month trend in other sexual behaviors. Condom sales peak around Christmas week and during the summer months. First intercourse tends to occur in a bi-seasonal manner with one peak occurring in December and the other in May and June."
As for an explanation, Markey says he's not sure whether the trend is strictly biological or social. There's a possibility that being around people during the holidays and seeing people dressed more scantily in summer can cause a surge in sexual appetite.
"The bottom line is — we do not yet know why this six-month trend exists in our libido."
So why is this sex study important?
"Given the close link between sexual activity and various adverse health outcomes, predicting the seasonal variation of sex and mating behaviors is important for health care workers and programs aimed at curbing the incidences of these negative outcomes," Markey tells us.  "For example, just as drunk driving campaigns have tended to target the Christmas-New Year holidays, when drunk driving fatalities are more common, safer sex programs could be targeted during the winter and summer months."
Photo: Digital Vision/Getty Images
More love and sex on MSN Living:
The New Bachelorette Party
9 Modern Ways to Get a Date
9 Proven Ways to Meet Someone New
love: friendships, dating, sex & marriage
Or how to tell if you've reached THAT point in your bond.

Dating doesn't have to be a daunting task, promise. Here's how to make it fun for you and him.

This just in: A new study shows girls are warriors in the womb.

You can make a pros and cons list...but ultimately you know what works best for you.

Maggie Reyes is a life coach, writer, and the founder of ModernMarried.com. She helps newlyweds re-think what married life can be. Here, she's revealing tricks every newlywed couple needs to know.

Government-supported Vietnamese classes teach women Korean language, customs.

Whether you're into creative artists or uber-preppy bankers, there's something to be said for trying something new.

Sometimes two characters on a TV show or movie can portray being a happy couple effortlessly, or can have lots of fun playing former spouses — especially if they're married to each other in real life! Keep scrolling for six celebrity costars you probably didn't know tied the knot, even after the bloodiest and craziest story lines.

Some couples want nothing more than a laid-back, by-the-book proposal. Then there are the other couples, where the proposal not only needs to be personalized, it also has to be unique and entirely different than the typical restaurant, bended-knee idea. Sound like you? Then get inspired by some of the most creative proposal ideas we've ever seen. If you find something you like, steal it and then modify it to make your proposal something totally unforgettable.

From Nantucket all the way to Cayo Espanto, we've rounded up some of the prettiest beaches to travel to for your honeymoon.

Researchers studied the age-old stereotype that women really are more talkative than men.

'There is a science behind attraction,' SingldOut says.