Study: Sex Drives Peak During Winter, Early Summer
As the seasons change, so do our libidos.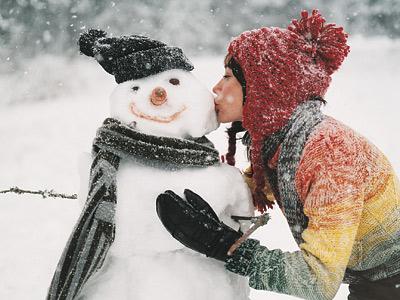 Old Man Winter will be making his return in just a few short months, and according to a recent study, he might be bringing your libido with him.
New research finds that Americans are most interested in sex during the winter and summer months. Dr. Patrick Markey of Villanova University led the study, and he found that sex drives tend to peak in June and December.
Markey completed his research by analyzing the keywords used in Google search results over the past four years. Specifically, Markey was interested in searches related to finding dates, prostitutes and pornography.  He found that each year, these searches consistently seemed to peak during the winter and summer months.
"It is unclear why these changes are occurring," Dr. Markey told The Heart Beat. "Biologically, it is possible that we experience a general increase in libido due to hormonal changes. Socially, it is possible that we experience changes in libido as a result of festival and holiday times."
And the proof is in the percentages. Markey found a 2.78 percent increase in prostitution-related​ keywords during January and July. Dating-related searches increased by 5.67 percent. As for pornography searches, they increased 4.28 percent above average during the months of December and June.
Related video: 5 Ways to Strengthen Your Relationship
The percentages may seem small, but as Markey explained via My Health News Daily:
"Those somewhat small percentages represent a huge number of searches."
Markey's research coincides with other data that finds people have a natural tendency toward conceiving in the winter months.
"This is totally accurate," Markey tells us. "In the United States children tend to be conceived more frequently in the winter months (especially December) than during any other month. However, we do see a six-month trend in other sexual behaviors. Condom sales peak around Christmas week and during the summer months. First intercourse tends to occur in a bi-seasonal manner with one peak occurring in December and the other in May and June."
As for an explanation, Markey says he's not sure whether the trend is strictly biological or social. There's a possibility that being around people during the holidays and seeing people dressed more scantily in summer can cause a surge in sexual appetite.
"The bottom line is — we do not yet know why this six-month trend exists in our libido."
So why is this sex study important?
"Given the close link between sexual activity and various adverse health outcomes, predicting the seasonal variation of sex and mating behaviors is important for health care workers and programs aimed at curbing the incidences of these negative outcomes," Markey tells us.  "For example, just as drunk driving campaigns have tended to target the Christmas-New Year holidays, when drunk driving fatalities are more common, safer sex programs could be targeted during the winter and summer months."
Photo: Digital Vision/Getty Images
More love and sex on MSN Living:
The New Bachelorette Party
9 Modern Ways to Get a Date
9 Proven Ways to Meet Someone New
love: friendships, dating, sex & marriage
A wedding is an exceptionally special day. Sometimes, an opportune photo flub makes the occasion even more memorable. Here are 25 awesome wedding photo bombs.

Somewhere between the first few butterfly-inducing dates and the committed-for-life stage, there's the period of wondering if you're both on the same page about how serious you feel about a future together. If you're not quite at the point of "that talk" but you're looking for a few clues you're heading in that direction, here are some signs he's in it for the long haul as your relationship progresses.

What's that sound? It's white noise blocking out the well-meaning person proclaiming groundbreaking news about where you can meet someone, asking why you're still single, or bugging you about when you're getting married already. Don't be that person. Here are 15 annoying things all single people don't want to hear.

With just a few days left before the big day, you already have a mile-long checklist of to-dos—now meet the don'ts! From impromptu skin treatments to all-night movie marathons, here are 11 things to avoid at all costs.

A new study shows that watching and discussing romantic films can drastically reduce your chance of divorce. These flicks more than fit the bill.

These seemingly innocent phrases still have the power to wound… big time.

Making "I do" last forever is one of the biggest challenges you'll ever face—and it's normal to worry about how you'll do it. But, if your connection involves any of these things, rest assured that you're in it for the long run.

Ultimately, as hard as it may seem at the beginning, a marital affair can be a turning point.

Five months after the Boston Marathon bombing, The Knot reached out to Rebekah Gregory and Pete DiMartino and offered to throw them a dream wedding. They said yes, and on April 4, 2014, the two married at the Biltmore Estate in Asheville, North Carolina. Rebekah and Pete exchanged vows on the tennis lawn amidst the cherry tree blossoms and then celebrated with all of their friends and family at a beautiful reception tent right in front of the estate. All of the details were perfectly executed by a team of talented and generous wedding industry pros, including celebrity wedding planner Marcy Blum. Here, a few highlights from Rebekah and Pete's wedding day.

Your wedding is your special day, but you want to keep your guests happy, too. Here are 20 typical wedding guest complaints and what you can do about them.

Study finds that early birds get the long-term relationships.

Receptions would take place near where raw sewage is processed.