Poll: Women don't marry the best sex of their lives
Your wife might have some explaining to do.
Bad news, husbands. Although you may consider yourself to be your wife's most exciting sex partner, chances are the honor actually lies with one of her ex-lovers.
A recent study from iVillage found that less than half of married women describe their husband as their best sex ever. Fifty-two percent of those surveyed said an ex was better in bed than their current spouse. Sound dismal? That's not the worst of it.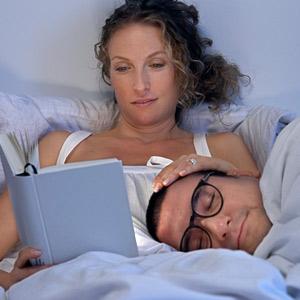 More on MSN Living: 10 men in your life you may be overlooking
The website surveyed 2,000 married women with a 60/40 split of those with and without children.
If the lackluster sex isn't bad enough, the poll found that 66 percent of married women would rather read a book, watch a movie or take a nap than have sex with a spouse.
More on MSN Living: 9 myths about men
Some might describe their sex lives as stale, but according to the survey, married women are quite content with this boring bedroom behavior.
"The iVillage study shows that not all housewives are desperate – surprisingly they are quite content and fulfilled with their predictable sex lives," said editor Liz Zack in a press release. "Perhaps that's because sex is not a priority when it comes to personal time. Today's married women lead such busy lives that they consider rest and relaxation a better self indulgence."
The New York Post recently cited the study in a story titled, "Nobody marries their best sex ever." Sex therapist Sari Cooper told the Post that she talks to many women who are concerned that their husbands don't match up to sexual escapades of the past. But Cooper explains:
"Your best sexual relationship has likely been with the person who was most unstable and most volatile, but was very passionate. That's like riding a roller coaster. That's passion. But if you have a family, riding a roller coaster isn't that great for kids."
Photo: Christoph Wilhelm/Getty Images
More Sex & Love on MSN Living:
The Essence most eligible bachelors
15 (guy approved!) ways to have the best first date ever
50 signs he's not that into you
20 'annoying' girl things he secretly loves about you
love: friendships, dating, sex & marriage
Two steps forward, one giant fight afterward?

If you've been hiding any of this stuff, it's time to fess up.

The outlandish things we do for love have no limits; just ask these guys. Who's hugged the longest? Kissed the longest? Been on the most expensive date? Take a look below as we count down the world's most loving record-breakers.

If you just got engaged, congrats! This is seriously exciting news that deserves lots of congratulatory hugs, "oohing" and "ahhing" over the ring and plenty of bubbly. To make sure you get the right response from friends, family and coworkers, avoid announcing your engagement like this…

Ladies, give yourself the best gift of all this season: The NYC Taxi Driver 2014 Calendar. By Michelle Toglia

Pheromones may be the key to finding your perfect match.

Her partner? Wine? Downtime? Find out where it all ranks.

This time of year, we dust off our holiday traditions of special songs, stories, events and food to make our season bright. Here's a look into the traditional, unique and quirky holiday traditions of some famous couples.

Look, I looooove engagement season for obvious reasons, but even I can admit I'm like, "Really, AGAIN?" when yet ANOTHER engagement ring pops up in my news feed. Seriously, there were two this weekend. (Congrats, Gemma and Danny!)

We asked real men and women (and a few first-base experts, too) to give us the cardinal rules of kissing, tell us what makes someone a good kisser and more. So whether you're leaning in for kiss No. 1 or 1,000, read on.by Devin Tomb

Not quite sure which diamond shape suits your personality? We're here to help.

Dating can lead to all kinds of tricky situations. To help you navigate even the most awkward moments, we've compiled our 50 best dating tips—some new, some old—given to us by experts, moms, women like you, and even Justin Timberlake.