What your drink says about you
First-date tips from a bartender. Plus, find out the ideal drink order.
By Tiffany McHugh for YourTango.com
A good first-date first-impression is almost as essential as a strong first-date-cocktail.​ Maybe you're tired of being the bad boy, and you really want to wow this girl with some newfound, genuine charm. Or, maybe you're sick of being given the girl-next-door treatment, and you're more interested in seeming every bit the sexy-siren this evening.
More from Your Tango: 20 First Date Ideas That Won't Be Awkward
Either way, tons of consideration goes into the type of vibe you're trying to send. Once your outfit is picked, your meeting place secured, and your transportation arranged, it's time to move on to the promise land, otherwise known as the bar. So, what do you order? We decided to leave this one up to the professionals and get some firsthand advice from two bartenders who have seen it all.
Read on to see what your first-date-drink says about you!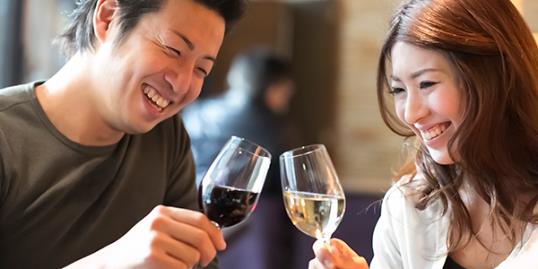 Red wine
According to Nick, a bartender at first-date hotspot Urban Table in Morristown, N.J., ordering a glass of red screams seduction.
"There's this one guy who comes in here, I'd say once a month, every time with a new woman. He always drinks red wine, and always sways her to drink red wine," says Nick, 24, who's been working in the restaurant business for six years. He's definitely picked up a thing or two from smooth patrons like this one. "Now if I really want to get a girl in the mood, it's going to be with red wine."
More from Your Tango: How To Apply Eyeshadow For Any Type Of Date Night
White wine
Both bartenders were in agreement that white wine is the more feminine pour of the two. "Women tend to be the white wine drinkers in here, and honestly it has a lot more to do with the selection of the wine than the fact that she's ordering it," says Nick.
John agrees that ordering a glass of white wine isn't as significant as the type of white wine that you ask for.
What's the biggest mistake that patrons make when requesting their vino of choice? Ordering a glass of the house blend. "People who order house wine are being frugal," says John. "It will cost you $40 to drink a bottle of house wine, and that bottle that you're buying at $10 per glass will cost the restaurant $13 to replace, so you might as well go with something nice."
Martini
While martinis definitely elude urban sophistication on the big screen, our bartenders' observations say otherwise. "Anybody that orders a martini looks like an alcoholic," says John. "I'm sorry, but that's just straight alcohol."
Even if martinis are your favorite, you might want to save this potent cocktail for date No. 2.
Bay Breeze
Just as red wine screams seduction, and house wine screams cheap, fruity drinks like this one scream, "I just discovered my parents' liquor cabinet."
"Girls that order Malibu Bay Breezes are idiots," says John. Jeez, a little harsh? Absolutely, but he is onto something. "Seriously, it's like 'ooh, a fruity drink!' but then really, it's all sugary juice, hardly any alcohol, and a surefire hangover."
Manhattan
According to Nick, ordering a Manhattan signifies that you want to get drunk, and you want to get drunk quickly.
Beer
One thing is for sure: guys love a girl who can enjoy a cold beer. "Personally, I think it's awesome when a girl orders a beer, especially when they want to hear the specials," says Nick. "It shows that you're not limited to just one type of drink, and I think it's more attractive when someone is into being surprised by switching it up with a different type of
beer."
"But then there's also Craft-Beer-Guy," says John. "He wants to hear every single weird beer that we serve, and then tries to act like a snob talking about the hint of lemon-zest this one has, or how hoppy that one is." Not every restaurant is a brewery, and he ranks Craft-Beer-Guy one step below the Red Wine Swirl-and-Sniffer.
Anything 'on the rocks'
Both bartenders agreed that it's only okay to order hard alcohol on the rocks if you have the personality and look to back it up. "You do have those guys that order vodka on the rocks, and I honestly don't know how they do it, but it clearly takes the edge off of their first date jitters," says Nick.
So, what is the perfect first-date drink?
"A good drink to order on a first date would be a Stoli Rasberry and club with a splash of cranberry juice. That way, you get a little bit of flavor, and it still looks like a nice drink with the hint of pink from the cranberry," says John. "You aren't ordering house vodka, but you also aren't ordering something ridiculous like Grey Goose either."
"Don't be scared of ordering the drink you want," he says. "The best first dates I've observed involve people who aren't afraid to act true to themselves, even if some people might not like it. On a first date, you shouldn't be afraid to show who you are."
More from Your Tango:
15 Funny Quotes About Sex From Famous Women We Love
Sex Stories #119: 'The Night I Roofied Myself'
5 Aphrodisiac Cocktails That Will Get You In The Mood To...Read?!
Subscribe to The Heart Beat | Friend us on Facebook, follow us on Twitter and find us on Pinterest
Photo: Ai/Getty Images

love: friendships, dating, sex & marriage
Juan Pablo will be joining his two chosen finalists for one more rose ceremony tonight. You know you'll be watching—and so will we.

Revealr is a new iPhone app that allows those looking for love to hear their possible matches before they see them.

A new poll reveals 59 percent of the country supports same-sex marriage.

Celebrity engagements are so much fun to follow because every detail is bound to be over-the-top — from the proposal (like when Kanye rented out an entire stadium to propose to Kim) to the huge, sparkly engagement ring and, of course, the wedding. Plus, as trendsetters, celebs can be a source of inspiration even if you can't afford a million dollar ring. Here are our celebrity wedding predictions for 2014.

If you've ever been to a club—like, ever, even once—you are not going to be shocked to hear that women get a lot of unwanted, aggressive attention. But when you read the findings of this study on how often and why it happens, it might make you feel downright sick to your stomach.

Hopeless romantics and cringe-worthy chick flicks would tell you that it doesn't matter what you do on the date, as long as you're together. But they're wrong. Dead wrong. Women use your date ideas to size you up, says matchmaker Rachel DeAlto, author of "Flirt Fearlessly." "You absolutely will be judged based on the date you plan. There are so many subconscious impressions that we take in while dating." Gulp. Here are 10 terrible ideas that can land you on the no-lay list—and simple swaps to keep her happy. By K. Aleisha Fetters

No matter your current relationship status or past relationship fails, get a fresh start this month, with these tips for spring cleaning your love life.

Forget the rules you've always heard—it's time to start making your own.

Are you in an affair without knowing it? Unless you're a swinger, having sex with someone else counts as cheating. But then there's the fuzzy area between friendship and infidelity—and chances are, your girlfriend sees those shades of gray as more black and white than you do. "Men aren't as attuned to identifying ambiguous behaviors as cheating as women are," says Daniel Kruger, Ph.D., a University of Michigan psychologist, who's studied gender differences in definitions of infidelity. In other words, what you consider totally innocent could be her deal breaker.

We spoke with relationship therapist Rachel A. Sussman, author of "The Breakup Bible," for her tips on how regular girls can survive a split like an A-lister.

A researcher from Texas Tech University has found that people who use the same kind of "function words" are more likely to get together.

Check out these five celebrity stunners.