This Father's Day, give dad the gift of Botox
About 1.2 million cosmetic procedures were performed on men in 2012.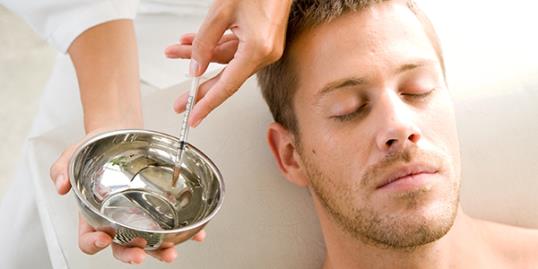 Don't give dad yet another tie this Father's Day. Instead, why not give him the gift of Botox?
Plastic surgeons are marketing cosmetic treatments and procedures such as liposuction, hair removal, hair restoration or brow lifts as alternative gift ideas for dad.
"I don't think it's offensive anymore," Dr. Michael Fiorilla of New York City's Luminique MedSpa, told the New York Daily News. "It's more like buying a massage or buying a spa treatment, and making your dad feel good about himself."
More from MSN Living: Send dad a Father's Day ecard
About 14.6 million cosmetic procedures, including both plastic surgery and minimally invasive treatments such as Botox injections, were performed in the United States in 2012, up 5 percent since 2011, according to the American Society of Plastic Surgeons. Of that number, about 1.2 million were performed on men.
The top five cosmetic surgical procedures for men in 2012 were nose reshaping, eyelid surgery, liposuction, breast reduction and facelifts. Top minimally invasive procedures for men included Botox, laser hair removal, microdermabrasion, chemical peels and soft tissue fillers.
But making dad more beautiful will cost you. The average fee for a facelift in 2012? $6,630. Botox averages around $369 and laser hair removal around $329.
Bing: Cosmetic surgery for men
While the stigma around cosmetic procedures may be fading, Jack Fisher, president of the American Society for Aesthetic Plastic Surgery, told The New York Times that men still don't talk about it much. "Women will talk about it with their friends," he said. "Men are incredibly reticent to admit they had anything done."
More from The Men's Department
Dollar Shave Club is back – with wet wipes for guys
Men aren't the only ones who want sex
Dads want work-life balance, too
Subscribe to The Men's Department
Love content like this? Friend us on Facebook, follow us on Twitter and find us on Pinterest.
Photo: Voisin/Phanie/Rex Features

Reminds me of a sign I saw yesterday. "Dad wants a massage for 2 for Father's Day". Umm, no. Mom wants a massage, so she'll buy this, pretending it's for Dad. Besides, isn't that kind of insulting? "Here Dad, now you can stop looking like the Marlboro man!". It's like buying a gym membership for someone that's overweight.
Are you sure you want to delete this comment?