New dads feel sexier, study suggests
Fatherhood boosts men's perception of how good they look – especially when their wives give birth in the first year of marriage.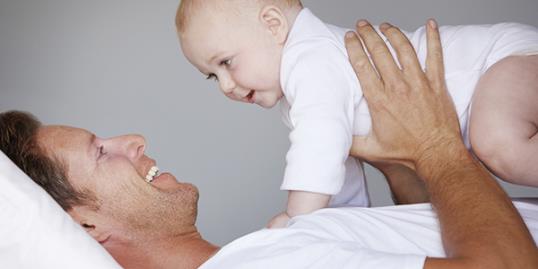 Guys, here's one more reason to get busy: A new study suggests that becoming a father makes men feel more attractive.
Researchers examined the effects of parenthood on how newly married couples feel about their bodies. While new moms felt less attractive after the birth of a child, the study found, fatherhood boosted a man's perception of how good he looks – especially when his wife gave birth in the first year of marriage.
The study involved 182 couples in the United States and was published in the Journal of Gender Studies.
More from MSN Living: Be happy: How to make your own luck
The researchers did not identify the cause of the difference in perceptions but noted that a woman's body goes through many physical changes during pregnancy. In the first few months after the child is born, the study suggested, a new mom often has little time for exercise or putting on makeup, which may negatively impact how she feels about her physical attractiveness.
The data did not suggest a reason for why fatherhood makes men like what they see in the mirror, but Susan D. Stewart, an associate professor of sociology at Iowa State University and a co-author of the study, said evolution could possibly play a factor.
"Becoming a dad is very import to men's identity because it means here I am, the head of the family," she said. "His role becomes much more defined."
But Bruce Feiler, the author of "The Secrets of Happy Families" and father of 8-year-old twin girls, said he didn't initially feel more attractive when his daughters were born.
Bing: Dads get pregnancy hormones, too
"First of all, I walked around exhausted, overwhelmed and playing defense," he said. "I think I did that for about a year."
However, part of what made him feel good about his role as a new dad, Feiler said, was the positive responses from women in his family.
 "You get flooded by approval, especially by women," he said. "You do something that makes women happy by bringing a baby into the world."
More from The Men's Department
Old Spice puts 'Swagger' in ordinary bar soap
Study: Men are bad at reading women's emotions
Study finds men benefit from workplace power
Photo: Tom Merton/Getty Images