Why a guy needs a good wingman
If you want to meet women, it helps to have someone you can trust by your side.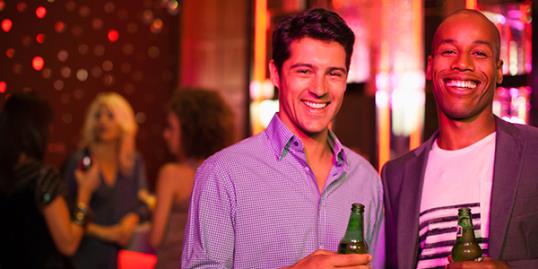 Navigating the singles scene is seldom easy, so it helps to have a good wingman by your side.
More from MSN Living: 8 guys you'd most want as a wingman
A good wingman is someone who accompanies you when you're looking to meet women, someone who is social and willing to make introductions, said Thomas Edwards, founder of The Professional Wingman. He should be someone who knows you well, and knows what you're looking for going into the evening.
"It's not about having the best-looking guy standing next to you," said Mike Sheppard, an editor for AskMen.com. "It's about having someone whose goal is to make you look good.
"Someone who has no agenda other than to see his friend have a good time."
It helps if a wingman is already in a relationship — that eliminates any unnecessary competition. Nor does a wingman necessarily need to be male. "A girl sees a guy talking to another girl at a bar, that certainly makes his stock go up," Sheppard said.
A good wingman should also be willing to give you objective advice, said Paul Carrick Brunson, an author and professional matchmaker. "A guy who is 30 to 40 years old could have gone on dozens and dozens of dates in his lifetime and never received any sort of qualitative feedback," Brunson said.
The trick is to look for patterns. If you go out on one date and the woman won't return your call, that doesn't tell you much, Brunson said. "Go on five dates, and not one will return your call, that could be saying something."
A good wingman should talk you up as much as possible, but eventually he will have to leave to let you carry on the conversation. Brunson recommends that men learn to read nonverbal cues to judge her interest. Is she genuinely smiling? Is she making eye contact or is she fidgeting and looking everywhere but at you?
Bing: More dating tips
Most importantly, have fun. If you're having fun, you come across as more approachable, Edwards said. "When you take yourself less seriously, you actually have a better time."
More from The Men's Department
Poll: Single men change their sheets four times a year
The best way to meet women
The strategy that gets you a second date
Subscribe to The Men's Department
Love content like this? Friend us on Facebook, follow us on Twitter and find us on Pinterest.
Photo: Robert Daly/Getty Images