Dad angered by profanity on restaurant receipt
Joseph Gibson took his son to a St. Louis, Mo., eatery on Father's Day — and found a surprise on the bill.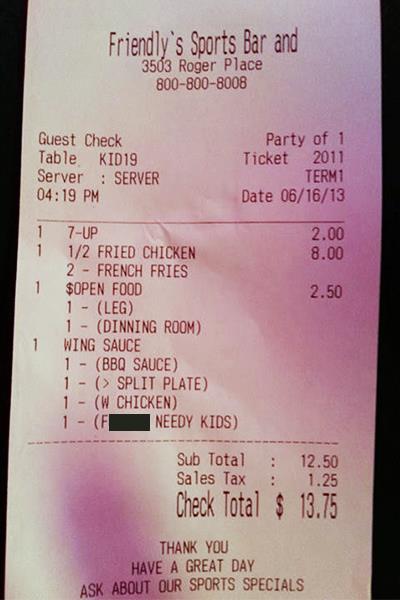 A dad in St. Louis, Mo., received an unexpected surprise this Father's Day.
Joseph Gibson told the St. Louis Post-Dispatch that he took his 3-year-old son to Friendly's Sports Bar & Grill on Sunday. Everything went fine, until the bill came. The receipt listed a soda, fried chicken, an additional chicken leg and this item: "F---in Needy Kids."
Gibson, who said his son was well-behaved while at the restaurant, posted the receipt on the St. Louis Post-Dispatch's Facebook page and told the newspaper that he was "pretty upset" about the incident.
"So customers with children are a joke?" he wrote on Facebook. "This place isn't so friendly."
More from MSN Living: How technology is making us lazy
Denny Domachowski, the restaurant's general manager, told the newspaper that Gibson had called ahead on Sunday to ask if he could bring his son into the bar.  "Normally, we don't let anyone in who's under 21," Domachowski said. "But the guy said he was with his kid for Father's Day and they were just leaving the (Missouri) Botanical Garden, so I said 'Sure.'"
Because the restaurant has no kid's menu, the waitress had to manually enter the boy's order of one chicken leg, Domachowski told CNN. The receipt was meant to be a joke between co-workers and the waitress had intended to delete the message. She has been reprimanded, he said.
Bing: More viral receipts
"The incident shouldn't have happened, and I made sure she understands that," he said. "She didn't mean to offend the gentleman and his son. She had a good experience with them as customers. She was just in a hurry and forgot to take that off."
More from The Men's Department
At last, foolproof gift wrap -- for men
GQ's comprehensive guide to body grooming 
3 fun new parenting books by dads 
Subscribe to The Men's Department
Love content like this? Friend us on Facebook, follow us on Twitter and find us on Pinterest.
Photo: Joseph Gibson's profanity-laced receipt from Friendly's Sports Bar & Grill in St. Louis (via Facebook, http://aka.ms/profan​ityreceipt)