Men wish women would chip in on dates
But most guys still pick up the tab, recent findings suggest.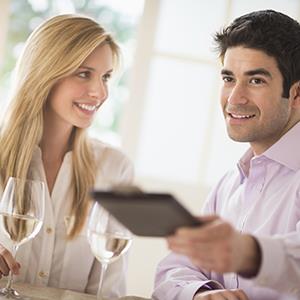 Guys, you're still paying for dates, but most of you wish women would also pick up the tab sometimes.
More from MSN Living: 9 things guys do that women secretly hate
In a recent survey, 84 percent of men said they are responsible for dating expenses. However, most men – 64 percent – said women should occasionally pay for dates.
The findings were presented this week at the American Sociological Association's annual meeting.
As for women, 57 percent offer to chip in, although 39 percent said they hope men will refuse their offer. 
A number of women – 44 percent – said it's a turnoff when men expect them to pay, and an equal number of men said they would stop seeing a woman if she didn't occasionally pick up the check.
"I'm fine with paying for the first few dates," said a 25-year-old male participant in TIME Magazine's report. "However, if relationships are supposed to be 50/50, then each partner is expected to invest in the partnership financially."
Those most likely to offer to share the costs? Younger, college-educated men and women.
More than 17,000 unmarried, heterosexual men and women were surveyed using a questionnaire posted on NBCNews.com.
Bing: Relationship advice for men
"One of the reasons we are interested in looking at who pays for dates is because it is one arena where women may be resisting gender changes more than men," David Frederick, an assistant professor of psychology at Chapman University, told The Huffington Post. "As social roles start to change, people often embrace the changes that make their lives easier, but resist the changes that make their lives more difficult."
Who do you think should pay on a date? Tell us on Facebook.
More from The Men's Department
Dear daughter: I hope you have awesome sex
Guys strip down for sexy 'dudeoir' photos
Time spent on housework linked to man's job
Subscribe to The Men's Department
Love content like this? Friend us on Facebook, follow us on Twitter and find us on Pinterest. 
Photo: Tetra Images/Getty Images