Men dressed as Batman, Captain America rescue cat
Real-life superheroes team up to save feline from house fire.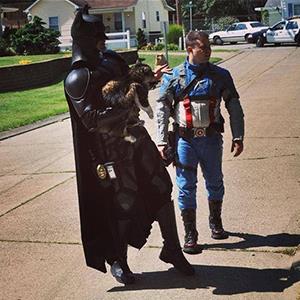 Milton, W.Va. — Who says superheroes aren't real?
More from MSN Living: Insanely easy birthday party ideas
When a West Virginia home caught fire, trapping a kitten inside, it was Batman and Captain America who came to the rescue.
John Buckland, dressed as Batman, and Troy Marcum, dressed as Captain America, saw smoke at a house nearby when they were entertaining children as part of their business. They ran to the house along with another bystander, kicked in the door and broke out a window so some smoke could escape.
Buckland, a former firefighter, says he crawled into the front room and felt something furry. He grabbed the animal, ran outside and gave it mouth-to-mouth resuscitation.
Bing: Real-life rescues
No one was hurt in the fire, including the rescuers — though Buckland says the cat hissed and swatted at him when it regained consciousness.
More from The Men's Department
Men show off awesome facial hair
New beer ad is a touching commentary on male friendships
Why a guy needs a good wingman
Subscribe to The Men's Department | Friend us on Facebook, follow us on Twitter and find us on Pinterest.
Photo: Heroes4Higher via Facebook, http://aka.ms/Heroes​4Higher