Study: New dads' interest in sex often declines
Stress and fatigue of caring for a newborn can impact both parents.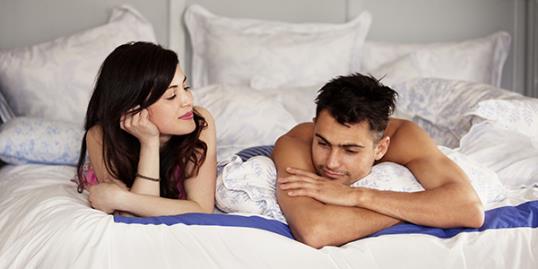 Not in the mood? New dads also experience changes in sexual desire after the birth of a child, a new study suggests.
More from MSN Living: 10 things every dad-to-be should know
However, the diminished desire may be tied more closely to the stress and fatigue of caring for a newborn rather than to hormonal and physical changes in the birth mother, as is more commonly assumed. The findings, published online Aug. 1 in The Journal of Sexual Medicine, were similar in both male or same-sex partners.
"Our present research demonstrates that co-parents also experience variations in sexuality that relate to the very real social and relational changes that occur with having a baby," lead author Sari van Anders, an assistant professor of psychology and women's studies at the University of Michigan in Ann Arbor, told LiveScience.
The researchers looked at 114 partners (95 men, 18 women, 1 unspecified) of women who had recently given birth. These partners were asked to complete an online questionnaire about their sexuality in the three months after their child was born.
Bing: Sex after baby
"We found that, like birth mothers, fathers and co-mothers experience sexual highs and lows during the postpartum," van Anders told HealthDay. "High sexual desire in co-parents at this time was influenced not only by sexual interest, but also feelings of intimacy. Low desire was influenced not by partner disinterest or breast-feeding status, as more typically assumed, but by fatigue and stress."
More from The Men's Department
Woman asks guys for sex in prank video
Wil Wheaton on why being a nerd is 'awesome' 
Dad jeans are NOT cool again
Subscribe to The Men's Department
Love content like this? Friend us on Facebook, follow us on Twitter and find us on Pinterest.
Photo: Cavan Images/Getty Images