3 fun new parenting books by dads
From sleeping with baby to caring for an infant to sparking a child's imagination
Sleeping — with a toddler's foot firmly planted in your face. Dealing with a job loss while caring for an infant. Finding fun and imaginative things to do with your daughter.
These are the subjects of three fun, and at times hilarious, new parenting books written by dads.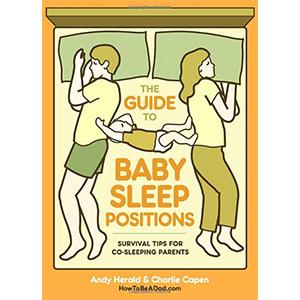 "The Guide to Baby Sleep Positions: Survival Tips for Co-Sleeping Parents"
By Charlie Capen and Andy Herald
Potter Style, $8.96
What new parent does not bemoan a lack of sleep? This actor and graphic design duo have created a book for parents new to co-sleeping with baby, complete with instructional diagrams with hilarious names such as "The Roundhouse Kick," "Booby Trap" and the more ominously named "'H' is for Hell." "Co-sleeping with your baby can be one of the greatest joys or torments of parenting," their website says.
"These sleep positions have been field tested," said Capen, who has a 3 1/2–year-old son. "For me, I didn't anticipate being a co-sleeper. I sort of fell into it. Or rather my son fell into the bed."
Herald and his wife, on the other hand, made a more deliberate choice to allow their third child to sleep with them "even though I was getting horrifically bad sleep." They finally got their son, now 4, out of the bed when they moved into a new house and he had his own room — with his own bed.
More from MSN Living: Send dad a Father's Day ecard
The book emerged from their entertainment website, "How to Be a Dad," which features infographics, funny videos and Herald's original illustrations.
New parents sometimes have a fear of doing everything right, Capen said, but they just need to relax. The duo wanted to use humor in their book to push back against the authority commonly found in parenting books. "Seriousness can really mangle your parenting style," Capen said. "For us, humor has sort of been a vehicle for us to get closer to our kids.
"We're uniformly surprised when people say they got a lot out of the book," Herald said. "This one woman said, 'I laughed so hard I cried and it was the first time I cried not out of sadness in a week.'"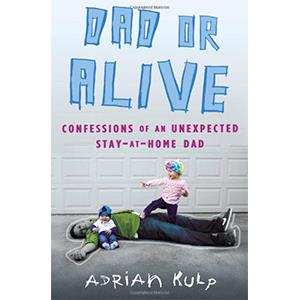 "Dad or Alive: Confessions of an Unexpected Stay-at-Home Dad"
By Adrian Kulp
NAL Trade, $11.26
Adrian Kulp was an entertainment industry executive living in the Los Angeles area and working with the likes of Adam Sandler and Chelsea Handler when he lost his job in 2010. At the time, his daughter, Ava, was just 10 weeks old.
"For me, it was a huge step to go from executive to primary caregiver," said Kulp, whose wife works as a reality TV development executive and producer.
With the emails and phone calls drying up and no one to talk to at home but an infant, Kulp started blogging as a creative outlet. He gets into the nitty-gritty of parenting, from the depression he fell into at the loss of his job to his changing relationship with his wife to tales of crayons on the wall to vomit in the hair.
It was a big adjustment at first. Kulp's friends were all executives who were at work all day, but eventually he found himself hanging out with their wives and their kids. "I found myself in kind of this funny situation where it was kind of me and the girls."
Bing: Father's Day gift ideas
His blog eventually caught the eye of a literary agent and led to a publishing deal. In one story in the book called "Work Drinks," Kulp describes how one of these women invited him out one night to have drinks with the other moms.
"I thought they were joking at first. I said to my wife, 'What do you think? Should I go?'" said Kulp, who went along and had a great time.
Now he's the dad to Ava, 3 1/2, and Charlie, 23 months. While Kulp and his wife both love the fact that one of them is available to take care of the kids during the day, he's also open to the idea of getting back into television.
"I think if an opportunity were to come up — getting staffed on a TV show or something of that nature … if there was an amazing opportunity for me, my wife and I would try to figure out some way to make it happen," he said.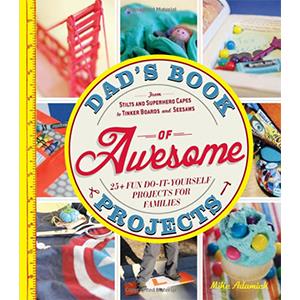 "Dad's Book of Awesome Projects"
By Mike Adamick
Adams Media, $12.63
Mike Adamick used to be a reporter, but after his daughter, Emme, was born, he and his wife decided that he would stay home while she worked as a lawyer.
"Honestly, I was really nervous at first because I didn't know what to expect," said the 36-year-old San Francisco dad.
He eventually found a community through play groups and blogging, and as his daughter grew older, he started doing crafts with her to pass the time.
"I totally learned on the job," said Adamick, who confesses to not being particularly handy. "I've been staying home for 7 years but she's only been able to wield a saw and a drill for five years."
The projects in the book include everything from making super hero capes to baking cupcakes inside of eggshells to building a terrarium to making a bow and arrow. He also stresses tool safety. 
"I really want to make sure that when parents and kids are working together, it's a lot of fun," he said.
More from The Men's Department
Why dads should roughhouse with the kids
This Father's Day, give dad the gift of Botox
Dads want work-life balance, too
Subscribe to The Men's Department
Love content like this? Friend us on Facebook, follow us on Twitter and find us on Pinterest.
Photos: Courtesy of Amazon