Kellan Lutz of 'Twilight' launches fashion line
Abbot + Main unveiled this week in Las Vegas.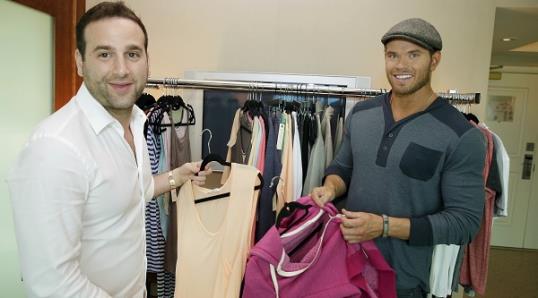 LAS VEGAS — What's a hulking vampire to do without moody mortals in distress and with no more computer-enhanced battles to wage in the forest?
For 28-year-old "Twilight" actor Kellan Lutz — better known as Emmett Cullen, the heartthrob brother of leading man Edward — it's still about looking as good as superhumanly possible.
More from MSN Living: Top 10 best-dressed baseball players
Lutz unveiled his pre-spring 2014 collection with Abbot + Main this week in Las Vegas during Magic, one of the fashion world's most influential trade shows.
"It's great to find something outside of acting," he said in an interview Monday at a Las Vegas Strip hotel suite, resting a chiseled, stubbly chin on a sofa pillow.
Born in North Dakota and raised in Arizona and the Midwest — places he described as trendiness-challenge​d — he started modeling at 14 and developed an eye for style hanging out with fashion and photography greats.
Soon enough, he stopped borrowing clothes from his six brothers. They were borrowing from him.
His brand — which debuted in 2011 and is named after an intersection in the beachy-cool Venice Beach, Calif., neighborhood where Lutz once lived — primarily consists of soft, slim-fitting T-shirts and not-trying-too-hard hoodies.
Initially just for men, two-thirds of the collection is now for women. Highlights include a peach-colored, long-sleeved sweater of translucent hacci fabric and a draping tank top in matte gray. Meant for layering, the pieces have no prints and logos.
Bloomingdale's and Nordstrom carry the line. Pants retail for $91, while hoodies go for $98.
Lutz works with business partners mainly over Skype as he travels around the world filming. He's starring as the oft-shirtless Hercules in the upcoming "Hercules 3D." After Magic, he'll be headed to Bulgaria to shoot "The Expendables 3," an action thriller that's set to include Sylvester Stallone, Arnold Schwarzenegger and things blowing up.
Bing: More men's fashion news
Stephenie Meyer, author of the books that led to the "Twilight" movie series, which grossed $1.4 billion in U.S. box office receipts, told Variety last week that she's done with the fantastical world of glittery-skinned, bloodthirsty knockouts.
"I get further away every day," Meyer's quoted as saying. "I am so over it. For me, it's not a happy place to be."
But the small supporting role that carved him a place in the acting world — and in many a teen girl's heart — looms large for Lutz.
"I'm so thankful for everything that movie's done for me," he said. "'Twilight' gave me a name."
More from The Men's Department
The strategy that gets you a second date
Men are putting their best face forward
Guys strip down for sexy 'dudeoir' photos
Subscribe to The Men's Department
Love content like this? Friend us on Facebook, follow us on Twitter and find us on Pinterest. 
Photo: Actor-designer Kellan Lutz, right, and his partner Danny Guez look through their pre-spring 2014 clothing line Abbot + Main at the Mandalay Bay Hotel on Aug. 19, 2013, in Las Vegas. (Photo by Isaac Brekken/Invision/AP)​