Why 'Big Bang Theory's' Raj is finally able to talk to women
Big breakup could have helped character overcome his selective mutism.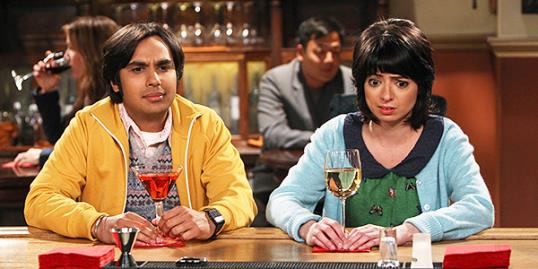 In "The Big Bang Theory" season finale Thursday night, Raj Koothrappali (Kunal Nayyar) delighted fans everywhere when he finally overcame his fear of talking to women – without the need for alcohol.
It's a big emotional breakthrough for the character, who appears to suffer from selective mutism, said Lynn Lunceford, a psychologist who treats clients with the disorder.
"Selective mutism is an anxiety disorder that is manifest in certain situations but not others," she said.
Selective mutism is characterized by an inability to speak in certain situations. It is considered a form of social anxiety, previously known as social phobia, and often is associated with profound shyness, little eye contact and fear of social embarrassment, according to the nonprofit Selective Mutism Group.
More on MSN Living: The crazy things you do to destress
In Raj's case, he has no problem hanging out with his buddies but clams up when he's around women – even Penny (Kaley Cuoco), whom he's known on the show for six years.
In real life, Lunceford said, it would be unusual to see selective mutism based on gender. The disorder most commonly is found in children, who may find themselves unable to speak at school or to unfamiliar adults, but can persist into adulthood without treatment.
"If the selective mutism is not treated, because it is an anxiety disorder, people often self-medicate later in life with alcohol and drugs," she said.
Raj, for example, previously needed a drink to soothe his anxiety before he was able to talk to a woman. "Once the anxiety's gone, then he's able to talk," Lunceford said.
An estimated 6.8 percent of the U.S. adult population is affected by social anxiety,  according to the National Institute of Mental Health.
While seletive mutism is a form of social anxiety, Lunceford said there aren't any statistics on the number of people affected. It can, however, severely interfere with daily life, as Raj learns in a previous episode when he discovers that his new boss is a woman. Ultimately, he is unable to take the job because he can't talk to her.
In season six of "The Big Bang Theory," Raj meets Lucy (Kate Micucci), who suffers from even more severe social anxiety than he does. After Lucy breaks up with him in the finale, Raj suddenly find himself able to have heart-to-heart with Penny – sans alcohol – because he was so distraught.
Bing: 'The Big Bang Theory' season finale
Such a scenario would be completely plausible, said Lunceford.
"He's sort of built up comfort with her over time and across situations," she said. "It's not uncommon when something bigger than anxiety comes up to be able to speak.
"It helps them kind of forget in the moment that they're afraid."
More from The Men's Department
Strong, wealthy men more likely to be conservatives
Men pay $2,400 to learn to blow-dry their wive's hair
Women think stubble is sexiest, study suggests
Photo: "The Big Bang Theory's" Kunal Nayyar & Kate Micucci (Monty Brinton/CBS)
Love content like this? Friend us on Facebook, follow us on Twitter and find us on Pinterest.