5 ways to get out of the doghouse
Talk it out, do something nice and use humor to smooth things over.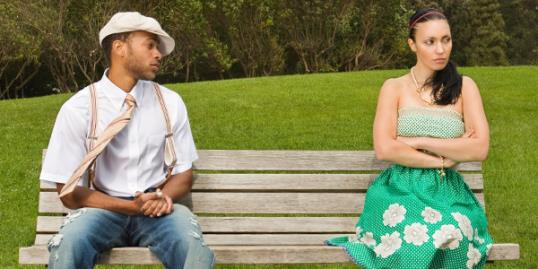 When my husband built our doghouse, he added insulation. When I asked him why, he replied: "In case I ever have to sleep in it."
If you're in a relationship, guys, chances are you'll end up in the doghouse – metaphorically, if not literally – at some point. If it happens to be today, then here's some good news: It's Get Out of The Doghouse Day. Think of it as a "Get Out of Jail Free" card like in the game Monopoly.
If you happen to find yourself in the doghouse on one of the other 364 days of the year, Chris Aung-Thwin, an editor for men's entertainment website AskMen.com, shares these five tips to help you right wrongs and smooth things over with your significant other.
1. Own up to what you've done
"Unfortunately, there are a lot of ways a guy can find himself in the doghouse," said Aung-Thwin. "Basically, it means that in some way you've been inconsiderate and disrespectful."
More from MSN Living: 10 reasons men die sooner than women
Think forgetting an anniversary or birthday or getting into an argument with your special lady's best friend. Whether you failed to acknowledge your actions or you're blind to what you did to cause offense, a relationship is a two-way street.  
"That's an important part of a relationship," Aung-Thwin said. "Being able to acknowledge when you've hurt the other person's feelings and being able to make amends for it when it does happen."
2. Talk it out
Sometimes it's best to give her some space to cool down first, but sooner or later the two of you will have to talk it out, Aung-Thwin said. Above all, don't try to shift the blame elsewhere. The last thing you want to do is start another argument. "A lot of guys are guilty of this, I think," Aung-Thwin said. "That doesn't help anyone or anything, and you've just dug yourself deeper."
3. Do something nice for her
Sometimes actions speak louder than words. Bring her flowers, cook her dinner, do a few extra chores around the house or take the kids out for the afternoon, Aung-Thwin suggests. A simple gesture may win you a few points.
Bing: More relationship advice
4. Change your behavior
"The guys who end up in the doghouse are kind of repeat offenders," Aung-Thwin said. "They tend to make the same mistakes." Say you're just bad at estimating when you'll be home after a night out with the guys. Rather than pinpointing a specific time, tell her you'll be out late and you're not exactly sure when you'll be back. When you're in a relationship, you have to be respectful of the other person's time. Above all, Aung-Thwin said, always be honest.
5. Use humor
Early on, at least, her feelings might be very hurt. But if you've already completed the first four steps above, try using humor to get yourself back in her good graces. "If you just do something to make her smile a little bit, that can go a long way," Aung-Thwin said.
More from The Men's Department
Thinning on top? Embrace your baldness 
2 in 3 brides say guy could go 'groomzilla'
5 lesser-known benefits of beards 
Subscribe to The Men's Department
Love content like this? Friend us on Facebook, follow us on Twitter and find us on Pinterest.
Photo: Frank Gaglione/Getty Images
Are you sure you want to delete this comment?