Thinning on top? Embrace your baldness
Vin Diesel, Dwayne "The Rock" Johnson and NBA star Ray Allen all sport a shiny pate.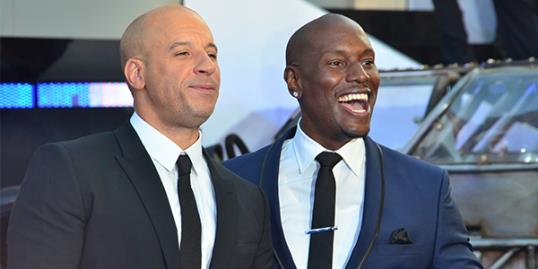 Let's face it, the comb-over never looked good on anyone. Ever. So guys, if you're thinning on top, go with it. It's time to embrace your baldness.
More from MSN Living: 25 hottest bald men of all time
Think of all the bad-ass bald guys out there. Action movie heroes Bruce Willis, Vin Diesel and Jason Statham. Canadian mixed martial artist champion Georges St-Pierre. Pro wrestler-turned-acto​r Dwayne "The Rock" Johnson. NBA star Ray Allen.
"Bald is cool because Hollywood is saying that bald is cool," said Victor Macias, co-founder of MaleStandard.com, which follows men's grooming trends.
Male-pattern baldness accounts for most hair loss in men. By age 35, about two-thirds of American men will see thinning. By age 50, about 85 percent of American men will experience significant hair loss, according to the American Hair Loss Association.
The good news: Men with shaved heads are seen more masculine and, in some cases, are believed to have greater leadership potential, according to a study released last year. 
So how do you know when it's time to embrace that shiny pate? Some barbers or salons can analyze the shape of your head and tell you whether you'll look good with a shiny dome, Macias said. He's seeing more younger guys go for the super-short buzz cut. For older guys who are thinning, Macias recommends that they just shave it all off.
 "It's usually the guy that's been holding on to the hair for far too long," said Macias. For guys who are nervous about embracing their bald head, he recommends they start first with a buzz cut.
Bing: Hair loss in men
For a guy who wants to slow down the hair loss, Macias recommends that they take care with the products they use in their hair. Pomade, for example, can clump together and make thinning hair look even worse. And in the shower, try not to scrub too hard, which can damage hair follicle, he said.
"Just embrace it," Macias said. "Don't fight nature."
More from The Men's Department
2 in 3 brides say guy could go 'groomzilla' 
5 lesser-known benefits of beards 
At last, foolproof gift wrap — for men
Subscribe to The Men's Department
Love content like this? Friend us on Facebook, follow us on Twitter and find us on Pinterest.
Photo: Vin Diesel & Tyrese Gibson at the world premiere of 'Fast & Furious 6' at the Empire Leicester Square in London on May 7 (Joe Alvarez/WENN) 
 

Are you sure you want to delete this comment?