The surprising thing that can get you hired
Highlighting volunteer gigs on your resume can help you land a job.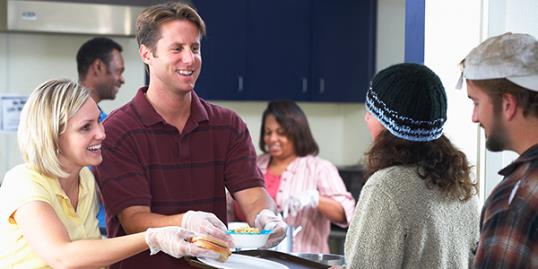 By Scott Rosenfield, Men's Health
Lend a hand to land a gig. Volunteering makes you a more desirable job candidate, according to a new survey from professional services organization Deloitte.
More from MSN Living: 10 eco-friendly volunteer vacations
Here's the hitch: While 76 percent of HR executives say nonprofit work looks attractive on a resume, the candidates themselves don't think so; fewer than half of all applicants surveyed believe it makes a difference in a job search. (Discover the most neglected part of your resume.)
But volunteering showcases flexibility, a worldly perspective and an ability to put the skills you learned in school to use, says Evan Hochberg, the national director of community engagement for Deloitte. For recent college grads without much work experience or people with gaps in employment, hiring managers see volunteering as a form of on-the-job training, boosting your odds of getting a real offer.
Bing: More tips to land a job
High-skill work, like helping out in a communications department or the technology world, is what employers are really looking for, Hochberg says. To showcase your experience, add volunteering to the work section of your resume -- noting, of course, that you weren't paid. Describe the skills you honed (like "coordinated with different departments") and outcomes you achieved ("expanded social media reach to 100,000 Twitter followers") -- two of the biggest factors HR execs will study.
More from Men's Health
Why You Missed Out on the Job Offer
The #1 Thing to Do Before a Job Interview
The #1 Job Skill School Won't Teach You 
Subscribe to The Men's Department
Love content like this? Friend us on Facebook, follow us on Twitter and find us on Pinterest. 
Photo: Brand X Pictures/Getty Images

This  is not a Gig this is a real volunteer work for many soup kitchens organized by churches and community . we must teach our kids to help elderly grand parents at home, once they get to age 10 to help out  in community, churches ,school charity fund raising , Boy scouts, and teach them important of sharing    with those who are less fortunate then you are. , those who are stranded in our economic disasters, many of them are home less, looking for work. In todays society many of our youngsters have no clue about our countries economic situation. Charity begins with the parents who set good example for the kids.
Helping others is a Gods work that all of us can do to make our world little batter.
Are you sure you want to delete this comment?