The best way to meet women
Your dog can be a great conversation starter.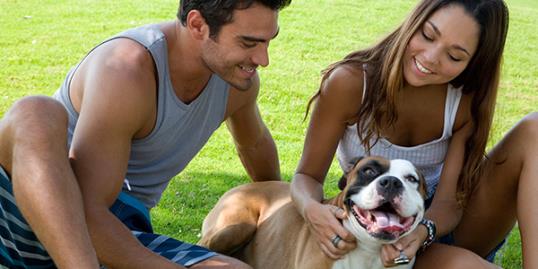 By Kristen Domonell
Man's best wingman: Walking your dog is one of the top five ways to meet new people, according to a recent Australian study.
More from MSN Living: In the mood for love? Signs that point to 'yes'
The research doesn't just apply to making friends. Dog walking gives guys an opportunity to show their kinder, gentler side, says Pepper Schwartz, Ph.D., the chief relationship expert for PerfectMatch.com.
But since a woman will usually compliment your pup or ask to pet him then walk away, you have about three seconds to grab her attention, Schwartz says. "She's drawn to the dog, but she may or may not be drawn to you. You have to seize the opportunity for conversation rather quickly."
Your next move: If she plays with Fido and he loves the attention, point out his opinion of her and offer your own compliment, Schwartz says. Or if she's also with a four-legged friend, suggest both pooches pal around together.
You have an even better chance of catching her eye if you have a German shepherd, Labrador retriever, golden retriever, Siberian husky or French bulldog. Women are most attracted to men who own any of those breeds, according to a 2012 survey.
Bing: Most popular dogs in America
If you don't need to use your dog as a chick magnet, that's no reason to stop your neighborhood loops. Recent research from New Zealand found that walking the dog boosts your well-being, and in a 2011 study from Michigan State University, dog walkers were 34 percent more likely to reach federal exercise benchmarks than people without pets.
More from Men's Health
Why You Missed Out on the Job Offer
The #1 Thing to Do Before a Job Interview
The #1 Job Skill School Won't Teach You 
Subscribe to The Men's Department
Love content like this? Friend us on Facebook, follow us on Twitter and find us on Pinterest. 
Photo: Alberto Coto/Getty Images