Why all guys need a best buddy — or two
Friendships can at times be difficult to maintain, but it's important to make an effort.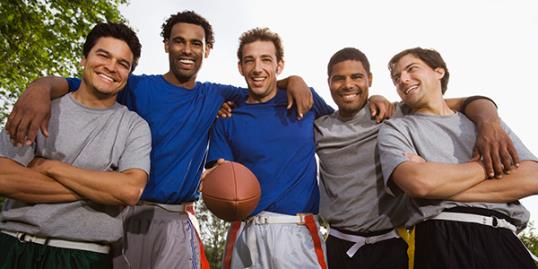 Brad Pitt may have just a few best buddies, but he's probably not unlike most men.
"I have very few friends," the 49-year-old tells Esquire in the upcoming June/July issue.
"I have a handful of close friends and I have my family, and I haven't known life to be any happier. I'm making things. I just haven't known life to be any happier."
A 2011 study out of Cornell University found that most Americans have just two close confidants, down from three 25 years ago.
More from MSN Living: 10 fun Father's Day gifts under $50
While a large number of friendships can draw a man into a number of new social activities, what's more important than quantity is the quality of those friendships, said Lisa Firestone, a clinical psychologist in Santa Barbara, Calif., and a senior editor for PsychAlive.org.
"I do think the closeness part is also really important," she said.
Many Americans now report having hundreds or even thousands of friends on Facebook or other social networks, but it's also important to have personal contact, she said. Men, like women, need someone they can be honest with, someone they can talk to.
While she noted that Pitt didn't mention if his friends were male or female, Firestone said she thinks it's important for men to also have male friends and women to also have female friends — and not just rely on a partner for their emotional needs.
For men especially, bonding often occurs over shared activities, such as watching or playing sports, Firestone said.
However, sometimes those friendships can get off track. A knee injury, for example, could affect a man's social connections both on and off the field. A stressful experience such as a job loss or a divorce could also take a toll on a man's friendships. That's why it's important to be open to new friendships throughout a lifetime, she said.
Bing: Making time for friends
In our work-driven culture, friendships sometimes can be difficult to maintain, Firestone said, but it's important to make an effort.
"I certainly think that men value their relationships with one another," she said.
More from The Men's Department
The bad habit that hurts job performance 
Men turning to laser removal for hairy 'Hobbit feet' 
Why 'Big Bang Theory's' Raj is finally able to talk to women
Photo: Jupiterimages/Getty Images
Love content like this? Friend us on Facebook, follow us on Twitter and find us on Pinterest.