What dads should expect this Father's Day
Whether you like 'em or not, there's a reason you get kitschy gifts.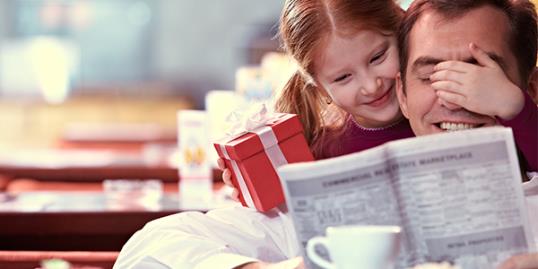 Dads, we love you — but maybe not quite as much as moms.
At least not when it comes to gifts.
Americans were projected to spend about $120 on Father's Day gifts this year, up from $117 last year, according to the National Retail Federation's Father's Day spending survey conducted by BIGinsight. That's significantly below the $169 on average that we spent on moms this past Mother's Day.
More from MSN Living: Send dad a Father's Day ecard 
So why do dads get the short shrift? In a TIME magazine story, Kit Yarrow, chair of the psychology department at Golden Gate University, shares her thoughts: 
Boxer shorts and barbecue aprons with humorous Father's Day messages became popular for a reason: They're cheap gifts, and Dad is a good enough sport to wear them. Does he actually want this stuff? Probably not. But the things that many dads truly do want are often out of the price range of the kids doing the shopping. Because the things Dad really likes are expensive, and he's picky about them, the folks buying Father's Day items regularly defer to the marketer-generated, inexpensive fallback gift options. 
In other words, dads, don't expect too much.
Among popular gifts this year: a special outing such as a sporting event or dinner, electronic gadgets, clothing or gift cards. Tools, sporting goods, personal care items and automotive accessories are also go-to gifts for fathers, according the NRF.
Bing: Father's Day gift ideas
But what do dads really want?
Adam Cohen, creator of the website DaDaRocks, said he wouldn't mind a new surround sound system for the living room, but he really doesn't need any big gifts. He'd be happy with something made by the kids.
"Sure people want electronics, clothes, and items that fade with time, but I think having an experience or a family photography session captures the moment of where we are," he said. "It lets us remember where we've been and where we are going, too."
More from MSN Living: 7 great Father's Day gifts under $100
Hugh Weber, author of the newly released book "Dude to Dad: The First Nine Months," said all he really wants for Father's Day this year is some quality time with his family.
"Perhaps dinner with my wife, Amy, some drawing with my daughter, Emerson, and some drooling with my son, Finn (11 weeks)," he said. "If that's not possible, then I'd just like a big, juicy steak. Medium rare."
What do you really want for Father's Day? Tell us in the comments section below.
More from The Men's Department
3 fun new parenting books by dads
Why dads should roughhouse with the kids
Dads want work-life balance, too
Subscribe to The Men's Department 
Love content like this? Friend us on Facebook, follow us on Twitter and find us on Pinterest.
Photo: mediaphotos/Getty Images