Samsung slammed for portraying man as unevolved in new ad
Controversial clip has garnered nearly 10 million views on YouTube.
Television maker Samsung is taking heat over a new commercial portraying men as dirty, unkempt, flatulent couch potatoes.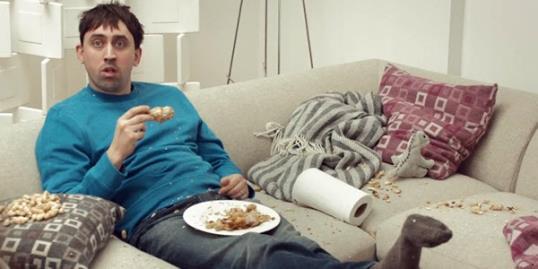 In the new ad for Samsung Smart TV's Evolution Kit called "Evolutionary Husband?," posted May 14 on YouTube, a woman daydreams about plugging the Evolution Kit into her man, who then becomes an "evolved" multitasking marvel — caring for the baby while simultaneously making breakfast, painting, decorating a cake and watering a plant.
Her daydream is brought to an abrupt close by a loud emission of flatulence from said husband — who remains the same sloppy, zombie-like caveman who appears to have not left the couch in several days.
"Samsung TV is an Evolutionary TV," says the message on the ad.
The commercial has drawn more than 1,500 comments on Samsung's YouTube site, mostly critical.
"I can't see myself buying another Samsung unless they offer a formal apology," one user commented.
More from MSN Living: Crazy gadgets for guys
"Samsung is another company using the hatred of males theme to sell its products," wrote another. "Guys, do not buy anything at all from Samsung."
The commercial has also garnered more than 50 comments on a reddit forum on men's rights, where one reader posted:
"That's probably one of the most vile adverts I've ever seen. This isn't the normal IV drip of laughing at men; this is simply mainlining outright contempt."
Samsung declined to comment.
Marc Sherman, a Chicago-based copywriter and creative director, told MSN that he found the ad "buffoonish" and "mean-spirited."
"Something about the comedy, it didn't come with heart," he said.  "And it never established that heart."
Despite the criticism, the commercial so far has earned more than 1,800 likes on Samsung's YouTube page, compared to more than 1,300 thumbs down, and has been viewed nearly 10 million times.
Bing: Controversial commercials of 2013
"Don't really see what the commotion is about with this commercial," wrote one user. "This guy just happens to be a dud. The woman in the commercial hooked up with the dud. Maybe Samsung is targeting women who mistakenly choose duds and need to fix them."
While not all comments are negative, some did point out an apparent double standard.
"I'm not offended, but you must recognize that had the man in the couch been a minority or a woman, socialmedia/news would be EXPLODING with claims of racism/misogyny/bigo​try etc," wrote one on Samsung's YouTube page.
Subscribe to The Men's Department
However, as Adweek's David Gianatasio told Fox News, there's no such thing as bad publicity.
"The clip is nearing 10 million YouTube views in just a week, and generating gobs of attention for the product, so I'd hardly call it a total stinker," he said.
More from The Men's Department
Why all guys need a best buddy — or two
Men turning to laser removal for hairy 'Hobbit feet'
Why 'Big Bang Theory's' Raj is finally able to talk to women
Photo: 'Evolutionary Husband?' ad (SamsungTelevisions via YouTube, http://youtu.be/u9HM​hSvnbmk)
Love content like this? Friend us on Facebook, follow us on Twitter and find us on Pinterest.