Why a guy needs a work spouse
She can provide you with guidance at the office -- and make work less stressful.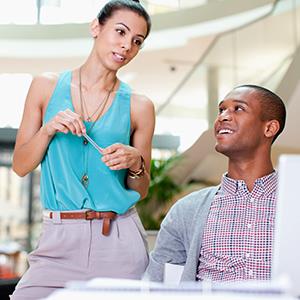 The unemployment rate has been ticking lower over the past two years, but for those Americans who do have jobs, work remains a huge source of stress.
More from MSN Living: 6 ways to manage stress
A Work Stress Survey released earlier this year, conducted by Harris Interactive on behalf of Everest College, found that 83 percent of Americans were stressed out on the job, up from 73 percent the year before. Among the top stressors: poor pay and increased workloads.
That's why it helps to have a work spouse, a female friend you can discuss issues with or who can provide you with guidance at the office -- as long as you keep the relationship in check, said Debra Wheatman, president and founder of Careers Done Write, a professional resume writing and career coaching service, and careers writer for the Jobs channel of NewYork.com.
Unlike a real spouse, who only knows your perspective, a "work spouse" knows the situation and the other players involved and may be better suited to provide feedback. "She's in the same environment every day," Wheatman said. "She serves as a better sounding board because she knows what's going on internally."
As many as 65 percent of American workers say they have or previously had a work spouse, according to a survey from Captivate Network, a market research firm.
In Wheatman's experience, a work spouse relationship usually develops over time, often when two people are working on a project together. You might occasionally invite each other to lunch or drop by each other's office to chat. Eventually, you get to know each other a little better and talk about things that aren't related to work: You might tell her a funny thing that your kid said, for example, and she might regale you with a hilarious story about her latest ski vacation.
With so many workers putting in more than 40 hours a week, it can make all that time spent in the office a bit more fun and manageable.
But it also can be traumatic to get "work divorced" – say, if your confidante gets laid off or finds a job elsewhere. "It can be a pretty dramatic thing, because you've come to rely on this person's counsel and seeing them every day," Wheatman said.
Bing: How to manage stress at work
Some workers even go through a brief period of mourning when they lose a work spouse, but you can still keep in touch or occasionally seek out her counsel.
"At the end of the day, you sort of have to move on," Wheatman said.
More from The Men's Department
Are your tattoos costing you the job?
How to take a tasteful selfie
Why you missed out on the job offer
Subscribe to The Men's Department | Friend us on Facebook, follow us on Twitter and find us on Pinterest.
Photo: ​​Paul Bradbury/Getty Images
Are you sure you want to delete this comment?