The return of the men's ID bracelet
Wristwear has been spotted on celebrities from Channing Tatum to Liam Hemsworth.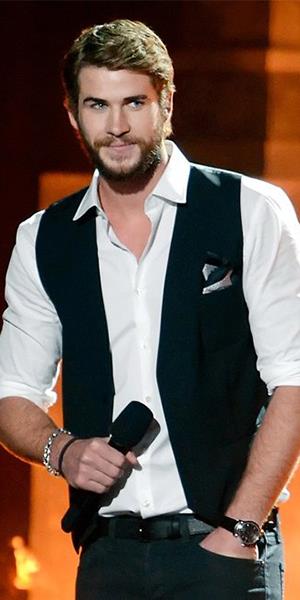 Paolo Lorenzana, Details Magazine
It takes nothing more than a rolled-up sleeve to see how adventurous men's accessorizing has become. Bracelets, in particular, are undergoing a speedy style evolution — from the yellow silicon bands (remember Livestrong?) to the Miansai fishhook bracelets of a few summers back to the friendship bracelets we've seen stars and musicians like A$AP Rocky and The Strokes' Julian Casablancas pile on in recent months.
Data supports the anecdotal observations, too. Last year, the Times reported a rise in men's jewelry sales, while renowned jewelers like Charriol have singled out bracelets as their most popular items. "Men's jewelry has always been a European thing but there's been a resurgence of American men getting comfortable with it," says Evan Yurman, director of men's jewelry and watches at David Yurman. "Bracelets have always been the most popular style because they're accessible to men."
More from MSN Living: Decode your sex dreams
Recently, a shinier and sturdier form of wristwear has resurfaced — the identification bracelet in silver or gold. Hollywood icons like Michael Fassbender and Channing Tatum have been spotted wearing ID bracelets in magazine spreads and to parties, but this is more than just a passing trend; ID bracelets hark back to the mid-20th century when army-issued ID bracelets spread among guys looking to cop some military cool post-World War II. As a salute to soldiers or a commemoration of their own time served, many pop and screen idols — like Marlon Brando and Elvis Presley — sported metal chains and plaques. Pioneering watchband manufacturer Speidel even introduced a kids' version, a his-and-hers set and an ID bracelet with a photo compartment in 1950.
"There are certain shapes and iconography in jewelry that are very masculine and the ID bracelet is one of those," says jewelry designer Eddie Borgo, who launched his own men's line in 2010. "I feel like every jeweler who produces men's jewelry has played around with their idea of an ID bracelet."
Recent creative adaptations of the form include Marc by Marc Jacobs' stretch-rubber IDs and Margiela's compartment-equipped​ version in blue. And now women's versions are emerging: Ralph Lauren created a double-wrap rose gold ID bracelet that can be inscribed with diamonds. Earlier this year, French luxury house Celine repurposed the ID as gold choker seen around Rihanna's neck.
Bing: Men's ID bracelets
These days, a single ID chain on a man's wrist conveys tasteful rebellion against the over-the-top bracelet-stacking going on. It's a timeless piece that can be worn everyday, as Evan Yurman told Details a while back. "Like a good cut of jeans or pair of shoes, we stick to silhouettes that work, so the ID style has stayed with us," he says. There's nothing like a good ol' chain and plaque to convey virility and indestructibility — a couple of things you shouldn't mind identifying with.
More stories from Details
Healthiest Snack Foods to Buy
7 Trends You'll Be Wearing Next Fall
Foods That Will Make You Look Younger
Photo: Liam Hemsworth wearing a men's ID bracelet/Courtesy of David Yurman 
Love content like this? Friend us on Facebook, follow us on Twitter and find us on Pinterest.

I wear a bracelet on my left wrist - I call it my get out of jail free card
it is a 18K white gold with no design - most people think it is either a MIA / POW bracelet or one of those magnetic healing bracelets
I had it made over 10 years ago when gold was much more affordable - as I travel a lot if it is ever needed I have emergency cash literally at hand
Are you sure you want to delete this comment?