Fancy lady hair – on men
Why don't guys get to do more fun things with their hair?

A man with sexy flowing locks styled like Brigitte Bardot's. A dude with an elaborate junior prom updo. A guy with a beard and a bun. These are not the typical hairstyles you see on a man.
But they are all part of the photo essay "Guys With Fancy Lady Hair" by Jessica Saia, visual producer for San Francisco-based online magazine The Bold Italic.
More from MSN Living: 10 hairstyles that men love
She took eight men to San Francisco's Salon Miel to have their hair styled, and the resulting photos are both amusing and a touch whimsical. We asked Saia to tell us more about her photo essay.
Q. What was the goal of this project?
A. Originally, I just thought it would be funny. I cut my roommate's hair and I always joke that I'm going to give him Zooey Deschanel bangs. (He's never amused.) When I told my friend about this project the day of the shoot, she was like, "Oh, I just LOVE how you're challenging gender norms with this!" and at the time I was like "You're thinking too hard! It's just funny -- guys with prom hair!" Now, in hindsight, I think it's impossible to have thought it wouldn't at least nod in that direction. Though, by avoiding makeup and keeping the guys in their normal clothes, it totally misses any notions of "drag" and more asks the question of, "Wait, why don't guys get to do more fun things with their hair?" And really, why don't they? It's crazy that nearly everyone can grow their hair out but only half of us are "allowed" to do anything cool with it. I love that this accidentally uncovered that realization.
Q. What prompted you to put men's hair in traditional female styles? 
A. We were at work a couple weeks ago and my co-worker brought up guys with top-knots. I said, "Wouldn't it be funny if we took guys with long hair and gave them like, fancy prom hair instead?" I put a call out on our Facebook the next day asking guys with long hair to email me.
Q. Were the men good sports?
A. They were incredible sports. The original call-out didn't give any details of what the project would be, but once I explained it to the 20 or so guys that responded, only one of them decided he wasn't into it. The "after" photos were a struggle because none of us could stop laughing.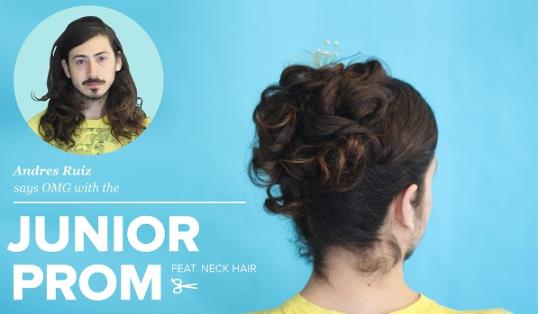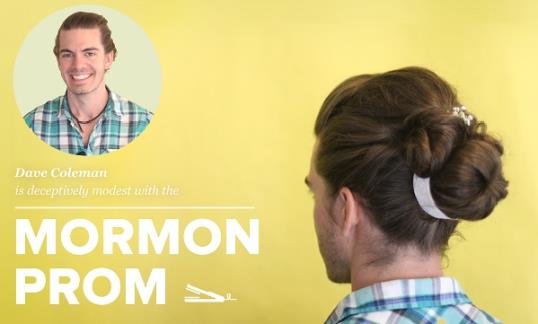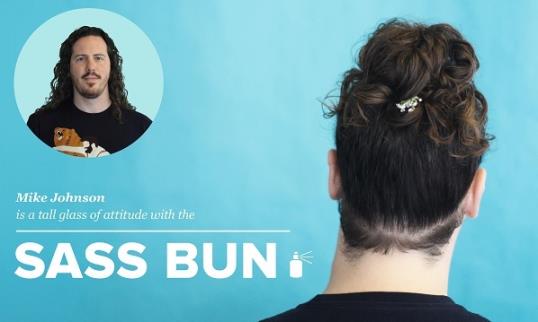 I don't know if it's a San Francisco thing, where even the dude-iest of men are just more open to this kind of experiment, or if these guys had just been growing their hair out and wanted to show it off. Only one guy (Mormon Prom), actually wore the hair style out of the salon. Sadly, I didn't get to see any of the reactions as he went about his day.
Bing: More hairstyles for men
Q. Which one was your favorite?
A. That's so hard. Borden (Brigitte Bardot) was truly stunning. He's an incredibly tall, barrel-chested man and all that volume gave him such a presence. All of us there were just wide-eyed and wowed. The two stylists did such a great job of giving each guy a different "story" within the spectrum of pure beauty, that it's really difficult to pick a favorite. I mean, "Junior Prom Feat. Neck Hair" is the definition of loveliness, whereas "Sass Bun" is the sassiest of all buns.
Should guys experiment more with their hair? Tell us what you think in the comments section.
More from The Men's Department
Single men change their sheets four times a year
How to swing a better bargain
The bad kind of happiness
Subscribe to The Men's Department
Love content like this? Friend us on Facebook, follow us on Twitter and find us on Pinterest. 
Photos: Courtesy of Jessica Saia/The Bold Italic