George Washington, America's First Blogger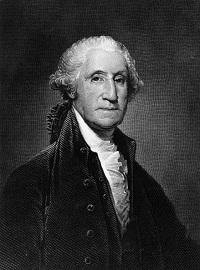 Volumes have been written about George Washington, the father of our nation —  many of them, it turns out, by George Washington himself. Whenever he found a little time off from commanding regiments, crossing rivers and ratifying constitutions, the original George W. liked to log his random thoughts. History may remember him best as the nation's first president, but he also deserves an honorary Webby for being America's first blogger.
NPR has jumped on this story as well, albeit 236 years late. Their own blogger, Nicolas Esguerra, notes that archived content reveals more about GW than most of us ever knew. You always hear blah-blah-blah about his leading the Revolutionary War and organizing the Constitutional Convention (yawn), but seldom does anyone mention what a wiz he was at filling out expense reports. It didn't get past the sleuths at NPR, though, who found the jpeg proving that on July 4th, 1776, Washington expensed the cost of a broom. Looks legit, too, though it could be a product of NPR's liberal agenda.
A deep dive into the Library Of Congress turns up some 65,000 documents generated by George between the years of 1741 and 1799. That averages out to around 21 posts per week, enough to give any lesser blogger a serious case of carpal tunnel. He started young — the first entries were filed around age 9, indicating that he was logging in before he was old enough to hold an axe — though G. Dub didn't go daily until he was in his late twenties.
It's tough to make every post a killer when you're so prolific, and Washington was busy enough that we can forgive him for leaving the big stories to published writers. When he was really slammed, he went for tweet-length blasts instead ("If you can't find it in the Book of Ezekiel look for it in Israel" — ohno he just di-int!). GW wasn't so much a HuffPo-type blogger as he was into personal and social commentary. He wrote about fruits and flowers, taking rides on horseback, and occasionally threw a shout-out when a girl caught his eye (pre-Martha only). With a refreshing clarity that bloggers and modern politicians have yet to master, he defined years of entries under the single title Where & How my Time Is Spent. He was also kind of a weather nut, if you're into that, though historians believe he never got his RSS feed working right.
George Washington's entire archive is still available online, and followers have chimed in with a ton of other material, like letters to his mom and to his bud Thomas Jefferson, and his farewell address. Blogs like these can often come across with an inflated sense of self importance, but in the case of GW, he was right.
inspire: live a better life
Here's some tips to get to happiness going forward in your life.

People 60 to 82 did best on cognitive tasks before 10:30am.

Lucille Ball was born in 1911, and though we lost her long ago, her legacy as America's favorite redhead lives on through the timeless classic, "I Love Lucy." People of all generations still enjoy Lucy's antics as much as they did over 60 years ago when the show first premiered.

Summer is coming to an end, and in a few weeks, kids will be forced to trade in their beach bags for backpacks. But just because the season is fading away doesn't mean the memories from the past few months have to disappear with it.

Confidence and perceived competence are key, study finds.

Features lead to assumptions about character, study says.

Great gear for an afternoon spent shoreside.

Use these bucket-list ideas to enjoy the little time you have left.

Study points to benefits of improved living conditions.

Don't leave home without these must-have items.

Handshakes spread 20 times more germs, study says.

Drowning in debt? Maybe there's a silver lining.