George Washington, America's First Blogger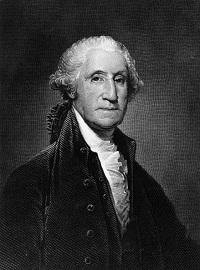 Volumes have been written about George Washington, the father of our nation —  many of them, it turns out, by George Washington himself. Whenever he found a little time off from commanding regiments, crossing rivers and ratifying constitutions, the original George W. liked to log his random thoughts. History may remember him best as the nation's first president, but he also deserves an honorary Webby for being America's first blogger.
NPR has jumped on this story as well, albeit 236 years late. Their own blogger, Nicolas Esguerra, notes that archived content reveals more about GW than most of us ever knew. You always hear blah-blah-blah about his leading the Revolutionary War and organizing the Constitutional Convention (yawn), but seldom does anyone mention what a wiz he was at filling out expense reports. It didn't get past the sleuths at NPR, though, who found the jpeg proving that on July 4th, 1776, Washington expensed the cost of a broom. Looks legit, too, though it could be a product of NPR's liberal agenda.
A deep dive into the Library Of Congress turns up some 65,000 documents generated by George between the years of 1741 and 1799. That averages out to around 21 posts per week, enough to give any lesser blogger a serious case of carpal tunnel. He started young — the first entries were filed around age 9, indicating that he was logging in before he was old enough to hold an axe — though G. Dub didn't go daily until he was in his late twenties.
It's tough to make every post a killer when you're so prolific, and Washington was busy enough that we can forgive him for leaving the big stories to published writers. When he was really slammed, he went for tweet-length blasts instead ("If you can't find it in the Book of Ezekiel look for it in Israel" — ohno he just di-int!). GW wasn't so much a HuffPo-type blogger as he was into personal and social commentary. He wrote about fruits and flowers, taking rides on horseback, and occasionally threw a shout-out when a girl caught his eye (pre-Martha only). With a refreshing clarity that bloggers and modern politicians have yet to master, he defined years of entries under the single title Where & How my Time Is Spent. He was also kind of a weather nut, if you're into that, though historians believe he never got his RSS feed working right.
George Washington's entire archive is still available online, and followers have chimed in with a ton of other material, like letters to his mom and to his bud Thomas Jefferson, and his farewell address. Blogs like these can often come across with an inflated sense of self importance, but in the case of GW, he was right.
inspire: live a better life
Editor's note: We will now be publishing Miss Manners articles twice weekly, but you will only see one question and answer per article. You can expect to see these articles appear on Tuesdays and Thursdays going forward.

President Harry S. Truman was behind efforts to establish the first Armed Forces Day in 1950, and decades later the nation continues to set aside the third Saturday in May to recognize and thank members of the U.S. military for their patriotic service. With these five homecoming images, we salute all service members at home and abroad.

There's much to be desired about working from home: the stress-free commute, flexible hours, and improved work-life balance.

Wishing for the fountain of youth? You may not need it. We've rounded up real-women secrets, tried-and-true beauty tips, and the latest research to help you fight aging.

Experts weigh in on when to bite your tongue at the office.

Oh, the places you'll go — to get some "me" time, that is. REDBOOK readers confess all on Facebook.

How much money you make isn't nearly as important as how you use it, according to Elizabeth Dunn and Michael Norton, authors of the new book Happy Money.

Plus, how do you ask people to not bring gifts to a shower?

Looking for a career upgrade? Follow these tips for a foot in the door.

These tanning and skin cancer myths aren't just wrong — they can do serious harm. Wise up and head into a healthier future. P.S. You'll look a lot younger too.

It's possible to rejigger your brain circuitry and feel more joy, even on Monday mornings. Here's how.

Inner peace just got easier. You don't need quiet, incense or hours to meditate, and you can scrap the chanting. Better: Ninety-five percent of you say you're calmer after a single 10-minute session. Whatever your excuse (see ours), get your om on and reap the rewards.