George Washington, America's First Blogger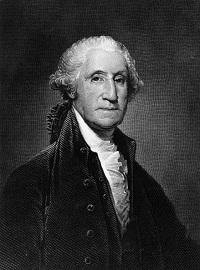 Volumes have been written about George Washington, the father of our nation —  many of them, it turns out, by George Washington himself. Whenever he found a little time off from commanding regiments, crossing rivers and ratifying constitutions, the original George W. liked to log his random thoughts. History may remember him best as the nation's first president, but he also deserves an honorary Webby for being America's first blogger.
NPR has jumped on this story as well, albeit 236 years late. Their own blogger, Nicolas Esguerra, notes that archived content reveals more about GW than most of us ever knew. You always hear blah-blah-blah about his leading the Revolutionary War and organizing the Constitutional Convention (yawn), but seldom does anyone mention what a wiz he was at filling out expense reports. It didn't get past the sleuths at NPR, though, who found the jpeg proving that on July 4th, 1776, Washington expensed the cost of a broom. Looks legit, too, though it could be a product of NPR's liberal agenda.
A deep dive into the Library Of Congress turns up some 65,000 documents generated by George between the years of 1741 and 1799. That averages out to around 21 posts per week, enough to give any lesser blogger a serious case of carpal tunnel. He started young — the first entries were filed around age 9, indicating that he was logging in before he was old enough to hold an axe — though G. Dub didn't go daily until he was in his late twenties.
It's tough to make every post a killer when you're so prolific, and Washington was busy enough that we can forgive him for leaving the big stories to published writers. When he was really slammed, he went for tweet-length blasts instead ("If you can't find it in the Book of Ezekiel look for it in Israel" — ohno he just di-int!). GW wasn't so much a HuffPo-type blogger as he was into personal and social commentary. He wrote about fruits and flowers, taking rides on horseback, and occasionally threw a shout-out when a girl caught his eye (pre-Martha only). With a refreshing clarity that bloggers and modern politicians have yet to master, he defined years of entries under the single title Where & How my Time Is Spent. He was also kind of a weather nut, if you're into that, though historians believe he never got his RSS feed working right.
George Washington's entire archive is still available online, and followers have chimed in with a ton of other material, like letters to his mom and to his bud Thomas Jefferson, and his farewell address. Blogs like these can often come across with an inflated sense of self importance, but in the case of GW, he was right.
inspire: live a better life
Where in the world do you want to go? Somewhere unique? Any of the places described here are sure to make your next world-travel adventure truly memorable.

It's easy to lead, but it takes courage and conviction to be a truly great leader. Here are 10 inspiring leaders and what we can learn from them.

Some say it's a small world. We beg to differ. Earth has so many wondrous places worth exploring, and most of us are lucky to see a handful of them. Here are 30 of the top trips of a lifetime.

You'll stave off credit card debt by the end of the year if you account for these often-forgotten expenses.

Mark Zuckerberg has an even bigger effect on your life than you thought.

Take this advice to finally tackle that nagging to-do list.

The iconic storyteller would have been 110-years-old

Take the time to appreciate women's contributions to society. Here are some of the women who inspire us by their example.

Cast of the iconic TV show reunites for Florence Henderson's birthday

We couldn't be more excited to watch the best athletes in the world compete at the Winter Olympics in Sochi. This year, about 44 percent of the competitors are women according to the International Olympic Committee—which is awesome but wasn't always the case. Let's look back at some of the amazing women who paved the way with incredible, memorable feats of girl power.

Still pulling yourself out of holiday credit card debt? Ready to pool some funds for that beach vacation you've been dreaming about at your desk? We're with you 100 percent.

"FOMO, the fear of missing out, is a form of social anxiety," says psychiatrist Gail Saltz. "This type of fear tends to cause compulsive behaviors, like checking out other social situations even as you are in the middle of one currently."