George Washington, America's First Blogger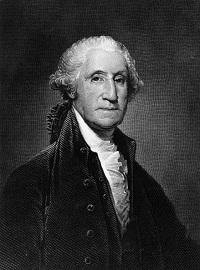 Volumes have been written about George Washington, the father of our nation —  many of them, it turns out, by George Washington himself. Whenever he found a little time off from commanding regiments, crossing rivers and ratifying constitutions, the original George W. liked to log his random thoughts. History may remember him best as the nation's first president, but he also deserves an honorary Webby for being America's first blogger.
NPR has jumped on this story as well, albeit 236 years late. Their own blogger, Nicolas Esguerra, notes that archived content reveals more about GW than most of us ever knew. You always hear blah-blah-blah about his leading the Revolutionary War and organizing the Constitutional Convention (yawn), but seldom does anyone mention what a wiz he was at filling out expense reports. It didn't get past the sleuths at NPR, though, who found the jpeg proving that on July 4th, 1776, Washington expensed the cost of a broom. Looks legit, too, though it could be a product of NPR's liberal agenda.
A deep dive into the Library Of Congress turns up some 65,000 documents generated by George between the years of 1741 and 1799. That averages out to around 21 posts per week, enough to give any lesser blogger a serious case of carpal tunnel. He started young — the first entries were filed around age 9, indicating that he was logging in before he was old enough to hold an axe — though G. Dub didn't go daily until he was in his late twenties.
It's tough to make every post a killer when you're so prolific, and Washington was busy enough that we can forgive him for leaving the big stories to published writers. When he was really slammed, he went for tweet-length blasts instead ("If you can't find it in the Book of Ezekiel look for it in Israel" — ohno he just di-int!). GW wasn't so much a HuffPo-type blogger as he was into personal and social commentary. He wrote about fruits and flowers, taking rides on horseback, and occasionally threw a shout-out when a girl caught his eye (pre-Martha only). With a refreshing clarity that bloggers and modern politicians have yet to master, he defined years of entries under the single title Where & How my Time Is Spent. He was also kind of a weather nut, if you're into that, though historians believe he never got his RSS feed working right.
George Washington's entire archive is still available online, and followers have chimed in with a ton of other material, like letters to his mom and to his bud Thomas Jefferson, and his farewell address. Blogs like these can often come across with an inflated sense of self importance, but in the case of GW, he was right.
inspire: live a better life
With all those deals you snagged on Black Friday, Small Business Saturday, and Cyber Monday, today is your chance to give back to those in need with #GivingTuesday.

Miss Manners provides guidance on how to handle a request for party contributions

Miss Manners instructs on why tit-for-tat never works

Miss Manners offers thoughts on guests who disregard dinner party instructions

Make big bucks, from home, having fun? These women got creative and figured out a way to have it all. You can too.

Your boss. You might like her, you probably respect her, but do you know how to approach someone who seems so different from you? (Spoiler: She's actually not.)

Over the weekend, Oprah decluttered her Montecito mansion and three other properties in a Santa Barbara yard sale that brought in more than $600,000(!). (Proceeds will benefit her girls' leadership academy in South Africa, and not half of a Crate and Barrel chair, the traditional end goal of yard-sale proceeds.)

Exclusively for MSN, we bring you a six-part series from the new book: MISS MANNERS MINDS YOUR BUSINESS by Judith and Nicholas Ivor Martin.

Miss Manners weighs in on the financial burdens of remote weddings

How Miss Manners suggests dealing with out of town guest who want tour guide services

Exclusively for MSN, we bring you a six-part series from the new book: MISS MANNERS MINDS YOUR BUSINESS by Judith and Nicholas Ivor Martin.