Amid controversy, Gun Appreciation Day set for Jan. 19
A conservative coalition rallies support as clouds gather.
"Americans love their guns and their Second Amendment right to bear arms. On Jan. 19, 2013, gun owners and tea party activists across the country will demonstrate their
passions…Chick-fil-A​
style!"
So reads the flyer from a conservative coalition calling for the first national Gun Appreciation Day. Activists are urged to demonstrate their support for gun ownership next Saturday by "turning out en masse at gun stores, ranges, and shows from coast to coast."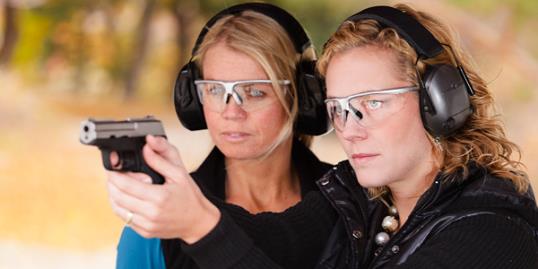 More on MSN Living: 100 ways to save money in 2013
In the online banner for GAD, a handgun stands in for the "r" in Appreciation, just like the logo for the mafioso series The Sopranos (Bing: See the logo).
Early commenters on the GAD site have said that the demonstrations would be better held at state capitals and in D.C. than in gun shops and ranges, where pro-gun advocates would be preaching to the choir. But the coalition is hoping to induce the same kind of turnout and media coverage as there was for Chick-fil-A Appreciation Day.
The protest is timed to coincide with Obama's inauguration the following day, which is understandable, politically, but still unsettling. Gun Appreciation Day is also scheduled within 48 hours of Martin Luther King Jr. Day.
But the coalition, sponsored by more than 50 organizations (including the Committee to Draft Judge Andrew Napolitano, Doctors for Responsible Gun Ownership, and Women Warriors PAC), is pressed to gather support while forces are rallying against their causes.
More on MSN Living: 50 best celebrity makeovers of all time
In a second day of meetings to prevent gun violence, Vice President Joe Biden meets today with the NRA and other groups. Biden told reporters, "I want to make it clear that we are not going to get caught up in the notion that unless we can do everything, we are going to do nothing."
In a speech yesterday exclaiming that his state should lead the nation in curbing gun violence, New York Governor Andrew Cuomo roared that we must "End the madness now!"
To provide added backdrop that conservatives don't need right now, a judge is deciding whether James Holmes is fit to stand trial for the shootings in Aurora, Colo. The best news gun advocates have had lately is that an Atlanta mom shot an intruder five times in the face.
More from MSN Living:
City launches gun buyback plan
5 reasons to have hope in Congress
Hit-and-run deaths on the rise
Photo: Rich Legg/Getty Images
inspire: live a better life
Getting to happy may be easier than you think.

Drowning in debt? Maybe there's a silver lining.

"But it's not real life, you know. It's a vacation."

Nothing can stop a woman with a plan. Whether she's creating her own hair care line in a Brooklyn kitchen, like Carol's Daughter's Lisa Price, or leaving a modeling career behind to launch her own media empire, like Tyra Banks, it all starts with a dream.

Our list of must-dos before hitting the road.

Vacations are relaxing, yet sometimes stressful.