Amid controversy, Gun Appreciation Day set for Jan. 19
A conservative coalition rallies support as clouds gather.
"Americans love their guns and their Second Amendment right to bear arms. On Jan. 19, 2013, gun owners and tea party activists across the country will demonstrate their
passions…Chick-fil-A​
style!"
So reads the flyer from a conservative coalition calling for the first national Gun Appreciation Day. Activists are urged to demonstrate their support for gun ownership next Saturday by "turning out en masse at gun stores, ranges, and shows from coast to coast."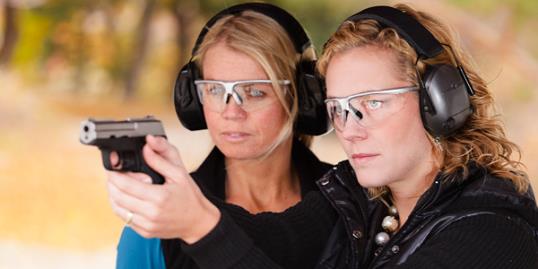 More on MSN Living: 100 ways to save money in 2013
In the online banner for GAD, a handgun stands in for the "r" in Appreciation, just like the logo for the mafioso series The Sopranos (Bing: See the logo).
Early commenters on the GAD site have said that the demonstrations would be better held at state capitals and in D.C. than in gun shops and ranges, where pro-gun advocates would be preaching to the choir. But the coalition is hoping to induce the same kind of turnout and media coverage as there was for Chick-fil-A Appreciation Day.
The protest is timed to coincide with Obama's inauguration the following day, which is understandable, politically, but still unsettling. Gun Appreciation Day is also scheduled within 48 hours of Martin Luther King Jr. Day.
But the coalition, sponsored by more than 50 organizations (including the Committee to Draft Judge Andrew Napolitano, Doctors for Responsible Gun Ownership, and Women Warriors PAC), is pressed to gather support while forces are rallying against their causes.
More on MSN Living: 50 best celebrity makeovers of all time
In a second day of meetings to prevent gun violence, Vice President Joe Biden meets today with the NRA and other groups. Biden told reporters, "I want to make it clear that we are not going to get caught up in the notion that unless we can do everything, we are going to do nothing."
In a speech yesterday exclaiming that his state should lead the nation in curbing gun violence, New York Governor Andrew Cuomo roared that we must "End the madness now!"
To provide added backdrop that conservatives don't need right now, a judge is deciding whether James Holmes is fit to stand trial for the shootings in Aurora, Colo. The best news gun advocates have had lately is that an Atlanta mom shot an intruder five times in the face.
More from MSN Living:
City launches gun buyback plan
5 reasons to have hope in Congress
Hit-and-run deaths on the rise
Photo: Rich Legg/Getty Images
Just part of keeping the hysteria alive, that the government wants to take away our 2nd Amendment rights. Those of us living in the real world however, understand that isn't part of the gun-control proposals, denying our right to "bear arms" isn't on the table.
You can fully support the 2nd Amendment, and still advocate for common-sense gun-control. It doesn't have to be one or the other. You can own a gun in this great country of ours without being a member of the NRA, simply by being obedient to our society's laws.
Why should Joe Sixpack be allowed to drive down mainstreet with a 50-caliber machine gun mounted on the back of his pick-up truck? Exactly, what tank is he expecting to come across that he'll need to defend himself against?

People had better wake up and realize what Obama and the hoplophobes like Feinstein, Schumer, Bloomberg and most of the liberal Democrats are doing to this country. They will keep banning guns, ammo, knives, etc. until they turn this nation into another Great Britan or Australia.  We will eventually lose more and more of our freedoms supposedly for our own protection until we are once again subjects of the government.  Everyone needs to email and write their Senators and Congressmen and tell them to stop this foolishness that in no way will stop crime or save lives.  I plan to attend a protest and all gun owners should also.
Are you sure you want to delete this comment?
inspire: live a better life
Summer and winter tend to hog all the glory when it comes to travel high seasons. Sure, you want to soak up all the time at the beach you can during the summer, and you just want to escape the cold during the last months of the year.

Who just wants to stand around and watch the red and gold leaves slowly fall from their tree branches to the ground as we move from summer to fall? Instead, take in the changing seasons while you're on the move.

In September, I'll turn 38. I'm at the age now where, when people ask how old I am, it takes me a minute to remember. I don't know if that's because I've already been 37 different ages and it's hard to keep straight which one I am now, or if it's because I'm in denial, or if it's because I am going senile. Maybe a combination of all of the above. Regardless, my 30s have flown by and soon they will be but a memory. So, in an effort to preserve the memory I have left (or at least keep a record of it), and to celebrate what has been an amazing decade so far, here are 30 things that have happened to me in my 30s (and will probably happen to you too):

Traveling doesn't have to be stressful. And what you can fit in your carry-on can make all the difference (and not just a fresh pair of socks), especially when you get that low battery signal.

Volunteering (and these other rituals) might be just as good as exercise when it comes to extending your life.

Use these tricks to set a better tone for the rest of the week.

Whether it involves a food fight, mermaids or a torch-lit procession, people the world over know how to have a good time. Here are some of the biggest, boldest, booziest celebrations around, along with some tips to get the full experience.

Research could mean more effective treatment for human disorders.

An entry a day might keep the doctor away (or at least the shrink).

One woman's shout-outs to daily moments of joy — and how to cultivate them.

Our best health and fitness tips including the one move that tones all, berry news, and more.