DWE: Driving While Elderly
Should the right to drive be stripped away?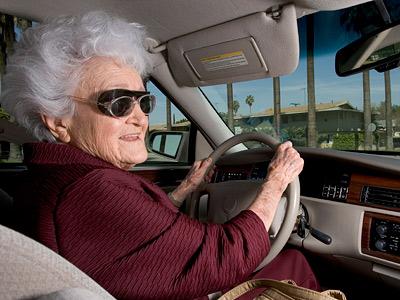 When a 100-year-old man accidentally backed his Cadillac onto a Los Angeles sidewalk on Wednesday, seriously injuring nine children and two adults outside an elementary school, a back-burner debate about the rights of older drivers was reignited.
Should the right to drive be stripped away from the elderly?
Soon there will be more geriatric drivers sharing the road than ever before. Given the aging baby boomer generation, there will be about 8 million more drivers ages 65 and older by the year 2020 than there are today. A report by the National Highway Traffic Safety Administration (NHTSA) indicated four major areas potentially compromising an aging person's fitness to drive: sensory decline (visual impairment having the greatest impact); motor decline, or the mobility and flexibility of the body; cognitive decline; and dementia.
However, it's not elderly drivers causing the most accidents. Despite this week's headline story, people tend to become more cautious behind the wheel as they mature.
"Unless there's a health issue, older drivers tend to be safer,"  a spokesperson for the NHTSA told The Daily Dose. "The assumption that older drivers have more crashes is not right. We see more amongst teenagers."
Health issues, rather than age, link elders to auto accidents, so it's important to assess whether an older person is fit to drive. The adult children of that aging baby boomer generation can help by talking to older drivers about safe driving. It's a profound loss to a person's independence — and stinging to his or her pride — to be suddenly unable or not allowed to drive, but personal rights do have to be measured against potential risk. In California, where century-old Preston Carter backed over the schoolkids, the DMV requires all drivers over 70 to pass a vision and written test each year. Thirty two more states, plus Washington D.C., have Mature Driver Laws (learn about your state here).
There really is very little legislation regulating elder drivers, but know the facts and statistics on older drivers before painting with too broad a brush. They're stereotypically guilty of driving slowly but not of doing 80 on a two-lane street in their midlife crisis sports cars. They don't tend to text or talk on cell phones while they drive or wear iPod headphones. They don't pack seven friends in the car, catch a buzz at bingo, and then drive their friends back home.
A CBS interviewer asked Mr. Carter if anybody has told him he is too old to drive, and he responded, "They gave me the license!" But the remorseful Carter, who said he would never hurt kids "for nothin' on earth," has decided on his own to give up his keys. He turns 101 next Wednesday. 
Photo: David McLain/Getty Images
More on MSN Living:
Relationship Violence Victims: Yes, It Happened to Them
7 New Gadgets to Look Out For
The Little Move That Screws With Your Confidence
inspire: live a better life
You'll stave off credit card debt by the end of the year if you account for these often-forgotten expenses.

Mark Zuckerberg has an even bigger effect on your life than you thought.

Take this advice to finally tackle that nagging to-do list.

The iconic storyteller would have been 110-years-old

Take the time to appreciate women's contributions to society. Here are some of the women who inspire us by their example.

Cast of the iconic TV show reunites for Florence Henderson's birthday

We couldn't be more excited to watch the best athletes in the world compete at the Winter Olympics in Sochi. This year, about 44 percent of the competitors are women according to the International Olympic Committee—which is awesome but wasn't always the case. Let's look back at some of the amazing women who paved the way with incredible, memorable feats of girl power.

Still pulling yourself out of holiday credit card debt? Ready to pool some funds for that beach vacation you've been dreaming about at your desk? We're with you 100 percent.

"FOMO, the fear of missing out, is a form of social anxiety," says psychiatrist Gail Saltz. "This type of fear tends to cause compulsive behaviors, like checking out other social situations even as you are in the middle of one currently."

When The Shriver Report was released in early January, we shared some of the more interesting statistics about income equality, the wage gap, and other issues confronting women.

Clay Aiken to run for public office.

Here's how to boost your joy — and put more cash in your pocket.