DWE: Driving While Elderly
Should the right to drive be stripped away?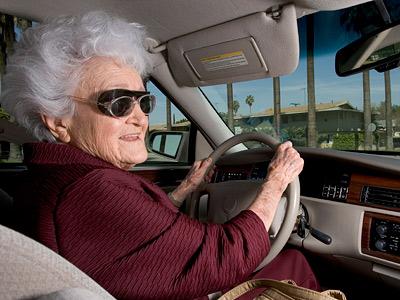 When a 100-year-old man accidentally backed his Cadillac onto a Los Angeles sidewalk on Wednesday, seriously injuring nine children and two adults outside an elementary school, a back-burner debate about the rights of older drivers was reignited.
Should the right to drive be stripped away from the elderly?
Soon there will be more geriatric drivers sharing the road than ever before. Given the aging baby boomer generation, there will be about 8 million more drivers ages 65 and older by the year 2020 than there are today. A report by the National Highway Traffic Safety Administration (NHTSA) indicated four major areas potentially compromising an aging person's fitness to drive: sensory decline (visual impairment having the greatest impact); motor decline, or the mobility and flexibility of the body; cognitive decline; and dementia.
However, it's not elderly drivers causing the most accidents. Despite this week's headline story, people tend to become more cautious behind the wheel as they mature.
"Unless there's a health issue, older drivers tend to be safer,"  a spokesperson for the NHTSA told The Daily Dose. "The assumption that older drivers have more crashes is not right. We see more amongst teenagers."
Health issues, rather than age, link elders to auto accidents, so it's important to assess whether an older person is fit to drive. The adult children of that aging baby boomer generation can help by talking to older drivers about safe driving. It's a profound loss to a person's independence — and stinging to his or her pride — to be suddenly unable or not allowed to drive, but personal rights do have to be measured against potential risk. In California, where century-old Preston Carter backed over the schoolkids, the DMV requires all drivers over 70 to pass a vision and written test each year. Thirty two more states, plus Washington D.C., have Mature Driver Laws (learn about your state here).
There really is very little legislation regulating elder drivers, but know the facts and statistics on older drivers before painting with too broad a brush. They're stereotypically guilty of driving slowly but not of doing 80 on a two-lane street in their midlife crisis sports cars. They don't tend to text or talk on cell phones while they drive or wear iPod headphones. They don't pack seven friends in the car, catch a buzz at bingo, and then drive their friends back home.
A CBS interviewer asked Mr. Carter if anybody has told him he is too old to drive, and he responded, "They gave me the license!" But the remorseful Carter, who said he would never hurt kids "for nothin' on earth," has decided on his own to give up his keys. He turns 101 next Wednesday. 
Photo: David McLain/Getty Images
More on MSN Living:
Relationship Violence Victims: Yes, It Happened to Them
7 New Gadgets to Look Out For
The Little Move That Screws With Your Confidence
inspire: live a better life
Research could mean more effective treatment for human disorders.

An entry a day might keep the doctor away (or at least the shrink).

One woman's shout-outs to daily moments of joy — and how to cultivate them.

Volunteering (and these other rituals) might be just as good as exercise when it comes to extending your life.

Use these tricks to set a better tone for the rest of the week.

In September, I'll turn 38. I'm at the age now where, when people ask how old I am, it takes me a minute to remember. I don't know if that's because I've already been 37 different ages and it's hard to keep straight which one I am now, or if it's because I'm in denial, or if it's because I am going senile. Maybe a combination of all of the above. Regardless, my 30s have flown by and soon they will be but a memory. So, in an effort to preserve the memory I have left (or at least keep a record of it), and to celebrate what has been an amazing decade so far, here are 30 things that have happened to me in my 30s (and will probably happen to you too):

Our best health and fitness tips including the one move that tones all, berry news, and more.

Who just wants to stand around and watch the red and gold leaves slowly fall from their tree branches to the ground as we move from summer to fall? Instead, take in the changing seasons while you're on the move.

Here's some tips to get to happiness going forward in your life.

People 60 to 82 did best on cognitive tasks before 10:30am.

Lucille Ball was born in 1911, and though we lost her long ago, her legacy as America's favorite redhead lives on through the timeless classic, "I Love Lucy." People of all generations still enjoy Lucy's antics as much as they did over 60 years ago when the show first premiered.