Most memorable inaugural moments
Cheers, jeers, and tears over presidential oaths.
The 20th Amendment mandates that a U.S. president's term in office turns over at noon on Jan. 20. Because that date falls on a Sunday this year, though, President Obama will be sworn into his second term in a private ceremony over the weekend, with the public ceremony, parade, and inaugural balls to follow on Monday — despite a Ticketmaster error that released tickets a day early, to the frustration of untold thousands. But compared to other moments in our inaugural past, that doesn't even qualify for a footnote in the history books.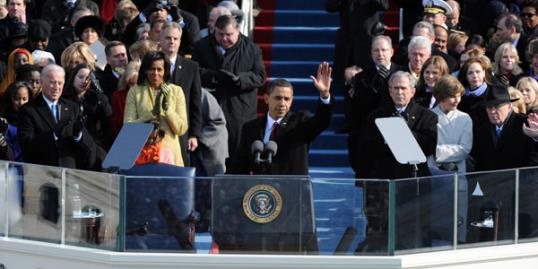 More from the MSN Living: Your 2013 bargain calendar
• The shortest inaugural address, at 135 words, was delivered by
George Washington
at his second inauguration (March 4, 1793). It was four sentences long.
• The longest inaugural address, at 8,445 words, was delivered by William H. Harrison (March 4, 1841). Determined to demonstrate his fortitude, Harrison refused to move the ceremony indoors in the face of a snowstorm. It took him nearly two hours to read his address, which he did without wearing a coat, hat, or scarf. Thirty-one days later he was dead of pneumonia.
• John Wilkes Booth was just a few feet away from Abraham Lincoln at his second inaugural address (March 4, 1865). In the only known photo of the event, Booth is visible overlooking Lincoln from a platform on the east portico of the Capitol (in front of the pillar, aligned with the platform's railing post).
More from the MSN Living: 25 things that will keep you young
• Lincoln's second inaugural, considered by some historians to be his finest speech, is inscribed in the Lincoln Memorial along with the Gettysburg Address.
• Theodore Roosevelt (Sept. 14, 1901), sworn in to his first term after the assassination of William McKinley, is the only president not to have taken the oath of office on a Bible.
• Richard Nixon (Jan. 20, 1969) was sworn in on two bibles.
• After Nixon's second inauguration (Jan. 20, 1973), the president to draw the most protestors for an inaugural parade was George W. Bush (Jan. 20, 2001). Thousands of demonstrators lined the parade route, including one who lobbed an egg at the motorcade.
• Franklin D. Roosevelt, the only U.S. president to have been sworn in for a fourth term, used the same ancient Bible for all four of his inaugurations. His Bible was printed in 1686, but FDR couldn't read it — he was raised speaking English, French, and German, but the good book was in Dutch.
Bing: Inauguration Day in the news.
• President Obama's first inauguration (Jan. 20, 2009) holds several records and distinctions: Largest attendance of any presidential inauguration — in fact, the largest attendance of any event in the history of Washington D.C. —  first woman (Senator Dianne Feinstein) to emcee the ceremony,  and of course first African American to hold the office. But after a verbal stumble from Chief Justice John Roberts caused Obama to botch the oath, he was re-sworn in the following evening (without a bible).
More from the Daily Dose:
Wait — TV can be good for you?
Amid controversy, Gun Appreciation Day set for Jan. 19
Trouble with Mars travel: Getting good sleep 
Sources: Joint Congressional Committee on Inaugural Ceremonies, Bartleby, New York Times, The Atlantic, MSNBC
Love content like this? Friend us on Facebook, follow us on Twitter and find us on Pinterest
Photo: REX Features

inspire: live a better life
Miss Manners advises on how to respond when one gets unsolicited advice about weight issues.

Editor's note: We will now be publishing Miss Manners articles twice weekly, but you will only see one question and answer per article. You can expect to see these articles appear on Tuesdays and Thursdays going forward.

President Harry S. Truman was behind efforts to establish the first Armed Forces Day in 1950, and decades later the nation continues to set aside the third Saturday in May to recognize and thank members of the U.S. military for their patriotic service. With these five homecoming images, we salute all service members at home and abroad.

There's much to be desired about working from home: the stress-free commute, flexible hours, and improved work-life balance.

Wishing for the fountain of youth? You may not need it. We've rounded up real-women secrets, tried-and-true beauty tips, and the latest research to help you fight aging.

Experts weigh in on when to bite your tongue at the office.

Oh, the places you'll go — to get some "me" time, that is. REDBOOK readers confess all on Facebook.

How much money you make isn't nearly as important as how you use it, according to Elizabeth Dunn and Michael Norton, authors of the new book Happy Money.

Plus, how do you ask people to not bring gifts to a shower?

Looking for a career upgrade? Follow these tips for a foot in the door.

These tanning and skin cancer myths aren't just wrong — they can do serious harm. Wise up and head into a healthier future. P.S. You'll look a lot younger too.

It's possible to rejigger your brain circuitry and feel more joy, even on Monday mornings. Here's how.