Space junk to come crashing down
Global warming may cause satellites to fall back to Earth.
Don't look now, but there are tons of junk floating over your head.
In the past half-century we've launched thousands of artificial satellites into space, and they remain up there, circling our planet, whether they're operational or not. NASA's Orbital Debris Program estimates there are more than 6,000 tons of space junk in lower Earth orbit.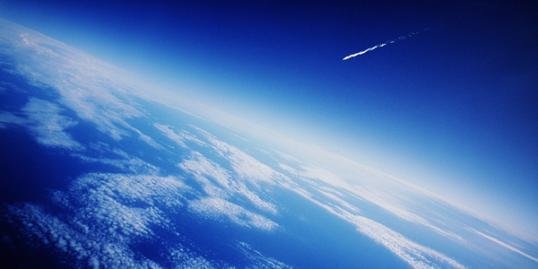 Ignoring for a moment that we've actually managed to pollute space (space!), the orbiting junkyard would seem to be a threat only to other satellites and spacecraft — that is, as long as it stays up there in orbit.
More on MSN Living: Money rules that'll make you rich
But scientists are now concerned that global warming may cause more collisions between "dead" satellites and space debris, in turn increasing the risk of space junk crashing down to earth.
If you want to know what kind of impact a crashing space object can have on Earth, visit a town-sized impact site like Meteor Crater in Arizona. Or ask a dinosaur. Many of them are still bitter.
The problem is carbon dioxide emissions are cooling the upper atmosphere where most satellites and debris orbit. Though the greenhouse effect warms the lower atmosphere, where gases are trapped and heated by the sun, carbon dioxide has the opposite effect at greater altitudes. A cooled upper atmosphere exerts less "drag" on satellites, so that rather than orbiting through a thick soup they stream through a thinner thermosphere. The cooled upper atmosphere allows the debris to draw collectively closer to Earth and increases the chances of pieces crashing into one another.
More on MSN Living: Get your life back in order
Even a tiny paint chip in orbit becomes a missile capable of smashing a satellite into thousands of pieces. With more debris comes a greater chance of collisions (a scenario known as the Kessler syndrome, named for Don Kessler, the "father of space junk") and more space scraps potentially in uncontrolled descent toward Earth.
A similar phenomenon is what caused Skylab to crash down. Space.com notes that nobody was hurt when pieces of Skylab rained down southeast of Perth, Australia, though the nearby town of Esperance did charge NASA $400 for littering. We also dodged disaster when the Russian space station Mir, which was as large as six school buses, fell into the South Pacific near Fiji.
But with more satellites in orbit, more collisions, and a thinning upper atmosphere, we won't always be so lucky. More frightening was when the nuclear-powered Cosmos 954, a Soviet spy satellite, came down and spread radioactive debris over northwestern Canada.
We earthlings have become reliant on artificial satellites for communication and scientific experimentation, and we've left the dead ones up there based on the principle that what goes into orbit, stays in orbit. Until it doesn't.
Photo: Pete Turner/Getty Images
Bing: See amazing images from space.
More on MSN Living:
10 commandments of texting
10 secrets to a happy life
Sexiest women over 40

inspire: live a better life
Handshakes spread 20 times more germs, study says.

Drowning in debt? Maybe there's a silver lining.

"But it's not real life, you know. It's a vacation."

Our list of must-dos before hitting the road.

Summer traditions can be great, but if you're on year six of packing the same people into the same car to go on the same vacation, it's time to switch things up. Surfing in Portugal, perhaps – or cycling through Northern Ireland. We've put together a list of 15 places well off the beaten path that you should go to when you're ready to try something new.

Grab a sleeping bag and head out to one of these amazing campsites.

A dozen adventures that are well worth the trip.

Paper downplays the significance of practice over raw talent.

Survey says American teens aren't great at complex or basic financial tasks.

Fear of Moving Away: How to conquer the latest cultural anxiety and embrace the unknown.

Adulthood has no eureka moment.

Just like your body, your brain needs a regular workout too.