The Hitler Shop
A clothing store's inflammatory propaganda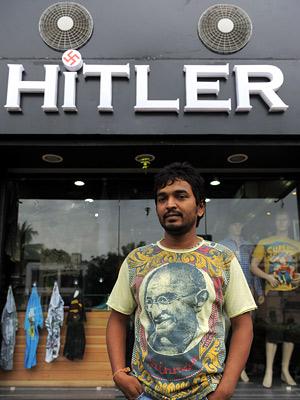 If they did it for the publicity, mission accomplished. The two proprietors of a store called Hitler are gaining international recognition for being ignorant.
The clothing store, opened recently in the Indian metropolis of Ahmedabad, is brashly adorned by the name of history's most hated man in the colors of his Nazi party. The storefront also includes a swastika, formerly an ancient emblem of good fortune but since World War II loathed for symbolizing the momentum of hate and destruction. Above the store entrance, it dots the letter i in Hitler.
Is there any excuse? Certainly there's a precedent in pop culture for co-opting political imagery, from the Ché Guevara T-shirts worn by hipsters to the offensive depictions of Obama and Romney this campaign year. There's even the web comic Hipster Hitler, though comedy and satire, even when it's not terribly funny, generally gets a pass since all the power in humor comes from surprise and sometimes shock. But the owners of the Hitler shop don't even own up to a misguided attempt at being clever or kitschy.
"Hitler was a nickname given to my business partner Manish Chandani's grandfather because of his strict nature," co-owner Rajesh Shah reportedly told The Times of India. "Frankly, till the time we applied for the trademark permission, I had only heard that Hitler was a strict man.... It was only recently that we read about Hitler on the Internet."
In a weak attempt to cool down the incendiary reception to his store — while still bucking for publicity — Shah has been pictured in front of the shop wearing a Gandhi T-shirt. Mahatma Gandhi, history's antithesis to Adolf Hitler, lived in an ashram just outside of Ahmedabad for 12 years of his peace-loving life.
Photo: Sam Panthaky/AFP/Getty Images
More on MSN Living:
Relationship Violence Victims: Yes, It Happened to Them
7 New Gadgets to Look Out For
The Little Move That Screws With Your Confidence
inspire: live a better life
Miss Manners advises on how to respond when one gets unsolicited advice about weight issues.

Editor's note: We will now be publishing Miss Manners articles twice weekly, but you will only see one question and answer per article. You can expect to see these articles appear on Tuesdays and Thursdays going forward.

President Harry S. Truman was behind efforts to establish the first Armed Forces Day in 1950, and decades later the nation continues to set aside the third Saturday in May to recognize and thank members of the U.S. military for their patriotic service. With these five homecoming images, we salute all service members at home and abroad.

There's much to be desired about working from home: the stress-free commute, flexible hours, and improved work-life balance.

Wishing for the fountain of youth? You may not need it. We've rounded up real-women secrets, tried-and-true beauty tips, and the latest research to help you fight aging.

Experts weigh in on when to bite your tongue at the office.

Oh, the places you'll go — to get some "me" time, that is. REDBOOK readers confess all on Facebook.

How much money you make isn't nearly as important as how you use it, according to Elizabeth Dunn and Michael Norton, authors of the new book Happy Money.

Plus, how do you ask people to not bring gifts to a shower?

Looking for a career upgrade? Follow these tips for a foot in the door.

These tanning and skin cancer myths aren't just wrong — they can do serious harm. Wise up and head into a healthier future. P.S. You'll look a lot younger too.

It's possible to rejigger your brain circuitry and feel more joy, even on Monday mornings. Here's how.