The Hitler Shop
A clothing store's inflammatory propaganda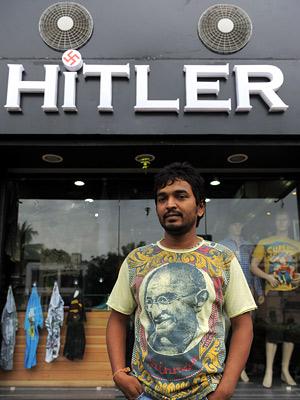 If they did it for the publicity, mission accomplished. The two proprietors of a store called Hitler are gaining international recognition for being ignorant.
The clothing store, opened recently in the Indian metropolis of Ahmedabad, is brashly adorned by the name of history's most hated man in the colors of his Nazi party. The storefront also includes a swastika, formerly an ancient emblem of good fortune but since World War II loathed for symbolizing the momentum of hate and destruction. Above the store entrance, it dots the letter i in Hitler.
Is there any excuse? Certainly there's a precedent in pop culture for co-opting political imagery, from the Ché Guevara T-shirts worn by hipsters to the offensive depictions of Obama and Romney this campaign year. There's even the web comic Hipster Hitler, though comedy and satire, even when it's not terribly funny, generally gets a pass since all the power in humor comes from surprise and sometimes shock. But the owners of the Hitler shop don't even own up to a misguided attempt at being clever or kitschy.
"Hitler was a nickname given to my business partner Manish Chandani's grandfather because of his strict nature," co-owner Rajesh Shah reportedly told The Times of India. "Frankly, till the time we applied for the trademark permission, I had only heard that Hitler was a strict man.... It was only recently that we read about Hitler on the Internet."
In a weak attempt to cool down the incendiary reception to his store — while still bucking for publicity — Shah has been pictured in front of the shop wearing a Gandhi T-shirt. Mahatma Gandhi, history's antithesis to Adolf Hitler, lived in an ashram just outside of Ahmedabad for 12 years of his peace-loving life.
Photo: Sam Panthaky/AFP/Getty Images
More on MSN Living:
Relationship Violence Victims: Yes, It Happened to Them
7 New Gadgets to Look Out For
The Little Move That Screws With Your Confidence
inspire: live a better life
How much do you really know about the Earth? In honor of Earth Day, April 22, we explore some interesting and fun facts about the fifth-largest planet of our solar system.

Happify shares their results of a recent study on how money affects our happiness.

A top exec reveals the company's secret code

Pro tips from the guy who's done it four times

Not all mistakes are as blatant as posting party pics when you're 'sick' at home.

Everyone struggles through weekday drudgery to reach their weekend fun. But what if you could reclaim every day of your life?

Zooming up the ladder is great, but questioning yourself 24/7 is no way to succeed. Manage your stressed self with these surefire tips.

Forget trying to control every little detail. Life is lots more fun (and less stressful) when you let go from the get-go.

So, what exactly is this thing we call "happiness" and how do we get it?

Mark Zuckerberg has an even bigger effect on your life than you thought.

Everyone makes mistakes, but some mistakes can be devastating. Here are 10 icons who fell from grace, and what they can do to redeem themselves.

Twitter turns eight years old today.