Chimps Have Better Table Manners
With polite regards we humbly acknowledge National Etiquette Week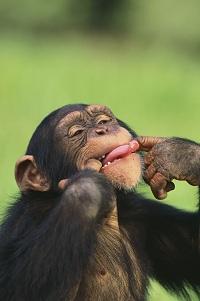 There's a conservative streak running through some easy-going American households. The dinner table is the last bastion of civility in a culture that scratches its sweat-panted bum in the mall, pees on the seat, and doesn't hesitate to hock a loogie on a public sidewalk. Today seems like an apt time to discuss table manners as we are currently in the midst of National Etiquette Week — or were you unaware of that fact, you witless barbarian?
A short piece in the New York Times yesterday hinted that even chimpanzees, who play with great wads of chewed-up food on their giant underbite and eat nits off their friends' hairy backs, have some sense of propriety at meal time. Chimpanzees' Table Manners Vary By Group does not reveal an especially impressive variety of "manners" among chimp families — it's more a matter of whether they hammer their coula nuts open with a rock or a stick. But as you may have noted, this is not far afield from the range of manners on display at Chili's on any given Friday night.
It's hard to talk about good manners without sounding like a priss. After all, this is the domain of Emily Post, whose rules of etiquette have helped four generations of people feel bad about themselves. Today her great-grandchildren at the Post Institute are maintaining her vaunted legacy of making goody two-shoes feel superior. But you don't have go to finishing school to understand that good manners are a simple matter of self-awareness, not snobbery.
There's a line between etiquette and manners. Etiquette is a code of conduct, a learnable protocol for conducting oneself in society. Good manners are simply an acknowledgment that there are people in the world besides yourself; people who may not have a keen desire to see and hear your Big Mac being masticated and mixed with saliva in your open mouth. You keep your napkin in your lap because no one needs to see what you wiped off your face, and because you don't want jelly in an embarrassing spot on your pants. You wait for everyone to be seated before eating to show you have a modicum of self control. You keep elbows off the table to prove you can actually hold yourself upright, and to keep your arms out of your neighbor's space. You address a waitress civilly because she is a fellow Homo sapien and because we have evolved beyond grunting at one another. You wait for someone else to finish speaking to indicate your awareness that the planet is not your soapbox. And you hold back a belch because…well, because that's just nasty stuff when someone's eating. It's been argued , without convincing evidence, that ripping a post-meal burp is a compliment to the chef in China, Japan, some countries in the Middle East, and/or among certain Zulu tribes in southern Africa. Tell you what: go there and find out for sure. Really, you should go. To stay.
Why be such a stickler, you say? Why can't dinner be a lawless affair where rolls are tossed across the table, loose crumbs can be shoveled from plate to mouth, and half-eaten food can fly from your full cheeks if a good story warrants? Sure, it's fine in some settings. The chimps have a place set for you already.

Photo: Fuse/Fuse/Getty Images

inspire: live a better life
Our best health and fitness tips including the one move that tones all, berry news, and more.

Who just wants to stand around and watch the red and gold leaves slowly fall from their tree branches to the ground as we move from summer to fall? Instead, take in the changing seasons while you're on the move.

Here's some tips to get to happiness going forward in your life.

People 60 to 82 did best on cognitive tasks before 10:30am.

Lucille Ball was born in 1911, and though we lost her long ago, her legacy as America's favorite redhead lives on through the timeless classic, "I Love Lucy." People of all generations still enjoy Lucy's antics as much as they did over 60 years ago when the show first premiered.

Summer is coming to an end, and in a few weeks, kids will be forced to trade in their beach bags for backpacks. But just because the season is fading away doesn't mean the memories from the past few months have to disappear with it.

Confidence and perceived competence are key, study finds.

Features lead to assumptions about character, study says.

Great gear for an afternoon spent shoreside.

Read on for surefire strategies to boost your bliss.

Use these bucket-list ideas to enjoy the little time you have left.