America is Breathing Bad Air
Did your hometown fail the air-quality test?
Hey America, guess what? Your town stinks.
That's not meant in a disparaging way, it's just that the air is killing us. The American Lung Association has released its annual State of The Air report card, and gives a failing grade to 235 counties nationwide. More than 127 million people — about 41% of our population — live in counties that received an F for pollution. That's pretty F'n bad.
If you're wondering whether your area is ruining the grading curve, have a look at the ALA's interactive maps. You can drill down by state to learn how your area rates in terms of the two most widespread problems: ozone pollution (invisible smog) and particle pollution (microscopic solids and aerosols in the air). Each report also reveals how many people in your area have increased health risks due to the air quality, including kids under 18, adults over 65, and those with chronic conditions affecting the respiratory or circulatory system. People with low incomes are at higher risk since their populations typically live closer to pollution sources like major highways and factories; plus, they're at greater risk for those chronic diseases. So as long as you're not young, old, sick, fat, or poor, you should be cool.
The good news is that we're cleaning up. The vast majority of cities with the heaviest ozone or particulate pollution were cleaner in 2012 than in 2011. As the infographic here notes, California has the greatest number of polluted cities (it's a big state), but all have been improving. Kind of ironic, by the way, that three California cities — L.A., Sacramento, and San Diego — have also been on prior lists of the most health-conscious cities. Maybe everyone there goes for a run in the morning and then drives an SUV to work.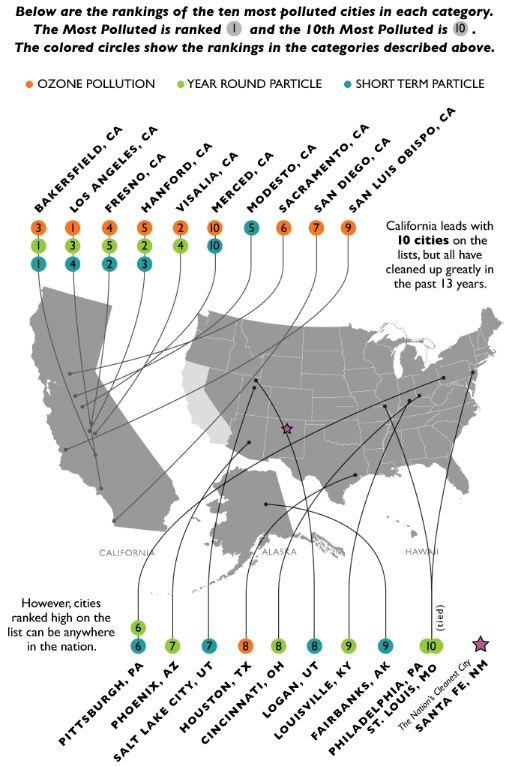 The failing air-quality grades signal that we still have a long way to go. What to do? Drive less. Be more efficient with electricity. Don't burn wood or trash unless you have to, since it sends particulates into the air. To affect change more broadly you can jump into the political fray by learning about the legislation congress is currently debating surrounding the Clean Air Act. Basically, one side wants to pass the Gasoline Regulations Act, which questions rules and standards the EPA has put in place around gasoline emissions. The other side calls the same bill GASP, for Gutting Air Standard Protections.
Read up on both perspectives, then write your senators and reps and tell them whether you are generally for or against breathing.
inspire: live a better life
Miss Manners advises on how to respond when one gets unsolicited advice about weight issues.

Editor's note: We will now be publishing Miss Manners articles twice weekly, but you will only see one question and answer per article. You can expect to see these articles appear on Tuesdays and Thursdays going forward.

President Harry S. Truman was behind efforts to establish the first Armed Forces Day in 1950, and decades later the nation continues to set aside the third Saturday in May to recognize and thank members of the U.S. military for their patriotic service. With these five homecoming images, we salute all service members at home and abroad.

There's much to be desired about working from home: the stress-free commute, flexible hours, and improved work-life balance.

Wishing for the fountain of youth? You may not need it. We've rounded up real-women secrets, tried-and-true beauty tips, and the latest research to help you fight aging.

Experts weigh in on when to bite your tongue at the office.

Oh, the places you'll go — to get some "me" time, that is. REDBOOK readers confess all on Facebook.

How much money you make isn't nearly as important as how you use it, according to Elizabeth Dunn and Michael Norton, authors of the new book Happy Money.

Plus, how do you ask people to not bring gifts to a shower?

Looking for a career upgrade? Follow these tips for a foot in the door.

These tanning and skin cancer myths aren't just wrong — they can do serious harm. Wise up and head into a healthier future. P.S. You'll look a lot younger too.

It's possible to rejigger your brain circuitry and feel more joy, even on Monday mornings. Here's how.