America is Breathing Bad Air
Did your hometown fail the air-quality test?
Hey America, guess what? Your town stinks.
That's not meant in a disparaging way, it's just that the air is killing us. The American Lung Association has released its annual State of The Air report card, and gives a failing grade to 235 counties nationwide. More than 127 million people — about 41% of our population — live in counties that received an F for pollution. That's pretty F'n bad.
If you're wondering whether your area is ruining the grading curve, have a look at the ALA's interactive maps. You can drill down by state to learn how your area rates in terms of the two most widespread problems: ozone pollution (invisible smog) and particle pollution (microscopic solids and aerosols in the air). Each report also reveals how many people in your area have increased health risks due to the air quality, including kids under 18, adults over 65, and those with chronic conditions affecting the respiratory or circulatory system. People with low incomes are at higher risk since their populations typically live closer to pollution sources like major highways and factories; plus, they're at greater risk for those chronic diseases. So as long as you're not young, old, sick, fat, or poor, you should be cool.
The good news is that we're cleaning up. The vast majority of cities with the heaviest ozone or particulate pollution were cleaner in 2012 than in 2011. As the infographic here notes, California has the greatest number of polluted cities (it's a big state), but all have been improving. Kind of ironic, by the way, that three California cities — L.A., Sacramento, and San Diego — have also been on prior lists of the most health-conscious cities. Maybe everyone there goes for a run in the morning and then drives an SUV to work.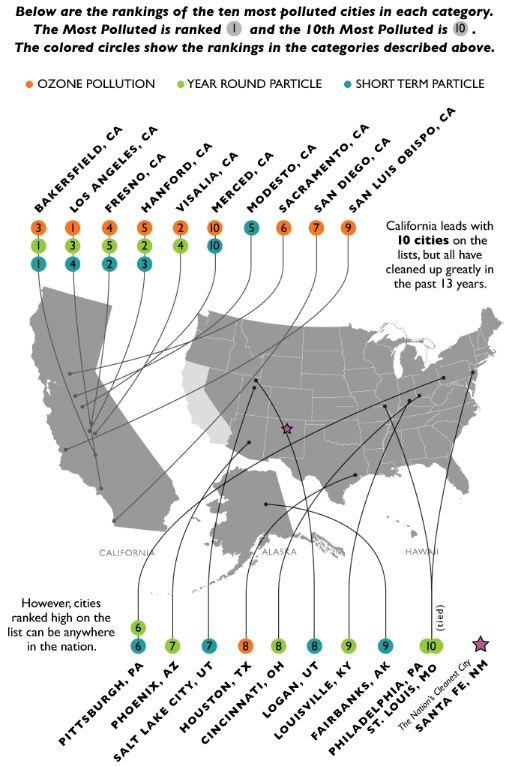 The failing air-quality grades signal that we still have a long way to go. What to do? Drive less. Be more efficient with electricity. Don't burn wood or trash unless you have to, since it sends particulates into the air. To affect change more broadly you can jump into the political fray by learning about the legislation congress is currently debating surrounding the Clean Air Act. Basically, one side wants to pass the Gasoline Regulations Act, which questions rules and standards the EPA has put in place around gasoline emissions. The other side calls the same bill GASP, for Gutting Air Standard Protections.
Read up on both perspectives, then write your senators and reps and tell them whether you are generally for or against breathing.
inspire: live a better life
Happify shares their results of a recent study on how money affects our happiness.

A top exec reveals the company's secret code

Pro tips from the guy who's done it four times

Not all mistakes are as blatant as posting party pics when you're 'sick' at home.

Everyone struggles through weekday drudgery to reach their weekend fun. But what if you could reclaim every day of your life?

Zooming up the ladder is great, but questioning yourself 24/7 is no way to succeed. Manage your stressed self with these surefire tips.

Forget trying to control every little detail. Life is lots more fun (and less stressful) when you let go from the get-go.

So, what exactly is this thing we call "happiness" and how do we get it?

Mark Zuckerberg has an even bigger effect on your life than you thought.

Everyone makes mistakes, but some mistakes can be devastating. Here are 10 icons who fell from grace, and what they can do to redeem themselves.

Twitter turns eight years old today.

Try these anything-but-ordinary ideas for a healthier, more productive mid-day break.