America is Breathing Bad Air
Did your hometown fail the air-quality test?
Hey America, guess what? Your town stinks.
That's not meant in a disparaging way, it's just that the air is killing us. The American Lung Association has released its annual State of The Air report card, and gives a failing grade to 235 counties nationwide. More than 127 million people — about 41% of our population — live in counties that received an F for pollution. That's pretty F'n bad.
If you're wondering whether your area is ruining the grading curve, have a look at the ALA's interactive maps. You can drill down by state to learn how your area rates in terms of the two most widespread problems: ozone pollution (invisible smog) and particle pollution (microscopic solids and aerosols in the air). Each report also reveals how many people in your area have increased health risks due to the air quality, including kids under 18, adults over 65, and those with chronic conditions affecting the respiratory or circulatory system. People with low incomes are at higher risk since their populations typically live closer to pollution sources like major highways and factories; plus, they're at greater risk for those chronic diseases. So as long as you're not young, old, sick, fat, or poor, you should be cool.
The good news is that we're cleaning up. The vast majority of cities with the heaviest ozone or particulate pollution were cleaner in 2012 than in 2011. As the infographic here notes, California has the greatest number of polluted cities (it's a big state), but all have been improving. Kind of ironic, by the way, that three California cities — L.A., Sacramento, and San Diego — have also been on prior lists of the most health-conscious cities. Maybe everyone there goes for a run in the morning and then drives an SUV to work.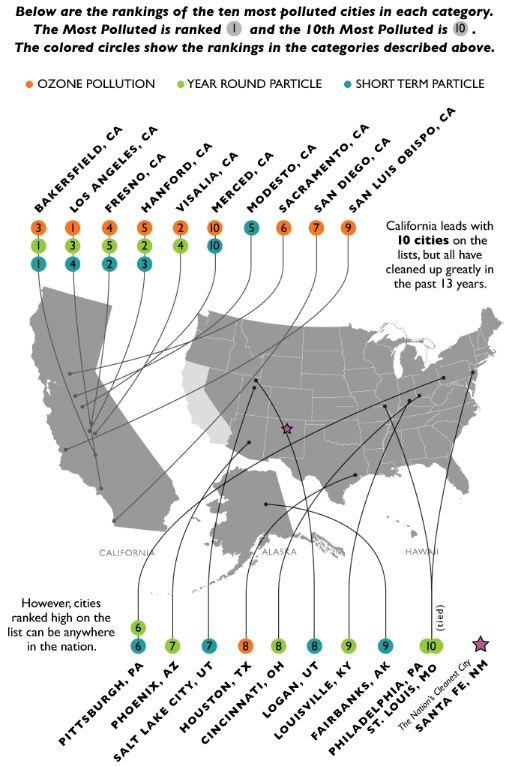 The failing air-quality grades signal that we still have a long way to go. What to do? Drive less. Be more efficient with electricity. Don't burn wood or trash unless you have to, since it sends particulates into the air. To affect change more broadly you can jump into the political fray by learning about the legislation congress is currently debating surrounding the Clean Air Act. Basically, one side wants to pass the Gasoline Regulations Act, which questions rules and standards the EPA has put in place around gasoline emissions. The other side calls the same bill GASP, for Gutting Air Standard Protections.
Read up on both perspectives, then write your senators and reps and tell them whether you are generally for or against breathing.
inspire: live a better life
Summer and winter tend to hog all the glory when it comes to travel high seasons. Sure, you want to soak up all the time at the beach you can during the summer, and you just want to escape the cold during the last months of the year.

Who just wants to stand around and watch the red and gold leaves slowly fall from their tree branches to the ground as we move from summer to fall? Instead, take in the changing seasons while you're on the move.

In September, I'll turn 38. I'm at the age now where, when people ask how old I am, it takes me a minute to remember. I don't know if that's because I've already been 37 different ages and it's hard to keep straight which one I am now, or if it's because I'm in denial, or if it's because I am going senile. Maybe a combination of all of the above. Regardless, my 30s have flown by and soon they will be but a memory. So, in an effort to preserve the memory I have left (or at least keep a record of it), and to celebrate what has been an amazing decade so far, here are 30 things that have happened to me in my 30s (and will probably happen to you too):

Traveling doesn't have to be stressful. And what you can fit in your carry-on can make all the difference (and not just a fresh pair of socks), especially when you get that low battery signal.

Volunteering (and these other rituals) might be just as good as exercise when it comes to extending your life.

Use these tricks to set a better tone for the rest of the week.

Whether it involves a food fight, mermaids or a torch-lit procession, people the world over know how to have a good time. Here are some of the biggest, boldest, booziest celebrations around, along with some tips to get the full experience.

Research could mean more effective treatment for human disorders.

An entry a day might keep the doctor away (or at least the shrink).

One woman's shout-outs to daily moments of joy — and how to cultivate them.

Our best health and fitness tips including the one move that tones all, berry news, and more.