Men in Pink
Guys are moving in on traditionally female careers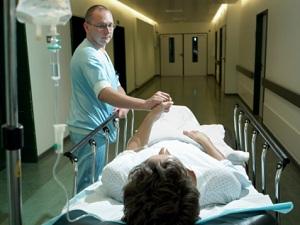 The term "women's work" has long been moot, deader now than a male chauvinist at a book club meeting. Work is work for whomever can find it, and over the past forty years women have proven as capable as men in occupations ranging from Ivy League president to tech-company CEO. But now the tables are turning again. In increasing numbers, men are pursuing career paths that have always been dominated by women.

Chances are good that you have already have encountered a guy in a pink-collar job such as nurse, receptionist, or grade-school teacher. Or maybe, as the New York Times front-page story opened this week, you've had your teeth cleaned by a male hygienist before your dentist arrives to do her job.
According to a Times analysis of job data, men have been finding their way through the old girls' network for over a decade. Census information covering the years 2000 to 2010 reportedly shows that careers that are more than 70% female, including teacher, bank teller, cashier, and legal assistant, accounted for almost a third of all job growth among men. By the end of 2010, the number of men in pink collars was twice what it was in the 1990s.
Though it's easy to ascribe the shift to the recession, with job seekers taking any port in a storm, the trend began before the economy tanked. It may more simply be a matter of finding stable, satisfying work in a society that has aimed, in fits and starts, to achieve equal opportunity for men and women. Women have been successful in burying many gender stereotypes, and now male nurses and kindergarten teachers are growing from the fertile ground.
The Times also notes that in decades prior, the men in such jobs tended to be foreign-born, non-English speakers without much education. But now the shift is most pronounced among young, white, college-educated men. The kicker is that men tend to earn more than women even in these female-dominated fields. White males in particular may get a ride on the glass elevator, moving up through a professional hierarchy while women in traditionally male-dominated jobs are more likely to hit the glass ceiling.
But don't be a hater. The guys aren't stealing jobs from women; pink-collar occupations still account for almost two-thirds of women's job growth. Plus, we learned just days ago that non-Hispanic Caucasians are for the first time becoming a statistical minority in America. Give a white man a fighting chance.
Photo: Hans Neleman/Stone/Getty Images

inspire: live a better life
Here's some tips to get to happiness going forward in your life.

People 60 to 82 did best on cognitive tasks before 10:30am.

Lucille Ball was born in 1911, and though we lost her long ago, her legacy as America's favorite redhead lives on through the timeless classic, "I Love Lucy." People of all generations still enjoy Lucy's antics as much as they did over 60 years ago when the show first premiered.

Summer is coming to an end, and in a few weeks, kids will be forced to trade in their beach bags for backpacks. But just because the season is fading away doesn't mean the memories from the past few months have to disappear with it.

Confidence and perceived competence are key, study finds.

Features lead to assumptions about character, study says.

Great gear for an afternoon spent shoreside.

Use these bucket-list ideas to enjoy the little time you have left.

Study points to benefits of improved living conditions.

Don't leave home without these must-have items.

Handshakes spread 20 times more germs, study says.

Drowning in debt? Maybe there's a silver lining.