Men in Pink
Guys are moving in on traditionally female careers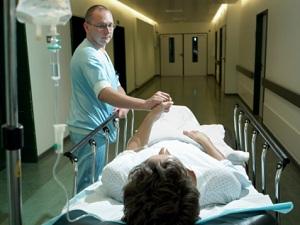 The term "women's work" has long been moot, deader now than a male chauvinist at a book club meeting. Work is work for whomever can find it, and over the past forty years women have proven as capable as men in occupations ranging from Ivy League president to tech-company CEO. But now the tables are turning again. In increasing numbers, men are pursuing career paths that have always been dominated by women.

Chances are good that you have already have encountered a guy in a pink-collar job such as nurse, receptionist, or grade-school teacher. Or maybe, as the New York Times front-page story opened this week, you've had your teeth cleaned by a male hygienist before your dentist arrives to do her job.
According to a Times analysis of job data, men have been finding their way through the old girls' network for over a decade. Census information covering the years 2000 to 2010 reportedly shows that careers that are more than 70% female, including teacher, bank teller, cashier, and legal assistant, accounted for almost a third of all job growth among men. By the end of 2010, the number of men in pink collars was twice what it was in the 1990s.
Though it's easy to ascribe the shift to the recession, with job seekers taking any port in a storm, the trend began before the economy tanked. It may more simply be a matter of finding stable, satisfying work in a society that has aimed, in fits and starts, to achieve equal opportunity for men and women. Women have been successful in burying many gender stereotypes, and now male nurses and kindergarten teachers are growing from the fertile ground.
The Times also notes that in decades prior, the men in such jobs tended to be foreign-born, non-English speakers without much education. But now the shift is most pronounced among young, white, college-educated men. The kicker is that men tend to earn more than women even in these female-dominated fields. White males in particular may get a ride on the glass elevator, moving up through a professional hierarchy while women in traditionally male-dominated jobs are more likely to hit the glass ceiling.
But don't be a hater. The guys aren't stealing jobs from women; pink-collar occupations still account for almost two-thirds of women's job growth. Plus, we learned just days ago that non-Hispanic Caucasians are for the first time becoming a statistical minority in America. Give a white man a fighting chance.
Photo: Hans Neleman/Stone/Getty Images

inspire: live a better life
How much do you really know about the Earth? In honor of Earth Day, April 22, we explore some interesting and fun facts about the fifth-largest planet of our solar system.

Happify shares their results of a recent study on how money affects our happiness.

A top exec reveals the company's secret code

Pro tips from the guy who's done it four times

Not all mistakes are as blatant as posting party pics when you're 'sick' at home.

Everyone struggles through weekday drudgery to reach their weekend fun. But what if you could reclaim every day of your life?

Zooming up the ladder is great, but questioning yourself 24/7 is no way to succeed. Manage your stressed self with these surefire tips.

Forget trying to control every little detail. Life is lots more fun (and less stressful) when you let go from the get-go.

So, what exactly is this thing we call "happiness" and how do we get it?

Mark Zuckerberg has an even bigger effect on your life than you thought.

Everyone makes mistakes, but some mistakes can be devastating. Here are 10 icons who fell from grace, and what they can do to redeem themselves.

Twitter turns eight years old today.