Colorado town mulls drone hunts to protest spying
The tiny town is considering a proposal to make itself a national attraction for gun enthusiasts and people skeptical of government surveillance.
DEER TRAIL, Colo. (AP) — This tiny plains town an hour east of Denver doesn't have much to offer visitors: a gas station, a bar and a small-time rodeo one weekend a year.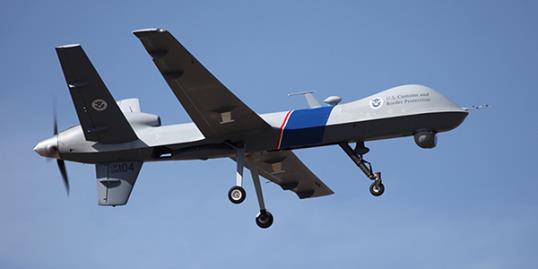 But Deer Trail, population 500, is considering a proposal to make itself a national attraction for gun enthusiasts and people skeptical of government surveillance. On Oct. 8, citizens will vote on whether to issue permits to hunt drones.

Yes, those drones. Shoot 'em down for $25, with a $100 reward for shooters who bring in debris from an unmanned aircraft "known to be owned or operated by the United States federal government."
The initiative's architect insists it's a symbolic stand against government surveillance.

Bing: Drone FAQs

"These are not big drones you see on TV that look like airplanes. These are little 55-pound things that can come right down into your land," said Phillip Steel, a traveling structural inspector.

Steel got the idea after seeing news reports about the National Security Agency's domestic spying efforts. "Do we really want to become a surveillance society? That's what I find really repugnant," Steel said.

The measure drew a stern warning from Washington, which is considering several regions — most of them in Colorado and other Western states — where civilians can use drones on an experimental basis.

"Shooting at an unmanned aircraft could result in criminal or civil liability, just as would firing at a manned airplane," the Federal Aviation Administration warned.
The proposal has sharply divided this tiny burg, which lays claim to the world's oldest rodeo and not much else. (Some historians credit Deer Trail's 1869 rodeo as the first, though Deer Trail is just one of many claimants to the title.)

More on MSN Living: 5 ways to protect yourself online

Taking a break from dishing up beef plates at the rodeo recently, Libby Mickaliger said it could be a great low-cost fundraiser for the dusty outpost. "If it raises money for the town, why not? It's not like people are going to go and shoot one down," she said.

Harry Venter, editor of the weekly Tri-County Tribune, worries the proposal sends the message that Deer Trail disapproves of the military, not domestic surveillance. "It's embarrassing to most of us, to be honest with you," Venter said.
Drone hunting has become the dominant topic at the Brown Derby, Deer Trail's only bar.

"I try to play pretty impartial with it. 'Cause if you own the bar, and you go out and speak for it or against it, you're going to make people mad," said owner Carl Miron. "But I don't like the fact that the government can sit and spy on you, I'll tell you that."

Miron pointed to dilapidated buildings surrounding the Brown Derby, their window frames pockmarked with broken glass. Deer Trail could use some extra cash, he said.

And if the initiative passes, he'd like to organize mock-drone-hunting weekends to draw visitors to the sleepy town. "I don't know what the government would think about it," he said, "but it would be fun."

Photo: An unmanned drone used to patrol the U.S.-Canadian border.  (U.S. Customs and Border Protection/AP)

More from The Daily Dose:
5 celebrities who quit Scientology like Leah Remini
Greenpeace activists scale London's Shard building to protest oil drilling
Hunger strike in California prisons — will it work?
Are you sure you want to delete this comment?
inspire: live a better life
For those who would rather pay it forward, proceeds from this gift guide go to deserving charities — and these presents happen to be pretty fabulous as well. Plus, shop more gifts for stylish women.

Miss Manners considers when to celebrate milestones

Miss Manners provides guidance on meeting others

No, money doesn't grow on Christmas trees, but you can green up your holiday with readers' savviest money-saving tips.

A look back on all of the tiny tasks that 30 years of technology has saved you from.

What sets you apart from everyone else looking for a new job or bigger paycheck? Your profile!

With all those deals you snagged on Black Friday, Small Business Saturday, and Cyber Monday, today is your chance to give back to those in need with #GivingTuesday.

Miss Manners provides guidance on how to handle a request for party contributions

Miss Manners instructs on why tit-for-tat never works

Miss Manners offers thoughts on guests who disregard dinner party instructions

Make big bucks, from home, having fun? These women got creative and figured out a way to have it all. You can too.