Unknown Hans Christian Andersen fairy tale found
Never-before-seen story turns up in Danish archive
Once upon a time, there was a Danish author who wrote stories like The Ugly Duckling and Thumbelina. He wrote nearly 160 fanciful tales that set flight to young minds. Nearly 200 years after Hans Christian Andersen penned his first story, what is believed to be a previously unknown fairy tale by the author was discovered in a Danish archive, reports WIVB.com.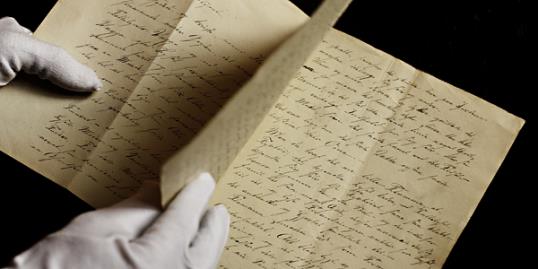 More on MSN Living: Break the rules for a better romance
The hand-written text, titled The Tallow Candle (Danish Tællelyset), was found in the author's hometown of Odense, Denmark. The six-page story is about a candle who did not feel appreciated. It was written while Andersen was still in school and dedicated to a benefactor, in whose family's possession it remained until it turned up among other family papers in a suitcase in a local archive.
More on MSN Living: World's greatest body shapers
Andersen expert Ejnar Stig Askgaard was quoted saying that this is likely one of Andersen's earliest works, written seven years before Andersen's official debut.
What is your favorite Hans Christian Andersen fairy tale?
Photo: Martin Bubandt/POLFOTO/AP
Bing: Best fairy tales to read aloud
More from MSN Living:
10 ways to feel good every day
What your engagement ring says about you
inspire: live a better life
Editor's note: We will now be publishing Miss Manners articles twice weekly, but you will only see one question and answer per article. You can expect to see these articles appear on Tuesdays and Thursdays going forward.

President Harry S. Truman was behind efforts to establish the first Armed Forces Day in 1950, and decades later the nation continues to set aside the third Saturday in May to recognize and thank members of the U.S. military for their patriotic service. With these five homecoming images, we salute all service members at home and abroad.

There's much to be desired about working from home: the stress-free commute, flexible hours, and improved work-life balance.

Wishing for the fountain of youth? You may not need it. We've rounded up real-women secrets, tried-and-true beauty tips, and the latest research to help you fight aging.

Experts weigh in on when to bite your tongue at the office.

Oh, the places you'll go — to get some "me" time, that is. REDBOOK readers confess all on Facebook.

How much money you make isn't nearly as important as how you use it, according to Elizabeth Dunn and Michael Norton, authors of the new book Happy Money.

Plus, how do you ask people to not bring gifts to a shower?

Looking for a career upgrade? Follow these tips for a foot in the door.

These tanning and skin cancer myths aren't just wrong — they can do serious harm. Wise up and head into a healthier future. P.S. You'll look a lot younger too.

It's possible to rejigger your brain circuitry and feel more joy, even on Monday mornings. Here's how.

Inner peace just got easier. You don't need quiet, incense or hours to meditate, and you can scrap the chanting. Better: Ninety-five percent of you say you're calmer after a single 10-minute session. Whatever your excuse (see ours), get your om on and reap the rewards.