Unknown Hans Christian Andersen fairy tale found
Never-before-seen story turns up in Danish archive
Once upon a time, there was a Danish author who wrote stories like The Ugly Duckling and Thumbelina. He wrote nearly 160 fanciful tales that set flight to young minds. Nearly 200 years after Hans Christian Andersen penned his first story, what is believed to be a previously unknown fairy tale by the author was discovered in a Danish archive, reports WIVB.com.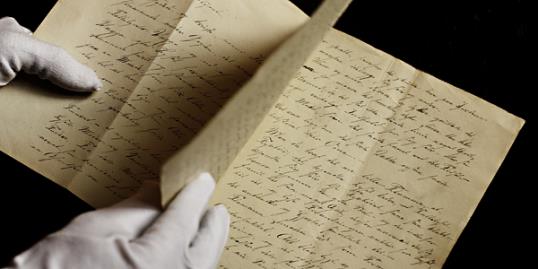 More on MSN Living: Break the rules for a better romance
The hand-written text, titled The Tallow Candle (Danish Tællelyset), was found in the author's hometown of Odense, Denmark. The six-page story is about a candle who did not feel appreciated. It was written while Andersen was still in school and dedicated to a benefactor, in whose family's possession it remained until it turned up among other family papers in a suitcase in a local archive.
More on MSN Living: World's greatest body shapers
Andersen expert Ejnar Stig Askgaard was quoted saying that this is likely one of Andersen's earliest works, written seven years before Andersen's official debut.
What is your favorite Hans Christian Andersen fairy tale?
Photo: Martin Bubandt/POLFOTO/AP
Bing: Best fairy tales to read aloud
More from MSN Living:
10 ways to feel good every day
What your engagement ring says about you
inspire: live a better life
Research could mean more effective treatment for human disorders.

An entry a day might keep the doctor away (or at least the shrink).

One woman's shout-outs to daily moments of joy — and how to cultivate them.

Volunteering (and these other rituals) might be just as good as exercise when it comes to extending your life.

Use these tricks to set a better tone for the rest of the week.

In September, I'll turn 38. I'm at the age now where, when people ask how old I am, it takes me a minute to remember. I don't know if that's because I've already been 37 different ages and it's hard to keep straight which one I am now, or if it's because I'm in denial, or if it's because I am going senile. Maybe a combination of all of the above. Regardless, my 30s have flown by and soon they will be but a memory. So, in an effort to preserve the memory I have left (or at least keep a record of it), and to celebrate what has been an amazing decade so far, here are 30 things that have happened to me in my 30s (and will probably happen to you too):

Our best health and fitness tips including the one move that tones all, berry news, and more.

Who just wants to stand around and watch the red and gold leaves slowly fall from their tree branches to the ground as we move from summer to fall? Instead, take in the changing seasons while you're on the move.

Here's some tips to get to happiness going forward in your life.

People 60 to 82 did best on cognitive tasks before 10:30am.

Lucille Ball was born in 1911, and though we lost her long ago, her legacy as America's favorite redhead lives on through the timeless classic, "I Love Lucy." People of all generations still enjoy Lucy's antics as much as they did over 60 years ago when the show first premiered.