Unknown Hans Christian Andersen fairy tale found
Never-before-seen story turns up in Danish archive
Once upon a time, there was a Danish author who wrote stories like The Ugly Duckling and Thumbelina. He wrote nearly 160 fanciful tales that set flight to young minds. Nearly 200 years after Hans Christian Andersen penned his first story, what is believed to be a previously unknown fairy tale by the author was discovered in a Danish archive, reports WIVB.com.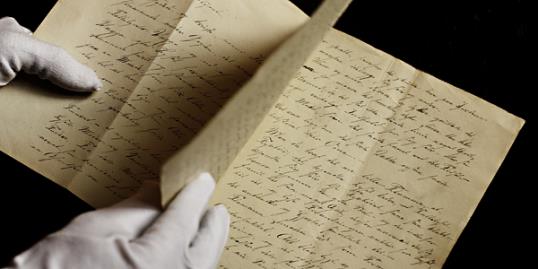 More on MSN Living: Break the rules for a better romance
The hand-written text, titled The Tallow Candle (Danish Tællelyset), was found in the author's hometown of Odense, Denmark. The six-page story is about a candle who did not feel appreciated. It was written while Andersen was still in school and dedicated to a benefactor, in whose family's possession it remained until it turned up among other family papers in a suitcase in a local archive.
More on MSN Living: World's greatest body shapers
Andersen expert Ejnar Stig Askgaard was quoted saying that this is likely one of Andersen's earliest works, written seven years before Andersen's official debut.
What is your favorite Hans Christian Andersen fairy tale?
Photo: Martin Bubandt/POLFOTO/AP
Bing: Best fairy tales to read aloud
More from MSN Living:
10 ways to feel good every day
What your engagement ring says about you
inspire: live a better life
How much do you really know about the Earth? In honor of Earth Day, April 22, we explore some interesting and fun facts about the fifth-largest planet of our solar system.

Happify shares their results of a recent study on how money affects our happiness.

A top exec reveals the company's secret code

Pro tips from the guy who's done it four times

Not all mistakes are as blatant as posting party pics when you're 'sick' at home.

Everyone struggles through weekday drudgery to reach their weekend fun. But what if you could reclaim every day of your life?

Zooming up the ladder is great, but questioning yourself 24/7 is no way to succeed. Manage your stressed self with these surefire tips.

Forget trying to control every little detail. Life is lots more fun (and less stressful) when you let go from the get-go.

So, what exactly is this thing we call "happiness" and how do we get it?

Mark Zuckerberg has an even bigger effect on your life than you thought.

Everyone makes mistakes, but some mistakes can be devastating. Here are 10 icons who fell from grace, and what they can do to redeem themselves.

Twitter turns eight years old today.