Unknown Hans Christian Andersen fairy tale found
Never-before-seen story turns up in Danish archive
Once upon a time, there was a Danish author who wrote stories like The Ugly Duckling and Thumbelina. He wrote nearly 160 fanciful tales that set flight to young minds. Nearly 200 years after Hans Christian Andersen penned his first story, what is believed to be a previously unknown fairy tale by the author was discovered in a Danish archive, reports WIVB.com.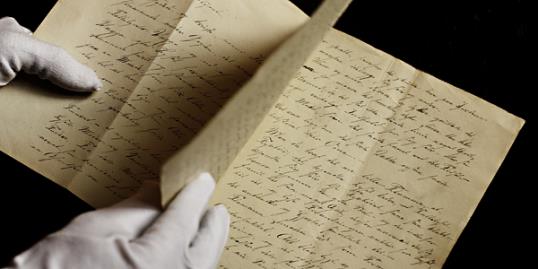 More on MSN Living: Break the rules for a better romance
The hand-written text, titled The Tallow Candle (Danish Tællelyset), was found in the author's hometown of Odense, Denmark. The six-page story is about a candle who did not feel appreciated. It was written while Andersen was still in school and dedicated to a benefactor, in whose family's possession it remained until it turned up among other family papers in a suitcase in a local archive.
More on MSN Living: World's greatest body shapers
Andersen expert Ejnar Stig Askgaard was quoted saying that this is likely one of Andersen's earliest works, written seven years before Andersen's official debut.
What is your favorite Hans Christian Andersen fairy tale?
Photo: Martin Bubandt/POLFOTO/AP
Bing: Best fairy tales to read aloud
More from MSN Living:
10 ways to feel good every day
What your engagement ring says about you
inspire: live a better life
A look back on all of the tiny tasks that 30 years of technology has saved you from.

What sets you apart from everyone else looking for a new job or bigger paycheck? Your profile!

With all those deals you snagged on Black Friday, Small Business Saturday, and Cyber Monday, today is your chance to give back to those in need with #GivingTuesday.

Miss Manners provides guidance on how to handle a request for party contributions

Miss Manners instructs on why tit-for-tat never works

Miss Manners offers thoughts on guests who disregard dinner party instructions

Make big bucks, from home, having fun? These women got creative and figured out a way to have it all. You can too.

Your boss. You might like her, you probably respect her, but do you know how to approach someone who seems so different from you? (Spoiler: She's actually not.)

Over the weekend, Oprah decluttered her Montecito mansion and three other properties in a Santa Barbara yard sale that brought in more than $600,000(!). (Proceeds will benefit her girls' leadership academy in South Africa, and not half of a Crate and Barrel chair, the traditional end goal of yard-sale proceeds.)

Exclusively for MSN, we bring you a six-part series from the new book: MISS MANNERS MINDS YOUR BUSINESS by Judith and Nicholas Ivor Martin.

Miss Manners weighs in on the financial burdens of remote weddings