Unknown Hans Christian Andersen fairy tale found
Never-before-seen story turns up in Danish archive
Once upon a time, there was a Danish author who wrote stories like The Ugly Duckling and Thumbelina. He wrote nearly 160 fanciful tales that set flight to young minds. Nearly 200 years after Hans Christian Andersen penned his first story, what is believed to be a previously unknown fairy tale by the author was discovered in a Danish archive, reports WIVB.com.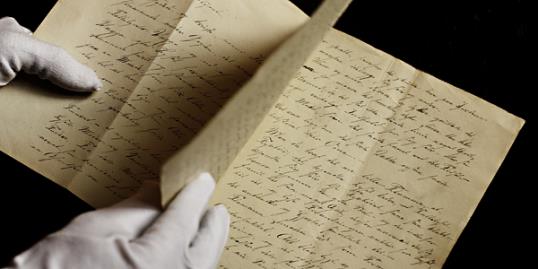 More on MSN Living: Break the rules for a better romance
The hand-written text, titled The Tallow Candle (Danish Tællelyset), was found in the author's hometown of Odense, Denmark. The six-page story is about a candle who did not feel appreciated. It was written while Andersen was still in school and dedicated to a benefactor, in whose family's possession it remained until it turned up among other family papers in a suitcase in a local archive.
More on MSN Living: World's greatest body shapers
Andersen expert Ejnar Stig Askgaard was quoted saying that this is likely one of Andersen's earliest works, written seven years before Andersen's official debut.
What is your favorite Hans Christian Andersen fairy tale?
Photo: Martin Bubandt/POLFOTO/AP
Bing: Best fairy tales to read aloud
More from MSN Living:
10 ways to feel good every day
What your engagement ring says about you
inspire: live a better life
Drowning in debt? Maybe there's a silver lining.

"But it's not real life, you know. It's a vacation."

Our list of must-dos before hitting the road.

Summer traditions can be great, but if you're on year six of packing the same people into the same car to go on the same vacation, it's time to switch things up. Surfing in Portugal, perhaps – or cycling through Northern Ireland. We've put together a list of 15 places well off the beaten path that you should go to when you're ready to try something new.

Grab a sleeping bag and head out to one of these amazing campsites.

A dozen adventures that are well worth the trip.

Paper downplays the significance of practice over raw talent.

Survey says American teens aren't great at complex or basic financial tasks.

Fear of Moving Away: How to conquer the latest cultural anxiety and embrace the unknown.

Adulthood has no eureka moment.

Just like your body, your brain needs a regular workout too.

Being a winner is a good feeling to have — especially in life. Winning doesn't solely relate to competitions or Charlie Sheen's coining of the term back in 2011. From achieving success to maintaining a work-life balance, find out what characteristics mean your life is going the way it should be. You may just even find an inspiration or two that you'll want to incorporate into your daily routine!