Study: Race relations in the U.S. improving
How well do racial and ethnic groups get along these days?
According to a recent Pew Research Center study on race and ethnicity, most blacks, whites and Hispanics say they get along reasonably well with each other.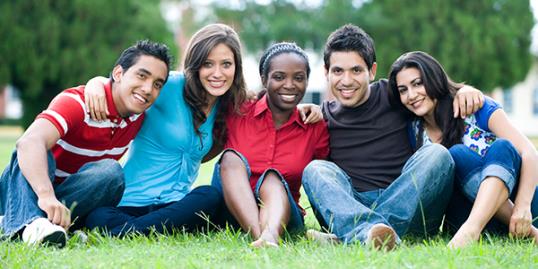 More on MSN Living: Are women really worth less than men?
Here are a few highlights of the Pew Research Center's recent report on race in America:
81 percent of whites and 73 percent of blacks say those two groups get along "very" or "pretty" well.

77 percent of whites and 74 percent of Hispanics said their groups got along well.

78 percent of African-Americans say blacks and Hispanics get along well; 61 percent of Hispanics agreed.

Whites have a less positive view of black-Hispanic relations than did blacks and Hispanics themselves.
Read the complete report here.
Tell us: What are your thoughts on this study? Do you agree or disagree?
Bing: Inspiring Martin Luther King Jr. quotes
Subscribe to the Daily Dose | Friend us on Facebook, follow us on Twitter and find us on Pinterest.
More in Daily Dose:
Munchies from marijuana festival fetch $50 online
NASA experiment to study twin astronauts
inspire: live a better life
Grab a sleeping bag and head out to one of these amazing campsites.

A dozen adventures that are well worth the trip.

Paper downplays the significance of practice over raw talent.

Survey says American teens aren't great at complex or basic financial tasks.

Fear of Moving Away: How to conquer the latest cultural anxiety and embrace the unknown.

Adulthood has no eureka moment.

Just like your body, your brain needs a regular workout too.

Being a winner is a good feeling to have — especially in life. Winning doesn't solely relate to competitions or Charlie Sheen's coining of the term back in 2011. From achieving success to maintaining a work-life balance, find out what characteristics mean your life is going the way it should be. You may just even find an inspiration or two that you'll want to incorporate into your daily routine!

Sometimes it seems like you need a vacation from your vacation.

That'll get you and your 2 kids a house, SUV, and more, per a 'USA Today' analysis.

While most of us associate the Fourth of July with fireworks and barbecue (and taking a long weekend off from work), it's also an important day to give thanks to the people who help keep us safe.

For a truly out-of-the-box vacation, skip traditional hotels and opt for unique lodging.